Introducing the Belhaven Sessions! Part of the Sessions UK, the Belhaven Sessions is the best place to witness unsigned, grassroots music!
About this event
Welcoming huge UK touring acts, as well as unsung up and coming acts. The Belhaven Sessions is the place to go to see a local band become the next big thing! We bring to you everything, from solo artists from the rock and roll hall of fame, To huge big noise unsigned bands. grab your tickets now to see the very best talent Dunbar has to offer!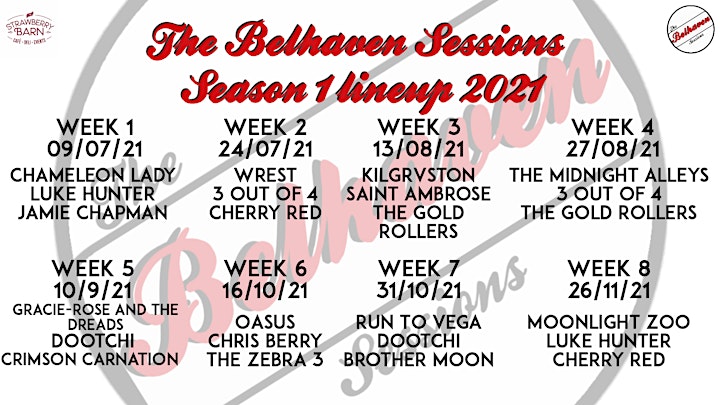 Transport links:
CAR/PRIVATE VEHICLE
Thistly Cross Roundabout, turnoff the A1
BUS:
Lothian Bus routes: 106,X7 from Edinburgh or surrounding areas
Borders Bus Routes: 253 from Edinburgh or surrounding areas
TRAIN:
Scotrail service: Edinburgh to Dunbar
TAXI:
TAB taxis
Torrance Taxis and travel
AC's Taxis
Please check your journey times before your event date with relevant scources from the companies stated above, FOR BOTH DEPARTURE AND RETURN. Please also take into consideration that most events are planned to finnish at 11pm, so night travel routes must also be checked.