The Benefits of Next Generation Data Centres using Open Networking Alternat...
Description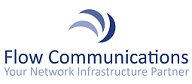 Data Centre customers are increasingly looking for new and innovative ways to scale their infrastructure whilst addressing the challenges of vendor lock-in and the complexity of management and troubleshooting. We know that the need for increased scale, high reliability and performance whilst mitigating capital and operational costs is ever present in their minds.
At Flow Communications we understand these challenges and are working with next generation, web-scale vendors to help our customers realise their vision. Please join us at our half day seminar and learn how you can build a next generation Data Centre with some of our leading Data Centre solution partners: Mellanox Technologies, Cumulus Networks and Apstra.
During this session you will:
- Gain insights into the architectural elements of a modern Data Centre network and the role Mellanox, Cumulus and Apstra play to provide visibility and automation.
- Understand how you can disaggregate your Data Centre network with cloud-like agility, efficiency and improved TCO.
- Realise you can HAVE IT YOUR WAY TODAY with your choice of hardware or networking operating system to simplify your data centre deployments and fulfil your individual business needs.
- Experience a live demo of how to establish a "Data Centre Fabric" in a matter of minutes and minimize networking errors.
Interested? Reserve your seat today!
FAQs

Requirements to enter the event?
You need to be a Network Specialist working in a Data Centre environment.
Can you please confirm the company name and work email address when registering as we preparing content for end users.