Berlin's premium dark comedy show. A horrible show by horrible people (us) for horrible people (you).
About this event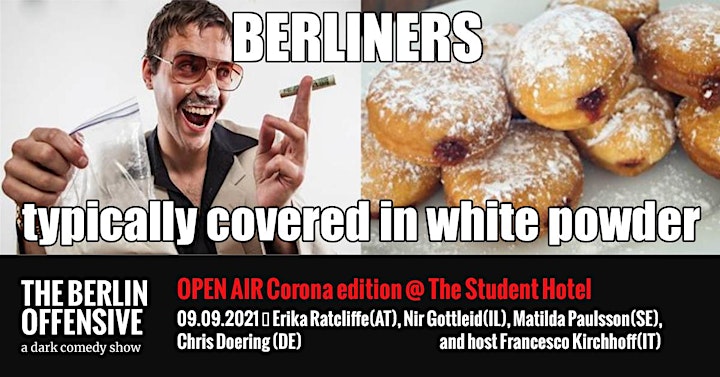 Forget about your airplane food jokes; forget about the same old tired tropes about dating. These comedians are guaranteed to both make you laugh, and hate yourself for laughing.
The show features a carefully curated lineup of professional comedians, in the heart of Berlin. We're back with a special Covid-19 special. We'll be outdoors, so we won't spread the virus. Well, not that one. We do have an indoors back-up option in case of rain or if it's too cold.
Here are our fabulously morbid comedians:
@Matilda Paulsson (SWE)
@Nir Gottleid (ISR)
@Chris Doering (GER)
headliner @Erika Ratcliffe (AUT)
and our host
@Francesco Kirchhoff (ITA/GER)
It will be a night to remember – although, some jokes, you'd wish you'd forget.
DOORS: 7.30pmSHOW: 8pm