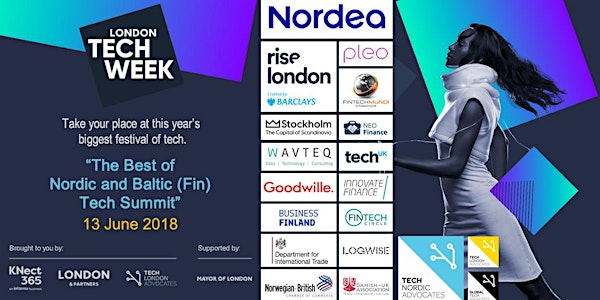 "The Best of Nordic & Baltic (Fin)Tech Summit" - part of London Tech Week
Event Information
Location
London
(Barclays) Rise London
41, Luke Street
London
EC2A 4DP
United Kingdom
Description
London Tech Week is Europe's leading tech festival bringing together over 50,000 delegates from around the world, providing a platform for creating global partnerships.
As part of London Tech Week, "The Best of Nordic & Baltic (fin) Tech Summit" brings the "best" (selected) Nordic & Baltic startups with fintech, Blockchain, AI, AR VR, Cryptocurrency, Cybersecurity or data analytics solutions to a Summit at Barclays Bank's (fin)tech accelerator Rise London, to pitch to global investors, accelerators and partners, with an interest in investment/business opportunities with Nordic and Baltic startups/scaleups. See programme via link
What are the Summit objectives?
Connect Nordic and Baltic startups, scaleups and Fintech hubs with UK and global investors, buyers, partners, accelerators and mentors, to attract their investment, build new partnerships and market expansion

Offer UK and global investors, buyers, partners and accelerators new investment/partnership opportunities with high-growth Nordic and Baltic (fin)tech startups and scaleups

Promote the best of Nordic & Baltic (fin)tech to the global tech ecosystem
Who is the Summit for?
Nordics and Baltics: startups, scaleups, tech entrepreneurs, accelerators and Fintech hubs looking for investors, buyers, partners, mentors, growth and scaling opportunities in the UK and internationally; corporates; trade and industry delegations
UK and global: investors, accelerators, mentors, startup hubs, fintech communities, trade bodies, government agencies, experts and influencers, senior management and innovation decision makers from corporates with an interest in Nordic and Baltic tech, startups and scaleups
What value will "The Best of Nordic & Baltic Tech Summit" deliver?

Match Nordic & Baltic startups, scaleups and Fintech hubs with UK and global investors, partners and accelerators to drive growth
Build new, and strengthen, existing contacts and networks in informal networking sessions with the global startup and scaleup ecosystem

Increase visibility of the opportunities offered in the Nordic & Baltic startup and scaleup ecosystem
Date and time
Location
London
(Barclays) Rise London
41, Luke Street
London
EC2A 4DP
United Kingdom
Refund policy