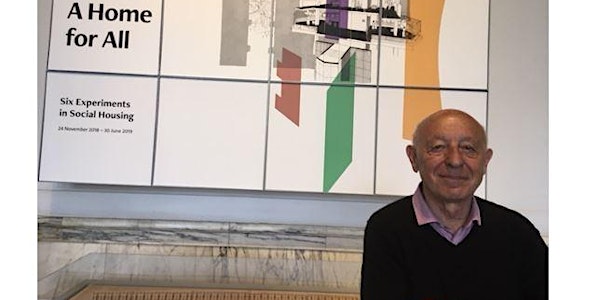 'The Best Way To See Is To Listen ' Nabeel Hamdi talks with Hans Skotte
'The Best Way To See Is To Listen ' Nabeel Hamdi in conversation with Hans Skotte and friends
About this event
Nabeel Hamdi will be in conversation with Hans Skotte about his practice, his academic work and his broader life experience. We also welcome guests who share memories of working alongside Nabeel. The conversation will reflect on what it takes to work in settings which are forever somewhere between order and chaos, Hamdi's work in participatory design and planning, the methods and skills required in negotiating programmes and projects, the important relationships between teaching and practice, and some key lessons learnt over the years.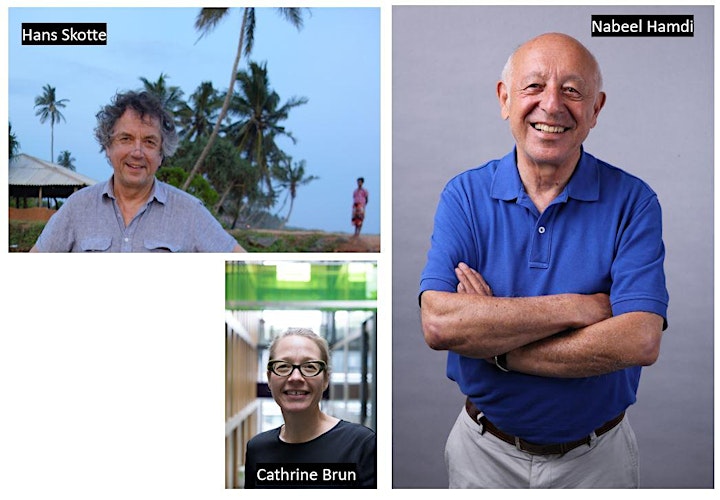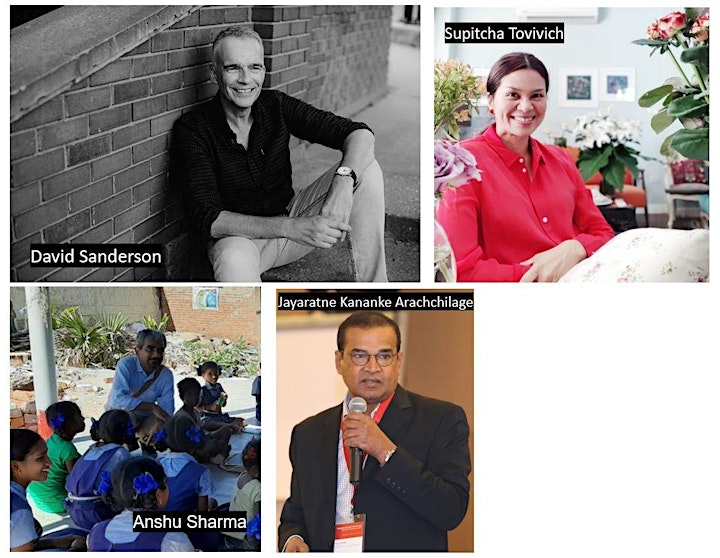 Welcome from Cathrine Brun Director of CENDEP, School of Architecture. Faculty of Technology, Design and Environment
Professor Nabeel Hamdi qualified at the Architectural Association in London 1968. He worked for the Greater London Council between 1969 and 1978, where his award-winning housing projects established his reputation in participatory design and planning. From 1981 to 1990 he was Associate Professor of Housing at the Massachusetts Institute of Technology (MIT), where he was awarded a Ford International Career Development Professorship.
In 1997 Nabeel was awarded the UN-Habitat Scroll of Honour for his work on Community Action Planning. He founded the Masters Course in Development Practice at Oxford Brookes University in 1992, which was awarded the Queen's Anniversary Prize for Higher and Further Education in 2001. He was awarded an Honorary Doctorate from the University of Pretoria, South Africa in 2008. He was ARUP Fellow at the University of Cape Town, Adjunct Professor at the Norwegian University of Technology, Trondheim Norway and recently visiting professor at the Graduate School of Design, Harvard University. He is currently Professor Emeritus at Oxford Brookes University.
Nabeel has consulted on housing, participatory action planning and upgrading of slums in cities to all major international development agencies, and to charities and NGOs worldwide. He is the author of The Spacemaker's Guide to Big Change (Earthscan from Routledge 2014), The Placemaker's Guide to Building Community (Earthscan 2010), Small Change (Earthscan, 2004), Housing Without Houses (IT Publications, 1995), co-author of Making Micro Plans (IT Publications 1988) and Action Planning for Cities (John Wiley and Sons, 1997), and editor of the collected volumes Educating for Real (IT Publications 1996) and Urban Futures (IT Publications 2005).
Hans Skotte: Professor Emeritus at the Faculty of Architecture and Design, Department of Architecture and Planning, NTNU, Norway. He re-entered academia in the late 90s after 20 years as a practicing architect-planner, out of which he spent a couple of years as Head of Health Division at the Chief Architect's office in Botswana, Africa. His academic research focused on reconstruction and recovery after war and disaster following his PhD where he investigated how internationally funded housing reconstruction after the war in Bosnia affected the overall recovery processes. This subsequently led him to assist in the recovery processes after the tsunami in Sri Lanka. For a number of years he was Head of NTNU's International Master's Program in Urban Ecological Planning. Semester-long fieldwork periods were conducted in Kampala, Uganda in collaboration with Slum Dwellers International and Makerere University, in part funded by UN-Habitat. 2008-2014 he represented Europe in the Steering Committee of the UN-Habitat University Partnership Network. In the closing years of his tenure Skotte focused on architectural education and was included in the group given the NOKUT Award for Norway's Best University Program in 2015. He has lectured at universities, UN fora and architectural associations throughout the world. He has known and collaborated with Nabeel Hamdi for the last 20 years.
Guests for the evening
Jayaratne Kananke Arachchilage is the President of Sevanatha Urban Resource Centre, a Sri Lankan NGO. Sevanatha undertakes urban development projects in a range of sectors, including housing, solid waste and poverty reduction. he is also a Fellow Member of the Institute of Town Planners, Sri Lanka and the Institute of Real Estate and Valuation, Sri Lanka. As a senior urban planner in Urban Development Authority and National Housing Authority, Sri Lanka (1982 – 1990), I was one of the pioneers who developed Community-led Land Regularization, Community Action Planning (CAP) methodology and Community Infrastructure Contracting procedures for managing funds under the Million Houses.
David Sanderson has worked across the world in development and emergencies, in NGOS and latterly in academia. He was a student in Nabeel's class in 1991, and subsequently worked at CENDEP. David is editor of the 2016 IFRC World Disasters Report and was a Board Member of the Norwegian Refugee Council. In 2016 David moved to Australia to take up a new position as Inaugural Judith Neilson Chair at the University of New South Wales (UNSW), Sydney.
Supitcha Tovivich is a full-time lecturer at the Faculty of Architecture, Silpakorn University, Thailand. She graduated from MA in Humanitarian and Development Practice, Oxford Brookes and Ph.D. in Planning Studies, Bartlett Development Planning Unit, University College London. She was Nabeel's MA thesis's advisee. She was also a teacher assistant of Nabeel for a few years at Brookes and UCL. She has been practicing participatory design and community architecture in Thailand for about 10 years, adapting Nabeel's ideas on small changes, design catalyst intervention, and the P.E.A.S. approach. She has been the chairperson of Community Act Network, Association of Siamese Architects (ASA CAN) for 3 years. Nabeel has joined her ASA CAN workshops at Klong Bangluang community in Bangkok twice.
Anshu Sharma is Co-founder, SEEDS and trained as an urban planner at the School of Planning and Architecture, New Delhi. In 1994, he co-founded the civil society organisation SEEDS, which has been working across Asia towards building disaster and climate resilience in vulnerable communities, and has been responding to disasters with shelter and school reconstruction programmes. Anshu has served as a Global Tutor at CENDEP, OBU, and in this role has been part of a number of field courses and a pioneering project on urban risk reduction at the centre. He has co-edited books on Indigenous Knowledge and Disaster Risk Reduction: From Practice to Policy (Nova, 2009), Urban Risk Reduction: An Asian Perspective (Emerald, 2009) and Climate and Disaster Resilience in Cities (Emerald, 2011). He co-edited IFRC's World Disaster Report 2016 and State of Humanitarian Shelter and Settlements 2018, and contributed on Urban Resilience for the UNESCAP Asia Pacific Disaster Report 2017.
Event Notice: This event will be recorded on Zoom and published on our social media and YouTube channel after the event. If you attend you have the option of turning off your camera.
Event organiser: This event has been organised by the Oxford Human Rights Festival; Planning Committee; Centre of Development and Emergency Practice (CENDEP) at Oxford Brookes University.
When you sign up: When registering with Eventbrite to book tickets please read Eventbrite's T&Cs and privacy policy carefully about whether or not to subscribe to any additional Eventbrite marketing, please be aware that they are an external company and their privacy policy will be different to the one of Oxford Brookes University.