The Best You EXPO in 2016 [Exhibiting] (Personal Development Business Show....
Description

Following the successful launch of The Best You EXPO in 2016, the event is back on the 4-5 March 2017 at ExCeL, London.
The Best You EXPO is the UK's largest Personal Development event, drawing together an engaged audience of consumers and professionals to learn, network, and see the industry's latest innovations. Held at ExCeL London, this two day event will host over 120 inspirational speakers, 160 industry-leading exhibitors, and 14 interactive workshops that inspire, educate and transform.
The Inspiration Zone gives you the chance to try something you never have before. Learn a dance routine, walk on glass or overcome your fear of snakes and spiders! We will have everything there for you!
New for 2017: The Yoga Zone - packed with a range of Yoga, Pilates, Self-Defence and Meditation classes - all for free!
That's right… you can get a FREE* ticket to join us and the Entrepreneurs Network at the London ExCeL. Just click the link below.
Want to attend? Of course you do! GET YOUR FREE TICKETS HERE!
Interested in Exhibiting at The Best You EXPO? Find out how HERE
Think you would take a great Speaker at the EXPO? Learn more HERE
We look forward to meeting you there!
The Best You Team & London Entrepreneurs Network
*entry to exhibition hall and 8 workshop rooms. Main stage entry requires an additional fee. Get your tickets here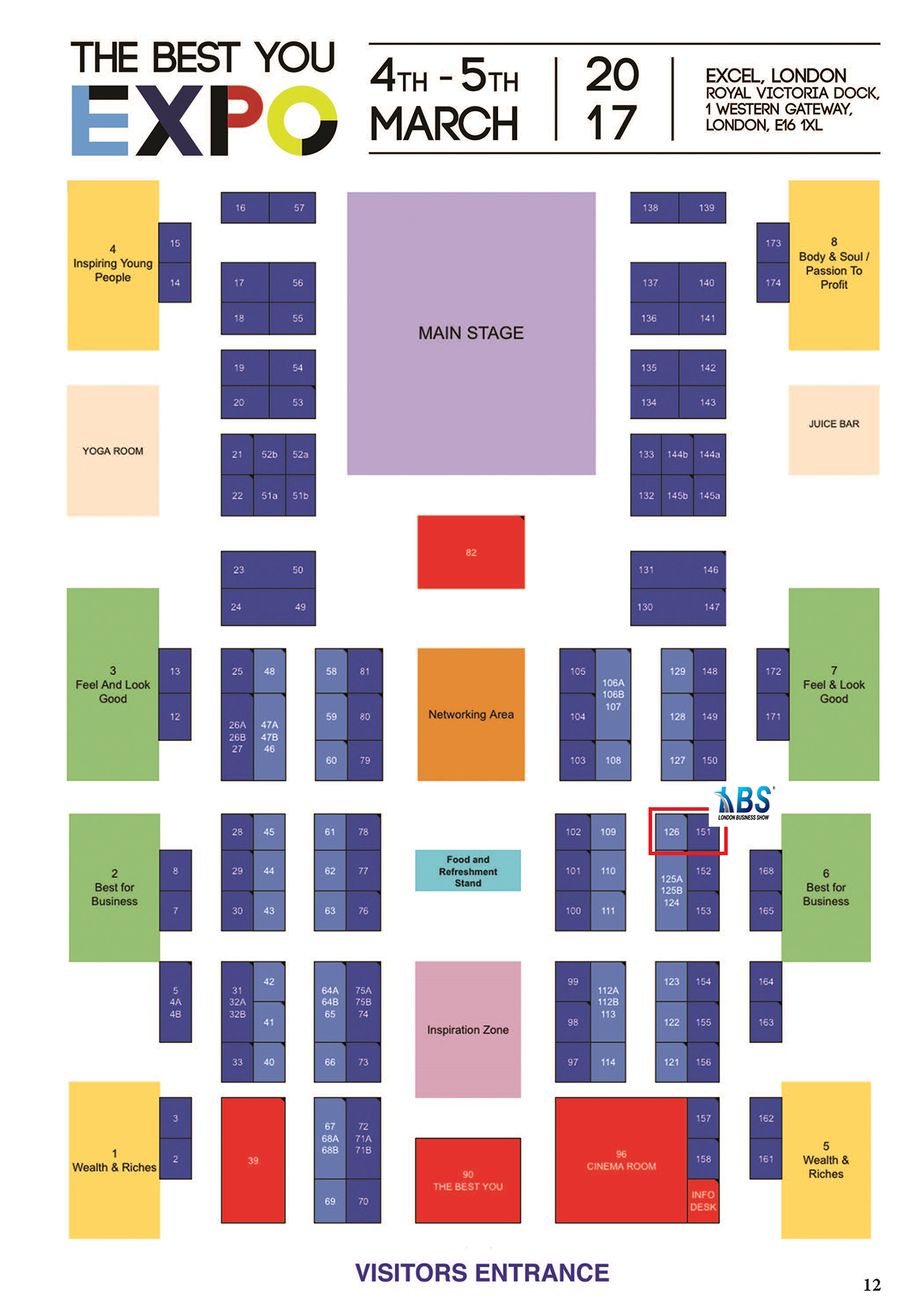 ==========London Entrepreneurs Network========
Join 1000s of City Entrepreneurs for FREE business networking at one of the best business networking in the heart of London. Benefits include:
Marketing;

Get in touch to provide.

Mentoring Get in touch

Investment -

Get in touch to provide.

Office Space -

Discover London's newest entrepreneurial co-wo

rking space to grow your business with complementary in-house expert mentors.

EULaw Online Free initial consultation,

Fixed Fee Commercial/IP legal advisers specialising in SMEs, Same Expert Legal Advice minus the unnecessary fees, Can assist with fundraising (SEIS/EIS), trademarks, patents, employment, and commercial contracts.
We will be providing food and refreshments to ensure you make the most of your experience and networking opportunities. That way, you can spend more time getting all the benefits from the event and less time hunting for food.
Accounting (get in touch to provide)
Video; (get in touch to provide)
AND many more at the event!
4 reasons to attend the next business networking event:
Business networking with quality people in the City of London
Exclusive offers available to you to help you grow your business (mentoring, office space, funding & so on)
Delicious refreshment to help you make the most of your time & networking.
Potential exposure for your business on Sky TV
ing a free business mentoring session, in Central London with experts team from the world number one on consultancy, assurance as well as providing Goverment GrowthAccelerator, if you need to. To apply for please just reserve here on the right side.
-----------------------------------------------------------------
Just reserve here on Meetup by clicking the green button on the top-right corner of this page. Tell us what you need and we'll do our best to use the network to help you. Remember!
We will always share amazing discounts and offers with you from our trusted partners within the network.
To make sure you're the first to know about them, come to our monthly events, and/or join our mailing list on http://www.meetup.com/LondonEntrepreneursNetwork/ or simply email us to add you to the mailing list.
---------------------------------------
To make the networking efficient use the one-minute free presentation to introduce & promote yourself. Past testimonials;
"I met with some very interesting individuals, many of which I am sure will turn into ongoing relationships. This is an event which welcomes small-medium sized companies through to those starting their own companies, clearly some talented and motivated individuals with vision
of where they are looking to develop and grow." — Matthew, Ablestoke
"It was a really useful and productive evening. Most importantly, it was unstuffy, relaxed and fun." — Richard, Rich Allsop Fitness
"What a fabulous event! Thank you for putting together such a wonderful evening with such lively connections." — Claire, Wellbeing in the City
"The organisers are also very approachable and do their best to ensure people feel welcome. They will help you to make the right contacts both during the evening and afterwards. From the two events I've attended so far, I have met one new client and three other people providing services which have helped me to develop my own business. I fully recommend attending an event as a way to make new connections, whether they be new clients or others who can provide services to help you grow your own business". - Patrick
----------------------------------------------
Why should you come?
To get the connections you need to move your business to the next level.

To meet investors.

To get and share great ideas.

Meet potential business JV partners • Meet potential suppliers and professional experters for your business

To simply have fun with great like-minded entrepreneurs.
Taking part in LEN equals to having thousands of sales people working for you because every other member carries your business card with them. When they meet someone new who could use your products or services they hand out your card and personally recommend your services.
Please feel free to invite your friends, colleagues and business partners to the event and tell those who you think might be interested by simply forwarding this information to them. All sectors of business welcome.
We look forward to seeing you!
London Entrepreneurs Network ® Limited
Raising money is not a problem. Just fair valuation & proof that people want your products or service. Get in touch.
--------------------------------------------
Our websites & projects:

Contact: 07591020664, Admin@LondonEntrepreneursNetwork.com