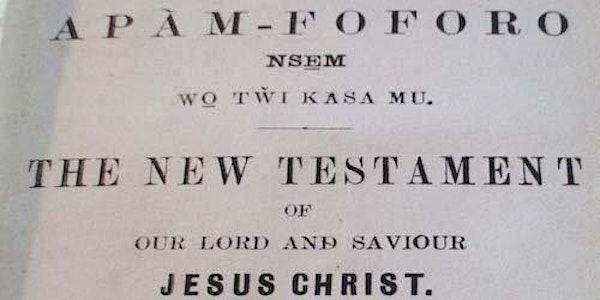 The Bible in West Africa: Exploring Early Missionary Translations
The Bible in West Africa: Exploring Early Missionary Translations in Ghana and Nigeria with Gerardo Serra, Steven Pierce and Jane Gallagher
About this event
Join us for a lunchtime seminar taking a close look at the earliest translations of the Bible into Twi (spoken mainly in Ghana) and Hausa (spoken primarily in Northern Nigeria, but acting as a traders' lingua franca in much of West Africa), presented by Gerardo Serra, Steven Pierce and Jane Gallagher (Head of Digital Special Collections and Services at the Rylands). The presentation will provide an overview of different ways of thinking about the nature and implications of missionary translations, and formulate some research hypotheses to understand the place of Bible translation in the formation of West African political and economic lexicons.
Colonial expansion in Africa depended on a basic three Cs, Civilisation, Christianity, and Commerce. For many African societies, translating the bible into local languages was a pivotal site of conceptual and linguistic negotiation, re-definition, and invention. Missionary translations of the Old and New Testament made crucial choices of orthography, grammar, and semantics. In doing so, they helped to standardise many languages and to institutionalise their written forms.
Gerardo Serra and Steven Pierce were the recipients of the 2020/21 John Rylands Research Institute Pilot Grant for their project 'Economic Concepts and Ideas of Justice in Twi and Hausa Bibles' .
This event is part of a live, online lunchtime seminar series. University of Manchester researchers will team up with experts from the Rylands to share current research activities. The seminars will showcase rare and fascinating objects from the special collections, along with discoveries and new perspectives formed through their study. Attendees will be invited to participate with questions and thoughts during the live Q&A.
Image: 'The Holy Bible translated from the original tongues into the Tshi, Chwee, language spoken by the tribes of Akuapem, Akem, Asante, Fante, etc., Gold Coast, Western Africa, R5863'
For event enquires, you can contact us by email at jrl.events@manchester.ac.uk or telephone on 0161 306 0555
Your personal data will be processed in accordance with relevant UK Data Protection laws. For more information, please see our privacy notice: John Rylands Research Institute and Library.