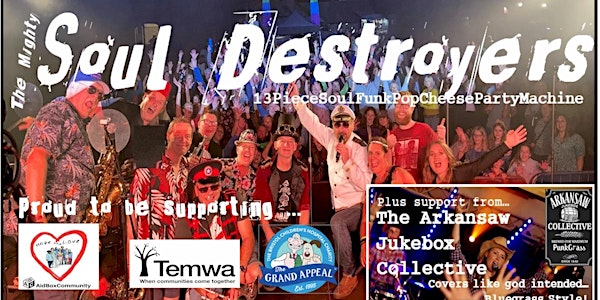 The BIG Bristol Charity Boogie -The Soul Destroyers + The Arkansaw Jukebox
Location
The Fleece
12 Saint Thomas Street
Redcliffe
BS1 6JJ
United Kingdom
It's party time folks - 2 of the best good-time bands + The UK's biggest 80's club night - got to be a banger! And all profits to charity
About this event
joyous, be happy and lets PAAAAAAAARRRRRTY!!!
For 'tis true dear reader For The Love are doing their "save the world" thing again and running an event to raise money for some of our fav charities in Bristol with an epic night out at the Fleece .
Lots of info on the bands below for those who have never had the pleasure, but those in the know will already be itching to get their hands on the (very limited) tickets so here is the skinny
So 2 cracking bands, full bar and boogie the night away with the UK's biggest 80's Club Night, Club Tropicana and all for less than a pie and a pint, and you get to go to heaven too... what's not to like here!
 Want to know more? Read on!!! 
More About The Soul Destroyers 
 More of a tribe than a band, the mighty Soul Destroyers have been playing their mix of cheese tinged, horn driven soul since Adam was a lad – the line up has come and gone, some have drifted into the sunset, and some have (genuinely), during their reign as "Best Party Band in Bristol" (Bristol Evening Post/Venue Magazine), been born, grown up and then joined the band!
A 13 piece line up, with 6 awesome horns, 3 singers and a rock solid rhythm section it is an unnatural phenomenon of truly awe-inspiring musical power. So yes it's sort of soul covers from all the usual suspects (Motown, Stax, Atlantic) but don't be surprised if you end up at some very unexpected musical destinations - ever noticed how bits of soul classics end up in some unusual contemporary tracks? … well they have and they aren't afraid to take you there!
But don't take our word for it have a watch/listen here https://www.youtube.com/watch?v=do5_Q-Klh9M
More About The Arkansaw Jukebox Collective
Look out Bristol The Arkansaw Jukebox Collective is coming to town!!
They've loaded up the pick-up for a rare trip into town for 'tis true the awesome Arkansaw Jukebox Collective will be playing their now legendary set of covers by everyone from the Sex Pistols to Stormzy (yes... really!)  - but, of course they play 'em just like god intended .... Bluegrass Style. 
The moving feast of humanity that is the collective (girls, blokes, fiddles, banjos, trumpets - just play what y'brung!) deliver a show stopping performance with covers of very well-known numbers (cue the big sing-a-long!)  but with a real twist as they unearth the hidden country heart in EVERY genre of music. Rock, pop, hip-hop, dance, rap – they all get the treatment!
I know it sounds bonkers, but it kinda works, anyway check them out here https://www.youtube.com/watch?v=E7K9yHO4znY
Which Charities Are We Supporting?
100% of the profits from this event will be split between these mega good Bristol based charities - in no particular order...
Aidbox Community - "Hope and Love For Refugees"
ABC provides support, supplies, sanctuary, and community to the hundreds of refugees and people seeking asylum in Bristol.
They welcome displaced people with open arms and provide love, hope, advocacy, and a space where everyone belongs and everyone is important.(https://www.aidboxcommunity.co.uk/)
Temwa - "When Communities Come Together"
Temwa works in remote, rural areas of northern Malawi – where poverty and climate change are a daily reality.
Their aim is to develop thriving, inclusive and self-reliant communities that are able to transform their own futures.(https://temwa.org/)
The Grand Appeal
The Grand Appeal is the official Bristol Children's Hospital charity and is committed to saving lives and supporting families at the children's hospital.
Their mission is to put the hospital at the centre of change - creating pioneering facilities and ensuring the hospital remains at the forefront of children's healthcare, saving lives into the next decade and beyond. (https://www.grandappeal.org.uk/)
T & C's
Restrictions – this an all ages event and U18's must be accompanied by an adult and everyone needs a ticket – on line tickets will be subject to a booking fee in addition to the face value.
Bar – there will be a bar, it will operate "Challenge 25" so if you are lucky enough to look U25 you will need ID
Right of Admission is Reserved – anyone suspected of being drunk or high or otherwise not in control will not be admitted, may be ejected and no refunds will be given.
Things happen and we may be forced to change the acts and/or dates and/or venues - if we do your tickets will be valid for the amended event or we will give a refund of the full face value of the ticket (i.e. excluding booking fees) if you request one because of a material change of this sort.
Other than for material changes of the sort outlined above we do not offer refunds on tickets purchased, you are however more that welcome to sell them on if you can no longer attend the event.
COVID Stuff
Check the Fleece web site for latest guidance at the venue