About this Event
We will be joining in with the Woodland Trust's pledge, to plant trees. The most beneficial trees to the Urban Nature areas will be young fruit trees to follow in the footsteps of our mature 150 year old fruit trees, and to plant native trees in any gaps in our bountiful hedgerows.There will also be the chance to diversify the woodland habitat by planting wildflower bulbs too!
There will be air of 'celebration' at this event, as we take a moment to enjoy the existing trees, and there importance in the Natural Heritage of St Ann's Allotments.
This is a great chance to get involved with STAA and Urban Nature, either as a one-off, or to visit and chat to our regular volunteers to get more involved.
This is a free event, but please book so that we know to expect you and can contact you beforehand with additional information about where to meet.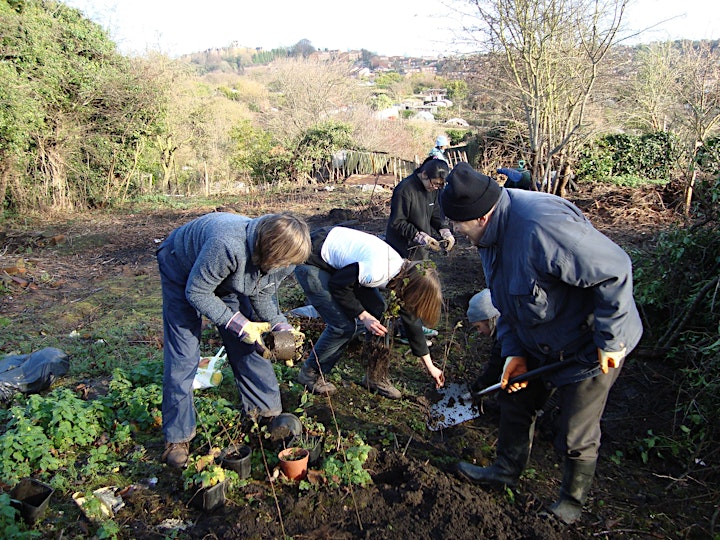 Course details
Capacity: The maximum group size will be 10 people
Refreshments: Complimentary tea and coffee will be available, and homemade vegan cake.
Contact: If you have any questions, please don't hesitate to contact Lucy Kennedy, our Volunteer Coordinator via lucy.kennedy@staa-allotments.org.uk
The Urban Nature Garden
This event will be run outdoors on our Urban Nature Garden. A wild space to encourage and learn about nature. It has a an orchid orchard, a pond, and beehive.
St Ann's Allotments are the oldest and largest area of Victorian detached town gardens in the world, and are Grade 2* Listed by English Heritage. The site covers 75 acres, has 700 gardens, over 30 miles of hedgerow.