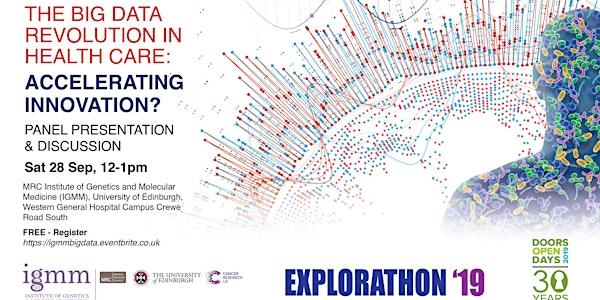 The Big Data Revolution in Healthcare: Accelerating Innovation?
Location
The Institute of Genetics and Molecular Medicine
Western General Hospital
Crewe Road South
Edinburgh
EH4 2XU
United Kingdom
Panel Presentation and discussion.
About this event
Big data is transforming healthcare and shaping its future delivery. Global healthcare systems are increasingly being challenged by complex conditions, where diagnosis and treatment can involve multiple specialists. New insights provided by the analysis of complicated health data have the potential to significantly improve diagnosis and treatments.
Big data provides opportunities to personalise treatments, design preventative care and predict population trends. Our researchers will share lessons learnt so far from the unique data health research environment in Scotland and reflect on the ethical and practical barriers to using huge sets of data in health research.
Host: Dee Davison, IGMM Public Engagement Manager
Presenters:
• Dr Andy Sims, Senior Research Fellow, CRUK Edinburgh Centre
• Dr Jeanette Baran-Gale, Research Fellow, Chris Ponting RG, MRC HGU
• Dr Charlie Lees, Consultant Gastroenterologist, CGEM, MRC IGMM & NHS
EVENT PHOTOGRAPHY/VIDEO
Photographs and/or video recording will take place during this event. Photographs and recordings will be held by the Institute of Genetics and Molecular Medicine at the University of Edinburgh and may be used after the event on the Institute's websites, social media channels and printed materials.If you do not wish to be photographed/filmed, please make a member of staff aware during the event or contact Communications@igmm.ed.ac.uk.
PRIVACY STATEMENT
Information about you: how we use it and with whom we share it.
We will use your personal data to allow us to process your registration, communicate with you and potentially obtain your feedback about the event. We are processing the information about you for these purposes because by registering for the event, you are entering into a contractual agreement for us to do so.
In order to facilitate online bookings for our events, we use Eventbrite - a third party service which is not operated by the University of Edinburgh. Details of Eventbrite's privacy policy can be found at: www.eventbrite.co.uk/support/articles/en_US/Troubleshooting/eventbrite-privacy-policy.
If you wish to attend an event organised by the Institute of Genetics and Molecular Medicine but do not wish to use Eventbrite, please email us at: Communications@igmm.ed.ac.uk.
If you have given us your permission, we will share your name, affiliation and contact details with the other participants in the delegate list. We will not share information about you with any other third party.
After the event, we may send you a survey as it is our legitimate interest to help us improve any future events we organise. We will hold the personal data you provided us for 6 months. If you have agreed to be contacted about future events, we will hold your personal data for as long as you subscribe to these updates. Where provided, financial data such as a payment record will be held for 7 years, but we will ensure that all information that can identify you directly is removed after 6 months. We do not use profiling or automated decision-making processes. If you have any questions, please contact Communications@igmm.ed.ac.uk.This Privacy Statement is continued at: www.edin.ac/privacy
THE MRC INSTITUTE OF GENETICS AND MOLECULAR MEDICINE
The MRC Institute of Genetics and Molecular Medicine is a strategic partnership of the Medical Research Council Human Genetics Unit, the Cancer Research UK Edinburgh Centre and the Centre for Genomic & Experimental Medicine.
Part of the University of Edinburgh and based at the Western General Hospital Campus, the Institute carries out world-class genetic, genomic, cellular and clinical science to improve understanding of human development, physiology and disease, and the applications of this knowledge for the benefit of patients and society.
To find out more visit www.ed.ac.uk/igmm.