Event Information
Refund policy
Contact the organizer to request a refund.
Eventbrite's fee is nonrefundable.
Get settled in for an evening of life drawing with performance artist Harry Clayton-Wright.
About this event
What to expect
Join us for a life drawing featuring a variety of poses from Blackpool-based performanced artist Harry Clayton-Wright live streamed from Bootleg Social in Blackpool. We'll start the session with some quick 'warm-up' poses, then try some longer poses where you can really get stuck in.
Expect to see improvised props and costume accessories that highlight this year's festival theme #ClimateOfChange. There will be a playlist of songs to accompany the drawing session as well as some commentary from the artist.
This is an untutored session, so you'll be left to get on with your drawing although advice will be available through the Zoom chat function.
This event is for anyone who loves to draw, as well as those who think they can't!
Please note that this session does not feature full nudity.
What do I need?
Some paper and a pen or pencil is all you really need to take part. You can also work with pastels, charcoal or any other materials you want to try. We recommend you watch on a desktop and go full-screen if you can, to get the best possible view of the model.
Cost
Access to live stream: £3
Access to live stream + drawing kit: £5

Must be booked before Thurday 22 October to allow time for postage.
Pack includes a free sketchbook, pencil, eraser, pencil sharpener, Big Draw Stickers and a Big Draw artist certificate.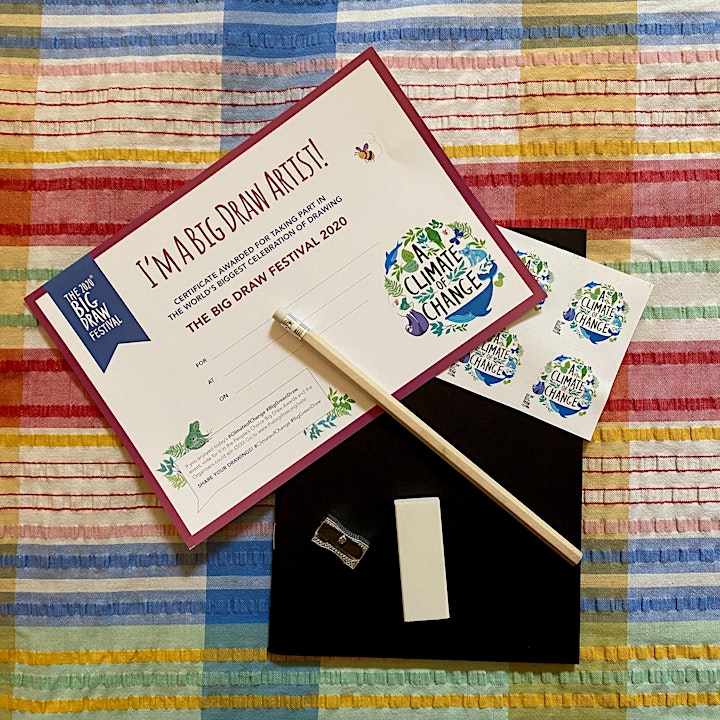 Housekeeping
Poses: Harry will make small movements to speak to you and to maintain circulation.
The organiser will also ask you if they you are happy with the pose and that is the time to make observations. 
If you would like to speak to the model, please go through the organiser, using the chat function.
There will be some short breaks for the model and a 10 minute comfort break for everyone at 8pm.
Share your work
We would love, love, love to see your work so please share it on social media using the hashtag #BigGreenDrawBPL and tagging @_AuntySocial_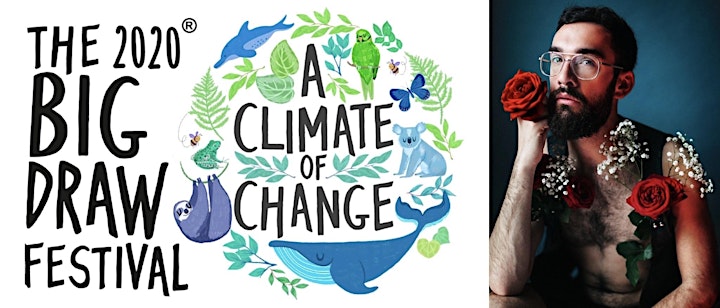 FAQs
What time do I need to arrive?
 You can log on to the Zoom waiting room from 6:45pm, the session will start at 7pm.

Do I have to get my tickets online?
As this is an online event, online booking is preferable. If you are struggling to book online, you can also book by messaging us on Facebook or emailing info@auntysocial.co.uk. Please note that you will need to give us a valid email address so that we can send you the link for the online workshop.

Can I just book on the day?
We cannot guarantee that there will be tickets available on the day. To avoid disappointment, please book in advance.

Is this for adults or children?
The minimum recommended age for this workshop is 14 years.

Where does the activity take place?
This is an online event. Once your ticket(s) are booked, you'll receive link to the Zoom meeting. If you don't receive the link, please check your email junk folder. If you still can't see the link, please email or message us.
Please note the following:
This session will be delivered via Zoom. It is accessible from any web device, however, a device with a larger screen such as a tablet, laptop or PC will give you a better experience.
Please do not take photos/screenshots.
Our online sessions are unrecorded, unless otherwise specified.
If you have any questions about this event, please get in touch.

What is The Big Draw Festival?
The Big Draw Festival is the world's biggest celebration of drawing and it takes place across the globe every year from 1-31 October.
The Big Draw charity is the founder and driving force behind the festival but the thousands of enjoyable and experimental drawing activities are brought to life by hundreds of participating organisations from around the world.
Since launching in 2000, the festival has taken place in over 25 countries on seven continents, engaged over 4 million people and even clocked up two world records.
The festival promotes drawing as a universal language that has the power to change lives and unite people of any age, background, race, or religion from around the globe.
#ClimateOfChange
The rapid current state of environmental changes, socio-political and economic change spur us to consider our relationship with the planet and the planet to humankind as a whole. The Big Draw 2020 theme A Climate of Change encourages and underlines the relationship between people and our living environments and ecosystems and highlights how we live today and the ways in which we do - and do not - harmonise with nature.
Who is Aunty Social?
We're a community organisation based in sunny, funny, weird and wonderful Blackpool. We love having a go at all things creative, organising lots of activities for folk living across the Fylde coast. Among other things, we love film, paint, craft, sandwiches and hats.
Date and time
Location
Refund policy
Contact the organizer to request a refund.
Eventbrite's fee is nonrefundable.