Description
Middlesex University's Big Draw week is back and this year we're STEAM powered!
Middlesex University is proud to be part of the Big Draw 2016, a nationwide celebration of drawing and creativity, with a week-long festival of activities culminating in a Family Friday at our Hendon campus on Friday 28th October.
If you have youngsters we recommend our Friday event.
"There's a super volcano about to erupt. Life as we know it is under threat..."
Join Middlesex University for The Big Draw event. Our theme this year is Super Volcano. We are collaborating with SMASHfestUK and the The Royal Academy of Engineering to explore how we can employ drawing and science to protect and rebuild our world in the face of such a natural disaster.
Activities will include building a super volcano, botanical and edible insect drawing, making musical instruments from unlikely items and exploring life in our Survival Village. Activities are all FREE and suitable for children aged five and over, including virtual reality 3D Drawing and an abundance of engineering solutions to engage in. There's plenty to keep the whole family entertained!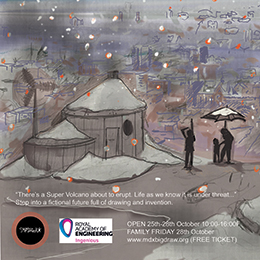 The Big Jam (Tickets on Eventbrite) is always a blast! It's lively, colourful and inclusive. On Tuesday 25th October we are working with our resident Mathematicians to use maths as inspiration for a large scale drawing and performance event with just a hint of Chaos.
The Family Friday (Tickets on Eventbrite) invites families to participate in all our Big Draw activities. There will be exotic animals on site to draw and experts here to talk about them.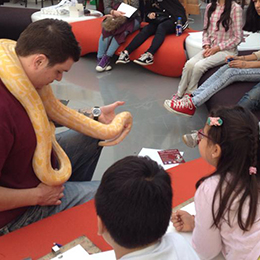 STEAM (science technology engineering arts maths) is the nationwide theme for this year's Big Draw and provides the ideal opportunity for Middlesex to celebrate the creative crossovers between its Faculty of Arts & Creative Industries and Faculty of Science & Technology.
"Drawing and play are so important for creativity and innovation for children and adults alike. I'm delighted that we'll be opening our doors for the local London community to create, draw and explore with us" said Middlesex Big Draw coordinator and Senior Faculty Technician, Andrew Pomphrey.
Find out more at Middlesex University's Big Draw webpage: