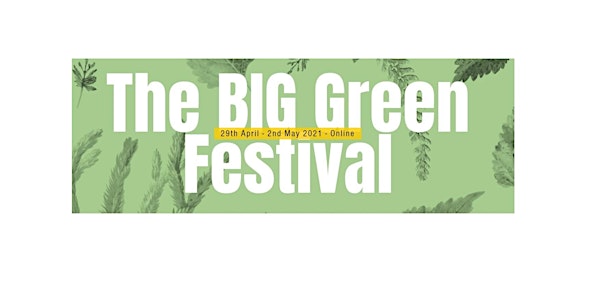 The Big Green Festival 2021
Online FESTIVAL of online events, classes & guests in support of better ways to live more sustainably while HAVING AS MUCH FUN AS POSSIBLE!
About this event
North Surrey Green Party are delighted to launch this online Festival , organised by Jan Doerfel, of events, classes, fun, film showings and Panels with Special Guest Speakers who are all coming together in support of seeking better ways to do what we can to save our environment, live greener lives and look after our wellbeing WHILE HAVING AS MUCH FUN POSSIBLE!
This is a FREE Event - any charge for a particular class goes straight to the local business running that class.  If you want to support North Surrey Green Party to keep campaigning on local and environmental issues including protecting our Green Belt, you can donate at [link to be confirmed]
The Festival is spread over 4 days and has a range of classes, events and Panels.
To book the classes or events shown in the Schedule please follow the booking details contained in the Schedule in the class or event description.
You can book the Meditation Class with Greta Mattar at 5pm on 29 April here on Eventbrite - just select the ticket date "29 April 17:00-17:30".
To book the Panel events listed in the Schedule which are running on 29 April, 30 April and 1st May 2021, please book tickets here with Eventbrite. All Panels are FREE.
Information about links and joining details for the Panels will be sent to ticket holders in advance of the event date. Panel discussions will be recorded for training and outreach purposes.
The Panel Events are as follows: (all times shown are GMT London, UK time)
THURSDAY 29 April 2021
18:00 - 19:30 Panel: Living in Better Harmony with Nature - What Can We Do? Currently confirmed Guest Speakers include:
Tim Howar - Mike & the Mechanics, Actor, Singer/Songwriter, Broadway & West End
Vanessa Kane - Talking Tree in Staines
Steve Ringham - Save the Oaks, Green Party candidate for Addlestone North
Chair: Udo Kleinitz - Green Party candidate for Englefield Green West
FRIDAY 30 April 2021
16:30 - 18:00 Panel: Green Belt & Green Space Under Threat - What Can We Do? Currently confirmed Guest Speakers include:
Richard Knox-Johnston - London Green Belt Council
Catriona Riddell - Catriona Riddell & Associates
Jan Doerfel - Spelthorne Green Party Councillor for Staines, Barrister
Chris Packham - special filmed message for this Event!
Chair: Chris Hyde - Green Party Candidate for Lower Sunbury & Halliford
21:00 - 21:45 PARTY - Dance Time!
DJ Udo will take participants on a mix-journey of club/party tracks . Turn up your volume and enjoy!
SATURDAY 1st May 2021
17:30 - 18:30 Screening of Documentary 'Thirst for Justice' and a chance to hear from and speak to the documentary maker BBC Investigative Journalist Leana Hosea.
19:00 - 20:45 Panel: The Global Water Crisis Currently confirmed Guest Speakers include:
Don't forget there are still events running on Sunday 2nd May 2021 which you can book direct here
WE LOOK FORWARD TO SEEING YOU AT THIS OR ANY OF THE EVENTS / PANELS! Any queries or questions, please email us at info@biggreenfestival.com
#BGF2021