Description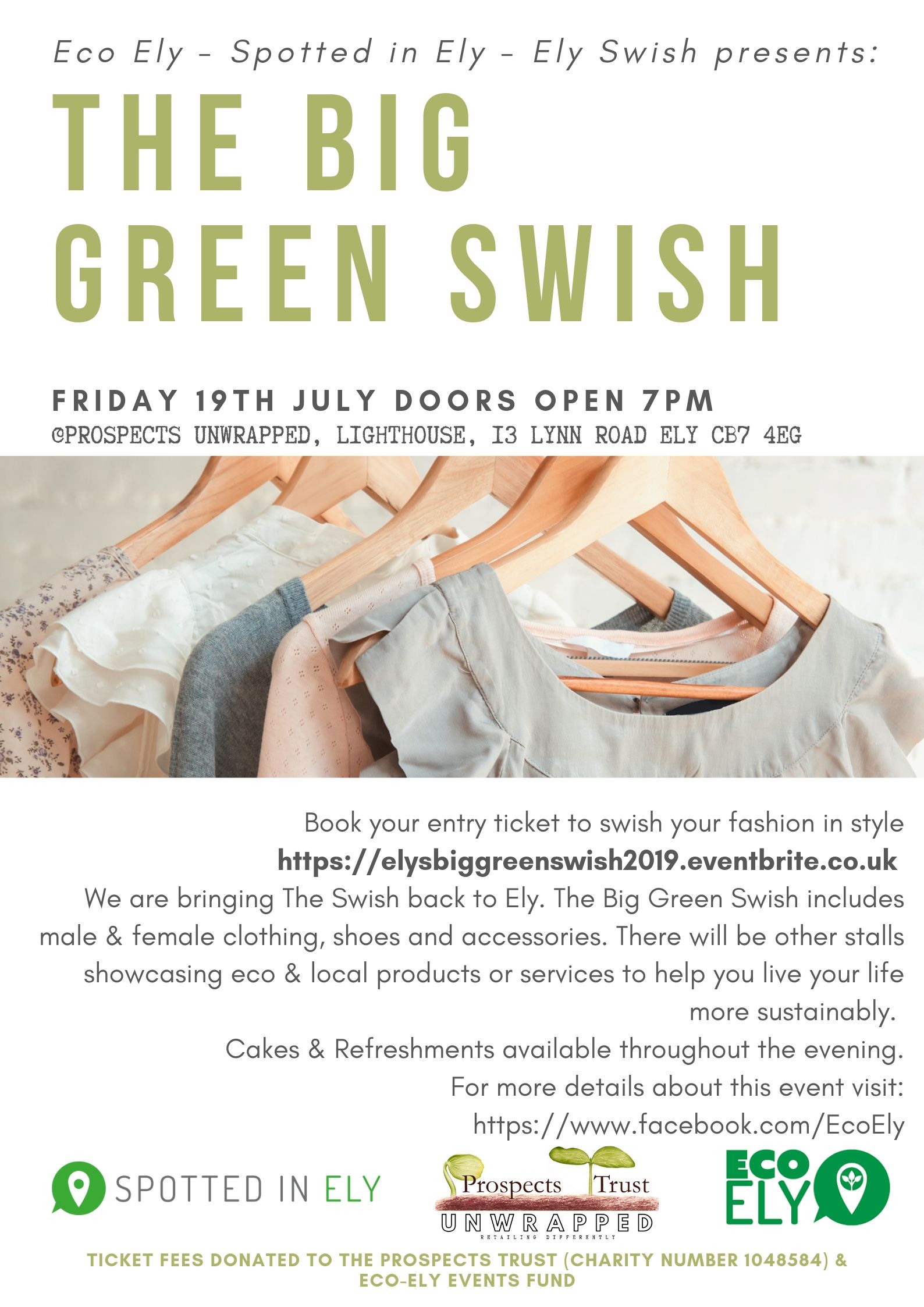 FAQs
Rules of the Rail
Swishing is an exchange of those pretty, classic and barely worn items we all have hiding in our wardrobes and finding something new instead! Clothes Swapping gives you all the excitement of something new to you to wear while taking an eco step forward to avoid throw away fashion. Do your bit and have some fun!
Rules of the Rail
To participate in the Swish, bring up to 10 items of clothes, shoes or Accessories. These must be wearable, ironed where relevant and clean. "If you would lend it to a friend you can Swish it".

The points system is as follows: 10 points for high street names, 20 for premium high street and up to 50 points for outfits, suits, evening dresses and designer items. The check in volunteers are experienced and fair.

When you check in your items, you will be awarded points according to what you have brought and your "Swicket" will be stamped in multiples of 10 points.

Swishing will open when the bell rings please help us keep it fun by following these rules:

Take a maximum of three items to try on, please return anything you decide is not right for you back to the rail or hand it to one of our volunteers.

There is no browsing in advance of the bell ringing.

Fair play is our motto
Any points you haven't used can be used at a future Swishing Event*.
*Please note that Ely Swishing is currently only running events if asked to by a Charitable cause. Existing members points will be honoured and your "Swicket" will be available at check in.
Are there ID or minimum age requirements to enter the event?
There is no entrance age however the Clothes swished are for adults (male, female and unisex).
What are my transport/parking options for getting to and from the event?
The Lighthouse is in the heart of Ely, with lots of public car parking nearby. To view parking options please see: https://www.lighthouse-ely.org/images/bits/Wheretopark.pdf
What can I bring into the event?
Up to 10 items of clothing, accessories and shoes, some money for refreshments, Welsh Raffle and did somebody mention CAKE?
How can I contact the organiser with any questions?
This is a joint event between Eco Ely, Spotted in Ely and Ely Swish with the ticket sales being donated to The Prospects Trust. If you need to speak to a person please contact The Prospects Trust at Snakehall Farm to point you in the right direction. Tel: 01638 741551.
More details can also be found at:
Eco Ely: https://www.facebook.com/EcoEly/
Spotted in Ely: https://www.facebook.com/SpottedInEly/
Ely Swish Group: https://www.facebook.com/groups/171002672968436/
Prospects Trust: www.prospectstrust.org.uk
Do I have to bring my printed ticket to the event?
You can bring a copy of your ticket on your mobile or you can print (but if you do print please recycle the paper...and the inkjets)! We will have a list of pre-booked tickets at the event.
Is my ticket transferrable?
Yes you can switch your ticket, the ticket fee is a charitable donation towards The Prospects Trust a registered charity. This event is raising funds for Prospects Trust Unwrapped and an Eco Ely Fund to create a more sustainable way to live and shop in Ely.
Is it ok if the name on my ticket or registration doesn't match the person who attends?
Yes, we are hoping to get an idea of Swishers but you can transfer or use a nickname.