The Big Hospitality Conversation Llandudno

Wednesday, 9 March 2016 from 09:00 to 13:30 (GMT)
Event Details
We know a good conversation can lead to great things, this is why we want you to join us for the Big Hospitality Conversation taking place on 9th March 2016 at The Imperial Hotel, Llandudno.
This event will showcase the vibrant Hospitality and Tourism industry of Wales, celebrate leading employers and inspire the next generation. 
The Big Hospitality Conversation is the flagship campaign of our industry. It has a threefold mission to:
Promote Hospitality as a career of choice
Facilitate a meaningful dialogue between young jobseekers and employers
Demonstrate the power of the industry to create jobs, especially for young people
We are calling on hospitality businesses to pledge to create jobs, apprenticeships and work experience opportunities within our industry, inspire the next generation and change lives. 
 Our target is to create 60,000 hospitality career opportunities for 18 to 24 year olds by 2016.
To date over 3200 Chief Executives and HR Directors have connected with young jobseekers across the UK to generate over 48,000 pledges.
We aim to abolish the myth that hospitality jobs are low-skilled, low-paid and lead to dead ends. The event will host morning panel sessions and key note speeches from renowned industry leaders, covering topics including work experience, apprenticeships and youth employment. This will be followed by the Big Conversation, and your chance to discuss the issues with young jobseekers.
We then welcome you to continue to the conversation over lunch.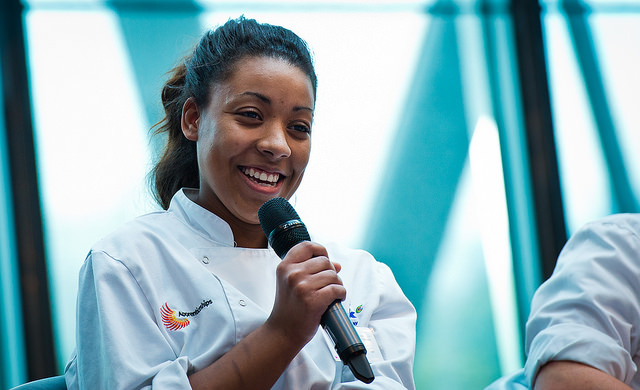 We look forward to welcoming you at The Imperial Hotel for this exciting event, and encourage you to bring your HR Director along.
P.S. There is limited availability for this VIP event, places will be allocated on a first-come first-served basis and will go quickly.
To find out even more about the initiative have a look at our website bha.org.uk/bhconversation. Follow links to see pictures and videos.
+++++++++++++++++++++++++++++++++++++++++++++++++++++++++++++++++++++++++
Mae'r Sgwrs Lletygarwch mawr yn  ymgyrch flaenllaw ein diwydiant. Mae ganddo genhadaeth driphlyg i:
Hyrwyddo Lletygarwch fel gyrfa o ddewis
Hwyluso deialog ystyrlon rhwng ceiswyr gwaith ifanc a chyflogwyr
Dangos pŵer y diwydiant i greu swyddi, yn enwedig ar gyfer pobl ifanc
Rydym yn galw ar fusnesau lletygarwch i addo creu swyddi, prentisiaethau a chyfleoedd profiad gwaith o fewn ein diwydiant, ysbrydoli'r genhedlaeth nesaf a newid bywydau.
Ein targed yw creu 60,000 o gyfleoedd gyrfa lletygarwch i bobl 16 i 24 oed erbyn 2016.
Hyd yma mae dros 3200 o Brif Weithredwyr a Chyfarwyddwyr Adnoddau Dynol wedi cysylltu â cheiswyr gwaith ifanc ar draws y DU i gynhyrchu dros 48,000 o addewidion.
Rydym yn anelu at ddiddymu'r myth bod swyddi lletygarwch yn isel o ran sgiliau, cyflog gwael ac yn arwain at ddifyg gyrfa sylweddol. Bydd y digwyddiad yn cynnal sesiynau panel bore a phrif areithiau gan arweinwyr y diwydiant enwog, yn cwmpasu pynciau gan gynnwys profiad gwaith, prentisiaethau a chyflogaeth ieuenctid. Bydd hyn yn cael ei ddilyn gan y Sgwrs Fawr, a dyma'ch cyfle i drafod y materion gyda cheiswyr gwaith ifanc. Yna, rydym yn eich croesawu i ymuno â ni am ginio rhwydweithio.
Edrychwn ymlaen at eich croesawu yng Ngwesty'r Imperial ar gyfer y digwyddiad cyffrous hwn , ac rydym yn eich annog i ddod â'ch Cyfarwyddwr Adnoddau Dynol gyda chi
O.N. Mae lleoedd yn gyfyng ar gyfer y digwyddiad VIP, bydd  lleoedd yn cael eu dyrannu ar sail y cyntaf i'r felin a byddant yn mynd yn gyflym. I gael gwybod hyd yn oed mwy am y cynllun dylech gael golwg ar ein gwefan  bha.org.uk/bhconversation.  Dilynwch y dolenni i weld lluniau  a fideos.
When & Where

The Imperial Hotel
The Promenade
LL30 1AP Llandudno
United Kingdom


Wednesday, 9 March 2016 from 09:00 to 13:30 (GMT)
Add to my calendar
Organiser
British Hospitality Association
The BHA represents over 46,500 hotels, serviced apartments, clubs, restaurants, food service, attractions and leisure companies. As the 'hub' for Hospitality and Tourism, the BHA's thought leadership, market know-how, intelligence and expertise, deliver a powerful voice to government, as well as reliable advice, valuable connections and strategic support to business. Its purpose is to work with government to ensure the right business environment in which Hospitality and Tourism can thrive. The key measure of success is the creation of 300,000 new Hospitality and Tourism jobs in the UK by 2020.
For more information www.bha.org.uk. Follow us on Twitter @BHAtweets
The Big Hospitality Conversation Llandudno