Location
Hyde Park
London
W2 2UH
United Kingdom
Description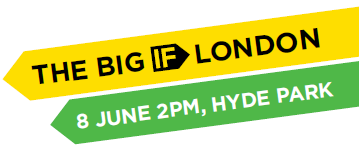 From 8 to 17 June, the 10 days leading up to the G8 Summit, we need to make a big enough noise to get world leaders to tackle hunger.
IF we act now, these 10 days could
be the beginning of the end of hunger.
What will be happening at the event?
The Big IF London is a unique opportunity for us to make our voices heard. Thousands of people will be travelling from across the UK to demonstrate against hunger in London's Hyde Park. If we make enough noise G8 leaders will have to act to stop the scandal of hunger.
There will be a host of inspiring speakers and artists from across the globe. The event will be hosted by Myleene Klass and Gethin Jones, and will feature appearances by Bill Gates, Danny Boyle, Natasha Kaplinsky, Angelique Kidjo, Julie Siddiqi, Rabbi Laura Janner-Klausner, Rowan Williams, Alvin Mosioma, Satish Kumar, Charlie McDonnell, Daniel Roche, Lucy Rose, Beardyman and Urban Voices Collective.
As well as this you will be part of creating an iconic symbol of support for tackling hunger. This will be made out of spinning flowers, a powerful reminder of the 2 million children who die because of hunger every year. We need you to help complete this symbol by adding your spinning flower on the day.
Why is it so important to come to the Big IF London?
On Saturday 8 June, David Cameron hosts a Hunger Summit in London. This is the start of 10 days of summits that will culminate at the G8 meeting in Enniskillen in Northern Ireland on 17 and 18 June. Together we'll make sure David Cameron goes to Northern Ireland with our demands ringing in his ears.
Let us know you're coming by clicking the register button at the top of the page. Visit our website for more information, and please tell your friends and family to come along to the #BigIF!