The BIG Investigo Run, Raising money for St Mungo's
About this event
We invite you to join us for The Big Investigo RUN and raise money for St Mungo's to help end homelessness.
Thank you to everyone who has signed up to take part, if you don't want to do the run but would still like to donate please do so by registering.
The aim of this event is to encourage people to challenge themselves with either a 10km or half marathon run, but if you would like to participate at a steadier walking pace – that's fine too. We want to bring our employees, family members, friends, clients and candidates together (virtually) to support this wonderful charity and raise as much money as possible. St Mungo's provides a bed and support to more than 2,850 people a night who are either homeless or at risk of homelessness.
Everyone will have the choice to complete the run before Monday 26th April on a local route of their choice. Just because you will be running by yourself, doesn't mean you are doing it on your own – far from it! We will be creating communities on Facebook and Strava to share brilliant information from coaches to top athletes and we will be encouraging you to share your training journey over the coming weeks. We will kick off the day together to launch the run and close the event with a celebratory virtual meet to recognise the winners - yes, there is a competitive element to the event!
Please join us and help us to raise as much as money as possible for St Mungo's and the life-saving work they do for so many people in need.
Join the Big Investigo Run Facebook community:
https://www.facebook.com/groups/the.big.investigo.run
The finer details:
DATE: Friday 23rd April 2021
TIME: Complete the run by Monday 26th April 2021
DISTANCE: 10km or Half Marathon
LOCATION: Your local route of choice
WHO: Open to all Investigo employees, friends and family and professional network.
CHARITY: St Mungo's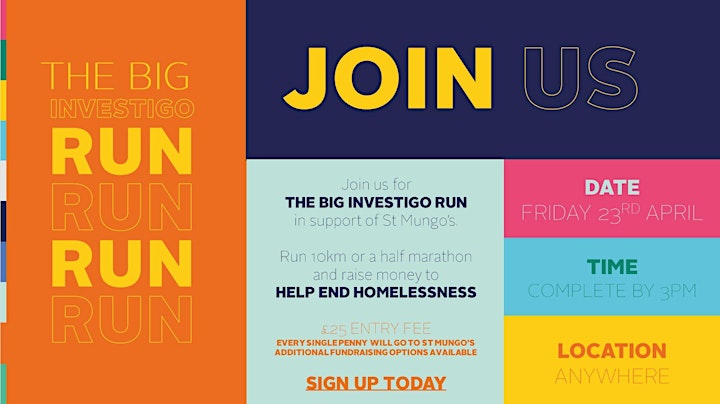 Organiser of The BIG Investigo Run
By signing up to this event you grant the event organisers full rights to take photography/video filming, for content purposes. This might include the right to use them in their printed and online publicity and/or social media. If you do not wish to be photographed please inform an event organiser.