Description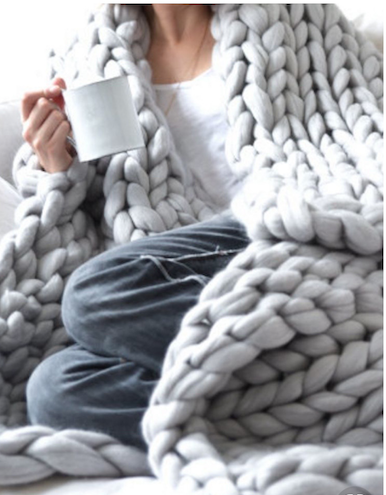 Oh Wow! Isn't it Gorgeous! Have you ever wanted to own one of these gorgeous super chunky knitted blankets or even learn how to knit one yourself? Well now you can learn how to knit one using your arms as knitting needles and take home your very own throw! Yes! You heard us these are knitted using your ARMS!
Together with So Creativ we are going to teach you how to knit one of these beautiful throws in a fun but relaxed environment at Deans Court in Wimborne. You will be served a hot drink and a delicious home made cake from their varied selection of cakes on the day.
You don't need to have any knitting skills at all as they are super quick and easy to knit so all you have to do is
Book your space on the course
choose the colour of your super chunky yarn from Dove grey, Cream or baby pink
Join us on 9th of November and begin knitting!
The price includes 2kgs of wool for a throw approximately 70cms x 130 cms In size. If you wish to make a throw larger than this, then extra wool may be purchased on the day IF we have your colour available. If you prefer you can contact us in advance to order extra wool specially for you.
If you have any queries about this course please do not hesitate to contact us on 07762 788559 - why not book a space for you and a friend and come along together! Would make a great Christmas present ( Hint, Hint!)
Looking forward to having you join us for the First ever BIG Yarn Knitting Event in Dorset!
We are very sorry but due to the fact that we order your wool in specially for you no refunds will be given in the event of a cancellation.