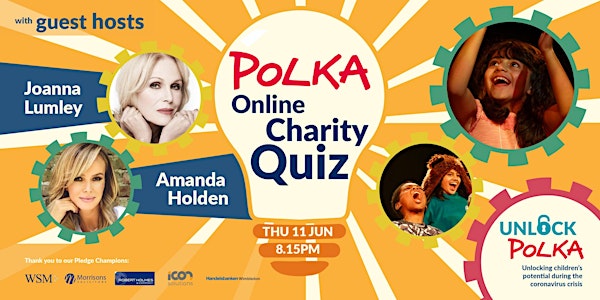 The Big Polka Charity Quiz With Guest Hosts Joanna Lumley & Amanda Holden
An online evening of quick-thinking, creativity and surprises, all from the comfort of your living room
About this event
Join special guest hosts Joanna Lumley, Amanda Holden and friends for Polka's first Online Charity Quiz
The evening will raise vital funds to help Polka continue supporting children impacted by Covid 19 through lockdown and beyond.
Grand Prize:
Two boutique double rooms at Wimbledon Village's Dog and Fox
Dinner for 8 at Giggling Squid
8 tickets for a Polka show when we reopen in Spring 2021, plus a behind the scenes tour
How to Play:
1. If you can, make a donation. Taking part is completely free but during these turbulent times we need your help to continue supporting children whose lives have been changed by Covid 19. We've suggested £25 per team.
2. Get your team together, you can play as a household, create a Whatsapp group for your team, or why not give a friend a call and enjoy the quiz together over the phone.
3. Visit Polka's Facebook Page at 8.15pm on Thursday 11th June. Everyone can watch, you don't have to have a Facebook account.
4. Have a pen, paper and some snacks at the ready.
5. The quiz will be broadcast on Facebook, so we won't be able to see you, don't be tempted to google!
5. Enjoy! At the end of the quiz, email a picture of your team's answers to RSVP@polkatheatre.com.
6. The celeb hosts will reveal the answers, teams will mark their own scores, and Polka will announce the winners. (Polka will check the winning teams' answer sheet personally).
Can't Make It But Still Want To Support?
Thank you so much! Your support will make a real difference. Please visit our Just Giving Page to donate today.
About Polka Theatre
Polka Theatre are a registered charity who provide creative activities and support for families, teachers and vulnerable children.
Children are amongst those hit hardest by lockdown and the impact of Covid 19. For some the stress, anxiety and isolation can be overwhelming. Now more than ever children need access to creative experiences which help them to combat loneliness, and navigate their ever changing world.
Covid 19 has dealt Polka a significant blow. They need your help to continue supporting children, their teachers and families at a time when they need it most.
Just £25 could pay for materials for an online workshop for families to enjoy for free – that's the suggested donation for a quiz team.
Just £65 could pay for a teachers support pack, full of creative ideas for remote lessons and games for children at home.
Just £120 could pay for a free drama workshop for children at risk of social isolation
Responses to Polka Theatre's lockdown activities:
Words can't express how much my daughter loves the Drama Workshops that you've created! 🎭 ❤️ Much appreciated by us both.
Just beautiful. Cheered me up and made me smile ❤
I have to teach Drama remotely to years 2-6, a task that is nigh on impossible with the very small ones and your classes have been a godsend… I wish you could see them, they are loving the stories and the workshops. If you had seen the little bear puppet videos I got your heart would melt, they're amazing. It is so lovely to see the children's imaginations being fired up in these difficult circumstances
Since the lockdown started Polka Theatre have:
Launched Polka Online, a treasure trove of free creative activities, storytelling, live workshops and more.
Adapted their support programmes for at-risk children so everyone can still take part regardless of their personal barriers e.g. no internet access.
Stayed in touch with vulnerable members of the community
Moved their intergenerational choir online this summer! So everyone from babies to grandparents can still enjoy singing together, even while they are apart.
Created a strategy to support children once lockdown ends
For more information visit PolkaTheatre.com
Thank you
Thank you so much for joining in to support children's creativity. We hope you have an amazing Quiz- good luck!
For more information about Polka's community work please contact: Gwen Hanauer, Events and Campaigns Officer: gwen@polkatheatre.com.
Polka Theatre is a registered charity no. 256979.
With thanks to Polka Theatre's Pledge Champions
• Morrisons Solicitors • WSM • Robert Holmes • Handelsbanken Wimbledon • Icon Solutions • Champions For Children
Below is a short video about Polka's 2019 Creative Learning Project: Property of Polka (filmed before social distancing began)
Organiser of The Big Polka Charity Quiz With Guest Hosts Joanna Lumley & Amanda Holden