Sign up to take part in the Big Portland Parade
About this event
We will be parading through the streets of Portland and everyone is invited to take part. Portland has a tradition of parades - we would like to revive this custom and end our festival with a celebratory gathering through the streets of Portland led by you all as well as our festival artists, and b-side volunteers.
We want as many community members as possible to get involved, so tell your friends, your family, your sports team, and your knitting club. The theme for this year's parade is "Celebrate Portland" and we are encouraging people to come dressed as anything to do with the island: a favorite shop on the island / a landmark / the island itself!
Here's the planned route:
We will meet at Easton Square Gardens at 4pm and then start walking at 4.30pm. We will walk down to the Portland Museum, and back again to Easton Square. We have organised a road closure so we have the whole street to social distance, and dance in.
Please note the entire route is a wide street with level access and we especially encourage anyone who identifies as disabled to take part. If you have any access requirements please just contact our lead Portland Parade coordinator, Emma, to discuss anything at all: emma@b-side.org.uk
It is completely free to take part in the parade, if you want to join us - just sign up here and then turn up to Easton Square Gardens at 4pm with your artworks and outfits at the ready!
If you don't feel confident or have the materials to make anything for the parade, then just let Emma know and we will post you a Portland Parade Pack – a pack designed by local artist Jodie House and with an easy step guide and materials on how to get creative and get involved! We have 90 packs to post out to people with thanks to Portland Town Council.
Want to join in?
Sign up here and we will send you all you need to know and you will get all the latest updates on taking part in the Parade sent straight to your email.
Please see the Parade route below.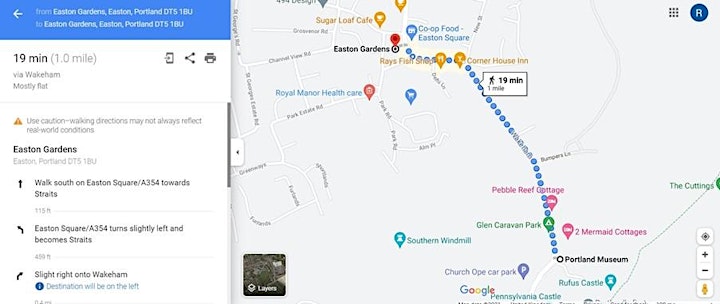 Organiser of The Big Portland Parade