Description
Alabaré's Flagship event, The BIG Sleep welcomes those who want to take a stand against homelessness, and sleep out, to raise awareness of the plight of those forced to call the streets home, and to raise much needed funds. With new and never seen before cuts to the funding of our Homes & Services as of 2018, Alabaré needs to raise £1.3 million to help those who are most at need.
So come armed with cardboard, warm clothes, a sleeping bag or two, and a huge heart. You will have the honour of sleeping under the stars in the cloisters at the very beautiful Salisbury Cathedral. An impressive and humbling venue that gives a real sense of how blessed we are to be able to go back to a warm and dry home afterwards.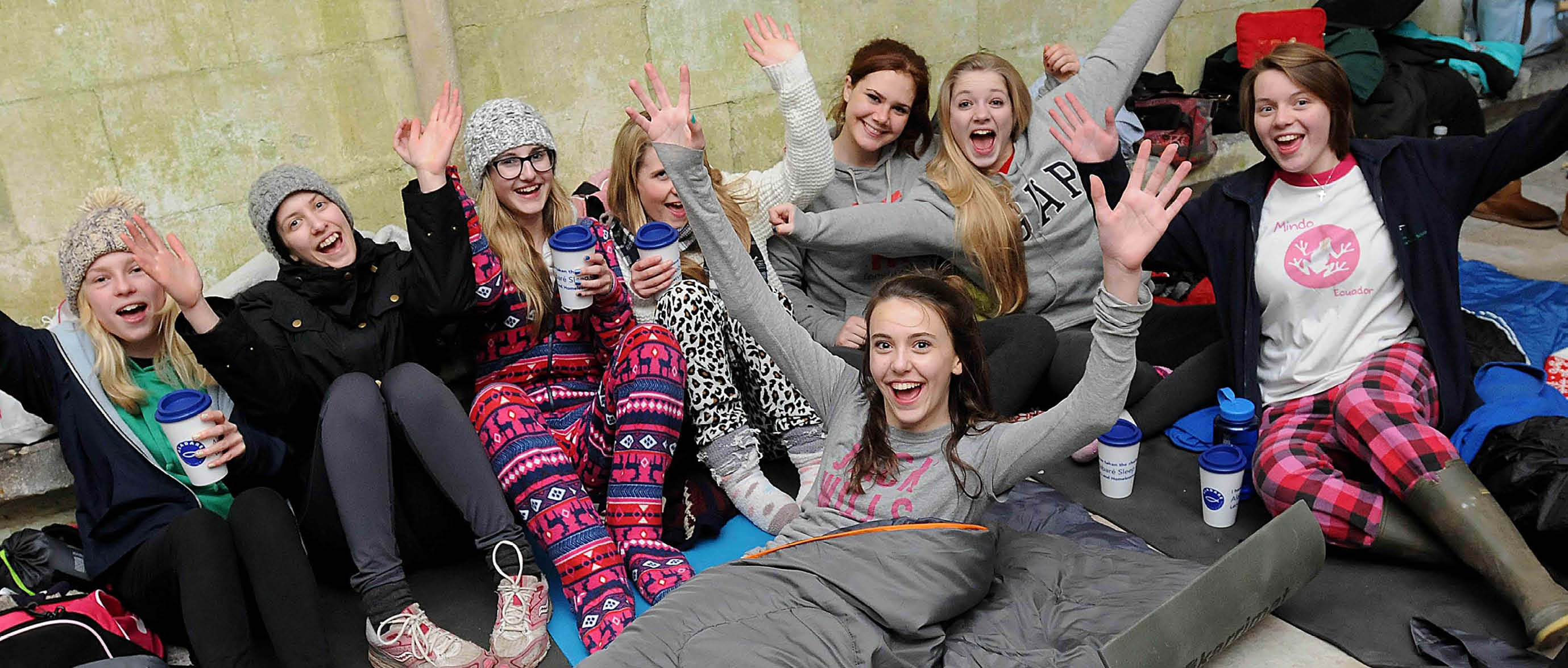 And for the first time ever, Salisbury Cathedral are generously allowing 30 well behaved dogs to join their well behaved owners to keep them company through this wintery night. Many of the rough sleepers Alabaré helps understand the priceless bond between themselves and their canine companions, when life on the streets is their reality.
Anyone bringing a dog must read our Rules For Well Behaved Dog Owners below before signing up.
Everyone who signed up pledges to raise a minimum of £100 for Alabaré's work with the most vulnerable.
Once you have signed up, a full fundraising pack, tips on how to survive the night and what to expect will come your way.
If you have any questions, please email fundraising@alabare.co.uk
THANK YOU SO MUCH FOR HELPING US END HOMELESSNESS
Rules For Well Behaved Dog Owners
We are delighted you and your canine companion are joining us. There will be people of all ages there - from secondary schools to the retired, and we cannot assume everyone is as much a fan of dogs as we are, so please:
1. Ensure your dog in under your control at all times. Any dog that is unable to behave will be asked to leave.
2. Your dog must remain on a lead at all times.
3. Do not allow your dog to go off wandering. We expect your dog to be by your side and on a lead throughout the night.
4. Please ensure your dog has been to the toilet outside the cloisters before coming into the event. There will be a door that will remain unlocked throughout the night should you need to take your dog for a loo break.
5. Please try to prevent your dog from going to the bathroom against any of the building - we accept accidents can happen so please use the disinfectant spray afterwards should this occur.
6. The grass at the centre of the cloisters is sanctified ground and no-one can enter.
7. Some of our Big Sleepers will be great fans of dogs. Please only bring a dog that has the personality to cope with a bit of fame and fuss. We will ask everyone to ask you if it is ok to approach beforehand.
FAQs
Are there ID or minimum age requirements to enter the event?
All participants must be 14 plus at the time of the event. Anyone aged under 18 must bring a signed consent form to enable them to participate. Anyone under 18 must come with an adult who has agreed to be responsible for their welfare throughout the event.
What are my transportation/parking options for getting to and from the event?
There are a number of car parks around Salisbury. Please do not use George Mall car park as you may not be able to access it the next morning as early as you would like. There is NO parking within the Cathedral Close.
How can I contact the organizer with any questions?
In the first instance email fundraising@alabare.co.uk
Rebecca Mullen is Alabaré's Events Manager and she can be contacted on 07710 306246 or R.Mullen@alabare.co.uk
Can I bring my sponsorship money with me on the night?
Yes you can. If you have set up a Just Giving or Give.Net page then the money you have raised will come directly to Alabaré and you don't need to do anything more. If you pay your money to us via BACS or PayPal please let us know by email.
Do I have to give my full contact details?
Yes - this is vital for us to be able to comply with Health and Safety requirements.
Prize Information and Terms and Conditions for The Big Sleep Sleep Cathedral 2018
Thank you for agreeing to raise sponsorship funds for Alabaré while you do The BIG Sleep at Salisbury Cathedral. Every penny you raise can help us help the most vulnerable in our society. With thanks to our prize partners, we can offer you fantastic prizes if you raise above certain levels:
The highest canine fundraiser (and owner combined) will win a pet portrait experience with Mandy Milford Photography at her studio in Britford. The shoot also includes a framed 10 inch framed desk portrait of your favourite image. Booking in advance is required. This voucher is non-transferable and cannot be redeemed for cash. For dog owners and their pets who raise over £100, a prize of a pet portait and small framed desk potrait is also on offer. Visit www.mandymilford.co.uk/dogs to take a look at her award-winning work.
Only one prize will be awarded per person once they have exceeded the targets set.
All money raised must be with Alabaré by 2nd March 2018 in order to qualify for a prize.
If you fundraise using Give.net or Just Giving then the money will come directly to Alabaré.
Please email us to let us know what you have done using fundraising@alabare.co.uk
All participating children under the age of 18 years, must have completed and returned the Parental Consent Form before the start of the Event.