Sleep among the stars 110 metres above sea level!
About this event
Welcoming those who want to take a stand against homelessness.
Alabaré's Big Sleep at Spinnaker Tower is a fantastic opportunity to join us and truly sleep among the stars 110 metres up sleeping overnight at the top of Portsmouth's iconic tower!
The Big Sleep welcomes all those who want to take a stand against homelessness by swapping their beds for sleeping bags, to raise funds and awareness for those who are forced to call the streets their home.
The Big Sleep will start at 8 pm on Friday 18th November 2022 and ends at 6 am on Saturday 19th November.
Participants who are joining us for the Big Sleep pledge to raise a minimum of £100 for Alabaré's Homes for Veterans (£50 for anyone aged 14-18).
Together, let's end homelessness!
"I came inside a bit stiff and sore with a refreshed appreciation of the roof over my head and most of all people that love me. It is crushing to know that some people do not have the safety and comfort of a place to call home."
Why take part in the BIG Sleep?
Alabaré's Homes for Veterans provide supported accommodation to British Armed Forces Veterans who are homeless or at risk of becoming homeless. We believe no Veteran should be forced to sleep on the streets. We provide dedicated support to Veterans across England and Wales - specifically; Wiltshire, Hampshire, Gloucestershire, Devon, Dorset as well as North and South Wales.
On any given night our Homes for Veterans are able to keep over 100 Veterans off the streets. Alabaré helps them transform their lives, providing accommodation and helping them gain the skills, confidence and opportunities to live a fulfilled life. Each year the Alabar´´e charity enables around 1600 people to come off the streets. Your support enables us to be there, helping others who have served our country, providing a safe home off the streets where they can begin to rebuild their lives once more. By taking part and fundraising for Alabaré Homes for Veterans, you will be making a difference to the lives of homeless Veterans in Hampshire and other areas.
Why not grab your sleeping bag and join us sleeping amongst the stars. All we're asking is that for one night you swap your bed for a sleeping bag and help raise vital funds for Alabaré's work with homeless Veterans. You won't be alone, our team will support you every step of the way! Together, we can help to end homelessness.
We encourage you to raise as much money as possible, anybody who raises over £100 (under 18's) or £150 (adult) will receive a fantastic Chilly's Water Bottle.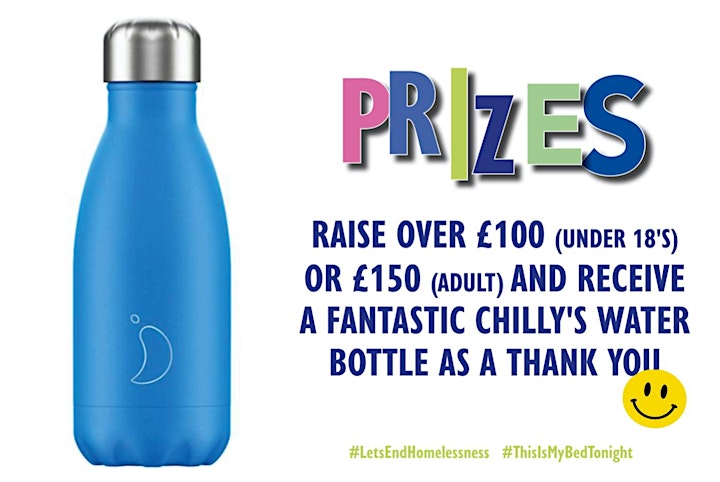 FAQ
Are there minimum age requirements to take part in this event?
All participants must be 14 plus at the time of the event. Anyone aged under 18 must provide Alabaré with a signed consent form and photograph permission form; please contact h.abbey@alabare.co.uk for these forms. Everyone under 18 must have both signed by their parent or guardian. Anyone under 18 must come with an adult who has agreed to be responsible for their welfare throughout the event.
What are my transportation/parking options for getting to and from the event?
You are responsible for making your own way to the location and finding parking if you are arriving by car.
How can I contact the organizer with any questions?
Please contact Hannah, Fundraising and Events Administrator, if you have any questions about the event. (Please be advised Hannah's working hours are Monday – Thursday, 0900am – 1445pm).
How do I pay in my sponsorship money?
In line with COVID guidelines, we would be grateful if you could pay your sponsorship money online, to minimise cash handling. If you have set up a Just Giving or Give.Net page, then the money you have raised will come directly to Alabaré and you do not need to do anything more.
If you need to pay your money to us via BACS or PayPal, please let us know by email to Emma at e.jeffery@alabare.co.uk.
Additionally, you can send us a cheque to Alabaré Christian Care and Support, Riverside House, 2 Watt Road, Churchfields, Salisbury, SP2 7UD. Please make cheques payable to Alabaré Christian Care & Support and include your sponsorship forms and write your name or the name of your organisation plus your contact address on the back of the cheque.
Do I have to give my full contact details?
Yes - this is vital for us to be able to comply with Health and Safety requirements, and so that we can contact you in the event that we need to provide you with any additional information or to notify you of changes.
If you sign the Gift Aid form, so we can claim an extra 25% at no extra cost to you, we have a legal obligation to provide your full HOME address.
Will this event be COVID safe?
Your safety is our priority. We will be carrying out this event in accordance with government guidelines at the time, and we will keep you updated with any changes as the government advises of them.
Prize Terms and Conditions
Only one prize will be awarded per person once they have exceeded the targets set, before Gift Aid. All money raised must be with Alabaré by 31st November 2022 in order to qualify for a prize. If you fundraise using give.net or Just Giving then the money will come directly to Alabaré. There is no cash alternative. Some people prefer not to receive a prize, so please inform us if this is the case.
Please Note: In the event, we are unable to supply Chilly's water bottle we will provide something of a similar value.
Organiser of The BIG Sleep at the Spinnaker Tower
At Alabaré we support people to overcome the barriers of homelessness, mental ill-health and learning disabilities in order to have a home, health, choice and independence.
We have almost 400 beds with homes and services across England and in Wales: providing accommodation, support, advice and training.  We support those who are homeless or at risk of homelessness, vulnerable women, young people, Armed Forces Veterans and adults with a learning disability or mental ill-health.