Swim at Manchester's beautiful Grade II* listed Victoria Baths in September 2022 - for three days only!
About this event
AN EXTREMELY RARE OPPORTUNITY TO SWIM IN THE BEAUTIFUL GALA POOL
Saturday 10 and Sunday 11 September 2022
45 minute swim sessions in the pool/on the poolside. This includes changing time in a historic curtained poolside cubicle
8am session is lane swimming only, one lane at all other times
All swimmers must be aged 8 or over 
Tea Room selling hot drinks, snacks, sandwiches and cakes
Fish & Chips
Guided Building Tours - book here
Gift Shop
Make Do & Disco (Sunday only) by Our Kids Social - book here
Public swimming has only taken place three times at Victoria Baths since 1993. This is a very basic public swimming experience, and there are no shower facilities.
Admission is free for the rest of this event, for swimmers and spectators. We're open from 9.30am to 4pm, you can explore the whole building, there's a kids art trail and play area and our Gift Shop and Tea Room are open.
For the final session 3.30-4.15pm please note that the building and Tea Room will close at 4pm, so you might like to come along before your swim. 
SWIM and SUPPERCLUB - Friday Evening 9th September
There's also an opportunity to swim at this fundraiser, tickets here.
Many thanks to United Utilities for their generous support for this event.
Photo of swimmers by Steve Allen
#BigSplashVB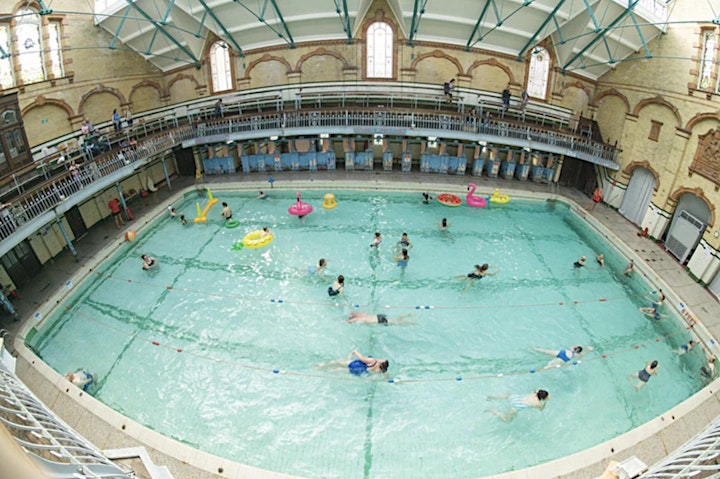 IMPORTANT INFORMATION
All swimmers must be aged 8 or over. Under 12s must be accompanied by an adult swimmer aged 18 or over (maximum 3 under 12s per adult). Learner-swimmers aged 8-16 must be accompanied by an adult swimmer aged 18 or over (maximum 1 learner per adult).
The pool water will be heated, but please anticipate an experience similar to a cold water swim as the building isn't heated and there are no showers. Bring warm clothes to wear after your swim.
Please shower at home before coming to swim.
Tickets include changing time before and after swimming, to enable the next group of bathers to enter the pool at their allotted time.
There are no lockers for valuables. Ticket-holders will be allocated a poolside changing cubicle to change in and store clothes/belongings. Only ticket-holders and VB staff and volunteers will be on the poolside.
The poolside toilets are mixed male/female. 
Lifeguards will be on duty.
No fins/flippers - but goggles, masks/snorkels and small inflatable toys are fine.
Part of the pool will be roped off for lane swimming on all sessions except 8am, which is lane swimming only.
Swimmers agree to be photographed by members of the public, staff and volunteers at Victoria Baths, including poolside and from the spectator balcony. 
#BigSplashVB