Description
Join us on the evening of 26th April at a debate hosted by iDebate and MP for Hampstead and Kilburn Tulip Siddiq to listen to the voice of young people from London schools and colleges debate two key issues.
Should the voting age be lowered to 16?
Should the education be compulsary up to the degree level?
Our engaging debates will bring youth voices from iDebates World Debate Clubs to Westminster to debate issues that are of direct relevance to them. Would they as 16 or 17 year olds want to have the responsibility to vote? As students in Colleges do they believe they are being sufficiently prepared for the world of work in the 21st Century?
Details
The #idebate4all Disenfranchised Voices Youth Debate is a program organised by iDebate (International Debate Education Association) for F.E College students and youth across the UK who would not otherwise have access to debate education. This event provides young people from a wide variety of backgrounds a chance to voice their opinions on issues that affect them and society more broadly. Young people will be discussing pressing issues that directly affects ttheir futures.
Two big issues will be debated:
"Should the voting age be lowered to 16?"
The government makes many decisions that affect young people from 16-18 with Brexit and the increase in tuition fees being two recent examples. But are young people from 16 ready to join the democratic process? This debate will enable our young participants to tell us how they would use the vote and whether it would make a difference to them.
"Should education be compulsary up to the degree level?"
This debate asks whether it young people should be forced to remain a student by going to university or through an advanced apprentiship programme. Through this debate, we want to listen first-hand to the sentiments of the young people who would be affected by such a change on whether they are confident to start owning more responsibilities at an earlier age or perhaps the changes in the society ought them to invest more time acquiring education to better equip them in entering the real world.
Young people debating these issues been coached by iDebate via it's World Debate Club education programme at Hackney College, City and Islington College, Ealing, Hammersmith and West London College, Avanti House School, Stanborough School and Queens Park Community School.
iDebate's World Debate Club programme is supported by corproate volunteers and university students volunteers who coach at weekly debate clubs and supported by Hackney Giving and East End Community Foundation.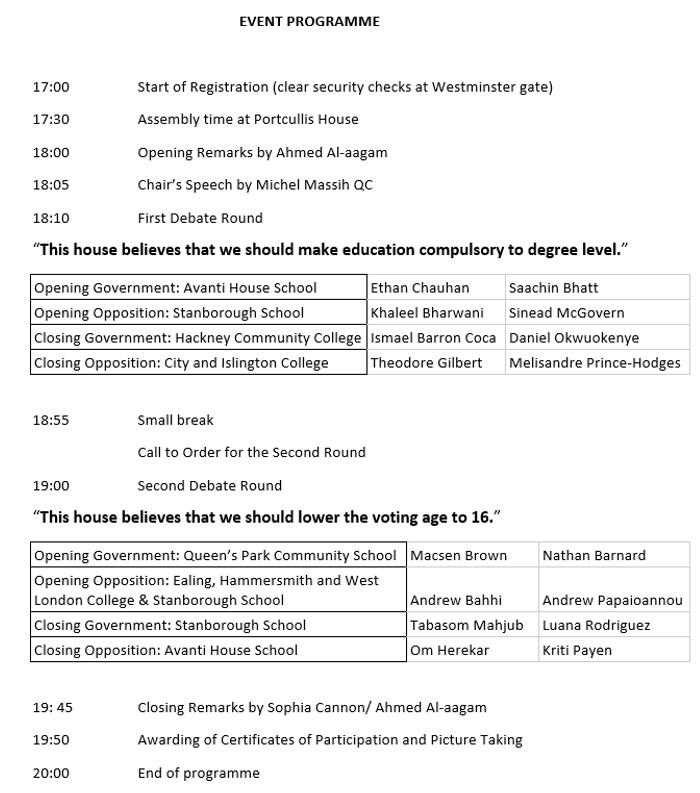 FAQs
What to expect when going to the Parliament for the event?
Entry to the event is through Portcullis House SW1A 2LW, upon arrival inform the security you are here for the IDEA Debating event in the Attlee Suite. We advise you arrive at 5:30 to clear security in time for 6pm.

See http://www.parliament.uk/documents/facilities/maps/colmap.pdf
Please ensure you bring photographic ID. (passport, driving license, NUS Card) which maybe checked upon arrival.
Airport style searches are in place at the Houses of Parliament. Please leave plenty of time to pass through security. You should expect this to take at least 20 minutes. At busy times, which are unpredictable, the delay will be longer. Please ensure you present your tickets for #idebate4all on your arrival.
The following items are not permitted on the parliamentary estate and will have to be voluntarily surrendered at the entrance:
Sharp items e.g. knives (including Swiss army knives) scissors, cutlery and screwdrivers
Paint spray
Padlocks, chains and climbing gear
Items that make a noise (e.g. whistles)
Banners, placards and flags
Liquids that are not in sealable containers
If you require sharp items for medical reasons, please seek advice from a member of the security team as soon as you arrive.
You may also be subject to secondary searches once inside the parliamentary estate. When you are ready to leave the parliamentary estate you will be able to retrieve any surrendered items from the entrance at which you were screened.
Need to get in touch with the organisers?
Please kindly contact Bien King through email bking@idebate.org.uk for any enquiries.