Description
ONLINE TICKET SALES HAVE NOW ENDED.
ENTRY IS £8 ON THE DOOR. ELDERS AND CHILDREN UNDER 16 ARE FREE.
Black History Studies presents


'The Black Market & Film Festival'


Saturday 12th November 2016
12pm - 9pm
West Green Learning Centre @ Parkview Academy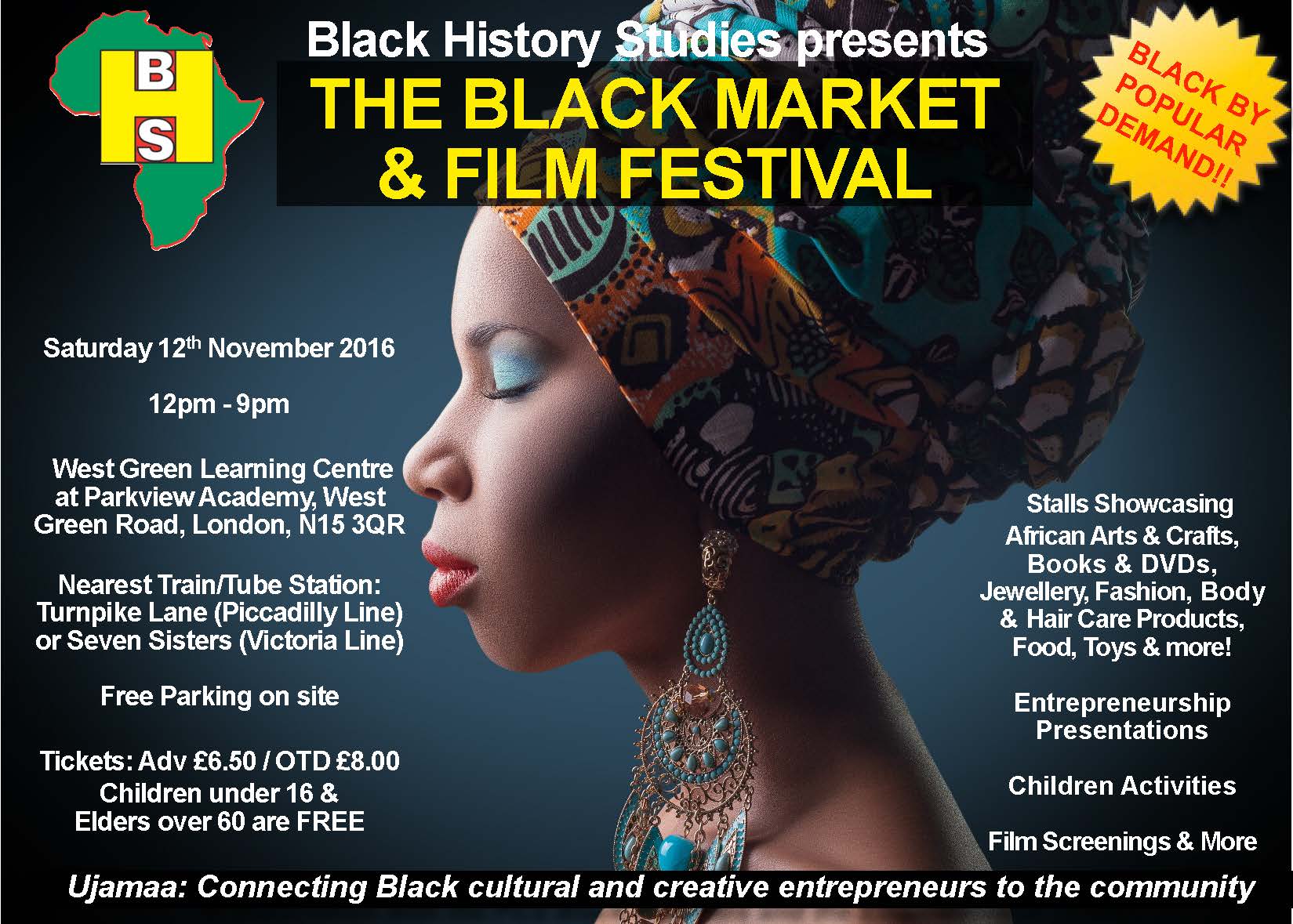 ONLINE TICKET SALES HAVE NOW ENDED.
ENTRY IS £8 ON THE DOOR. ELDERS AND CHILDREN UNDER 16 ARE FREE.
The ninth Black Market & Film Festival is an event to showcase, expose and connect Black cultural and creative entrepreneurs to the community and to provide a platform to sell their products, promote their skills and engage with the local and surrounding community.

The aim of the event is to:

Showcase and connect Black cultural and creative entrepreneurs to the community

Increase the exposure of Black cultural and creative sector's participation in the wider community

To provide a platform to sell their products, promote their skills and engage with the local and surrounding community.

To raise the awareness of the importance and relevance of increasing your personal financial literacy and the benefits of developing and adopting an enterprising lifestyle.



We will have stalls Showcasing African Arts & Crafts, Jewellery, Fashion, Skincare, Hair Care, Food, Books, DVDs, Toys & more! There will be educational and interactive presentation on Black Economic Empowerment and film screenings for all the family.

For a list of exhibitors, go to http://www.blackhistorystudies.com/our-services/the-black-market/exhibitors/

ARE YOU A BLACK OWNED BUSINESS? WANT A STALL AT THE BLACK MARKET & FILM FESTIVAL?
Stalls spaces include one table (120cm x 60cm), two chairs and one parking space on site.


You have access to all the films and workshops on the day.

A maximum of 2 adults per stall. Additional persons would need to purchase a ticket.

All Stall purchases are final, non-refundable and non-transferable.



Stall enquiries via email only stating full details of your business and what you would like to exhibit. No food vendors. Please email us on info@blackhistorystudies.com

PROGRAMME:


12.30pm - 2.30pm
North London Premiere: '7 AM: A Documentary' (2015) by Jason Black

Directed by Jason Black (The Black Authority), 7 A.M. is the first in-depth documentary focusing on Black socioeconomics and why our lack of business ownership is at the root of our state of poverty and political alienation.
We speak to academics, activists, best selling authors and entrepreneurs for a critical insight into why entrepreneurship is the only thing that will solve our crisis.
The documentary features contributions from Dr. Claud Anderson, Dr Umar Johnson, Shalamar Blakely, A'Leila Bundles, Morris Levine, Brett Pulley and Don Peebles.


3.00pm - 3.30pm
UK PREMIERE: Mama Rwanda (2016) by Laura Waters Hinson

Mothers who mean business.
MAMA RWANDA is a modern tale of working mothers told through the eyes of the unlikeliest women – those who lived through genocide. Drocella, a village wife, and Christine, a city widow, have traded subsistence living for a life of business innovation, sparking enlightenment and controversy among their communities. Set against the backdrop of national reconciliation, Drocella and Christine represent a new generation of women helping to turn post-genocide Rwanda into one of the top ten fastest growing economies in the world. Interspersed by commentary from Rwandan experts in women's entrepreneurship, the film highlights the roles of education and access to capital in empowering women to overcome poverty through entrepreneurship. A universal, globally relevant tale, MAMA RWANDA is a deeply cinematic portrait of two mothers on a journey to build peace through prosperity creation.


4.00pm - 5.00pm

UK PREMIERE: Profiled (2016) by Kathleen Foster

Profiled knits the stories of mothers of Black and Latin youth murdered by the NYPD into a powerful indictment of racial profiling and police brutality, and places them within a historical context of the roots of racism in the U.S. Some of the victims—Eric Garner, Michael Brown—are now familiar the world over. Others, like Shantel Davis and Kimani Gray, are remembered mostly by family and friends in their New York neighborhoods.

Ranging from the routine harassment of minority students in an affluent Brooklyn neighborhood to the killings and protests in Staten Island and Ferguson, Missouri, PROFILED bears witness to the racist violence that remains an everyday reality for Black and Latin people in this country. Moving interviews with victims' family members are juxtaposed with sharply etched analyses by evolutionary biologist, Joseph L.Graves, Jr, (The Race Myth) and civil rights lawyer, Chauniqua D. Young, (Center for Constitutional Rights, Stop and Frisk lawsuit). PROFILED gives us a window on one of the burning issues of our time.
4.00pm – 6.00pm
Children's Workshop: 'Every History Matters: African Performing Arts Workshop' by Awa Ginet- Jones

In this engaging and interactive workshop, we aim to develop African descent dance, storytelling, acting, drumming and singing skills while discovering African History. In this session, we will focus on West African Culture.

Awa is the Educational coordinator at Every History Matters created in 2004. Trained as a Jazz, African, French Caribbean and Samba dancer, Awa qualified as an IDTA Dance and Performing Arts Teacher. Born French and originally from West Africa, Guadeloupe and Brazil, Awa is passionate about African History.
This creative PGCE teacher stages the African Performing Arts course for children who will perform an inspirational piece based on her first book entitled, 'The Stones' Circle', which will transport the little ones like the bigger ones from Gambia to Brazil. The story is an educational approach which facilitates the understanding of ourselves in a world in constant change. African Performing Arts play a crosscultural
and fun learning environment; a 'whole theatre' which integrates and unites 'Sound and Action' to convey meaning and emotions portrayed in life- cycle.


5.30pm - 6.30pm
UK PREMIERE: Ota Benga: Human At The Zoo (2015) by Niyi Coker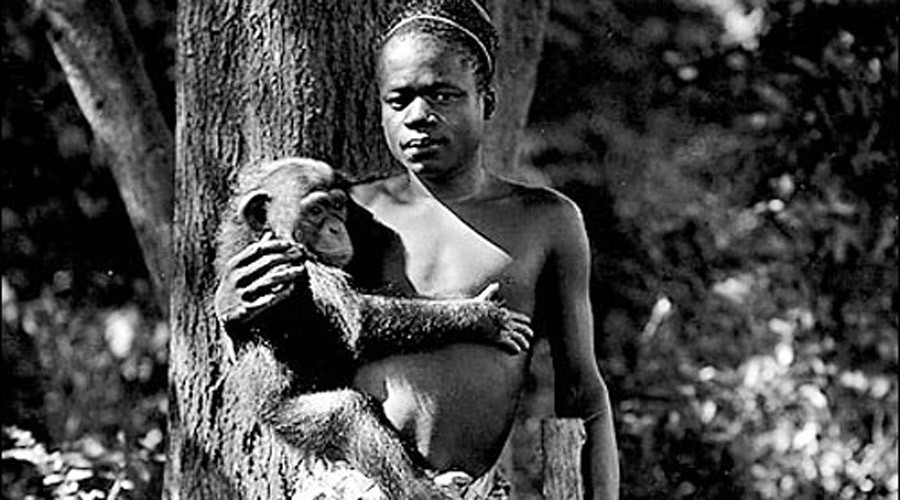 In 1904, Congolese pygmy Ota Benga was removed from Central Africa and brought to St. Louis for exhibition at the World's Fair as evidence of an inferior species. At the end of the fair, Ota Benga was sent to New York City's Bronx Zoo, where he was housed with primates and displayed with monkeys as the "missing link" between human and apes. In the eyes of his captors, he served as living proof of Darwin's theory of evolution. This revealing -- and disturbing -- documentary is directed by University of Missouri-St. Louis Professor Niyi Coker Jr.
7.00pm - 8.30pm

UK PREMIERE: Black Friday: The Remix (2016) by Ric Mathis

In an effort to heighten the economic awareness and financial responsibility in the African-American community, Black Friday The Remix, presents solutions on how to better manage the 1.2 Trillion dollars that leaves African-American communities annually. We are adding Les Brown, Chuck D, Rick Ross Ice-T and more to the conversation. In addition, the film champions financial literacy and the importance of leaving a financial and ethical legacy for the next generation.



TICKETS:

Any profits from the Black Market and Film Festival will go towards funding future events as we are SELF FUNDED and strive to be self-sufficient.
Our economic empowerment and liberation is OUR RESPONSIBILITY.

Tickets cost £6.50 if purchased before 6pm on Friday 11th November 2016.

Tickets will be £8.00 on the door

Children under 16 and Elder's over 60 are FREE
Venue:
The event will be held at West Green Learning Centre @ Parkview Academy, West Green Road, London, N15 3QR.

Directions:
By Train: Seven Sisters Underground & Mainline Rail Station (from Liverpool St) and Tottenham Hale Underground & Mainline Rail Station (from Liverpool St).

By Tube: Seven Sisters (Victoria Line) and Turnpike Lane (Piccadilly Line)

By Bus: Numbers 41, 67, 230, 341 pass nearby the entrance. We advise that you get off at a stop near Black Boy Lane on West Green Road.

By Car: Free parking available, accessed via Langham Road or free on street parking along Black Boy Lane



Please note that this event will be filmed and photographed. This event is being filmed for display, distribution, and broadcast, including on television and the World Wide Web. By attending and participating in this event, you are giving your consent to be filmed and waiving any and all claims regarding the use of your image.