Location
West Green Learning Centre, Parkview Academy
West Green Road
London
N15 3QR
United Kingdom
Description
Black History Studies presents

'The Black Market & Film Festival'


Saturday 30th March 2019
12pm - 9pm
West Green Learning Centre @ Parkview Academy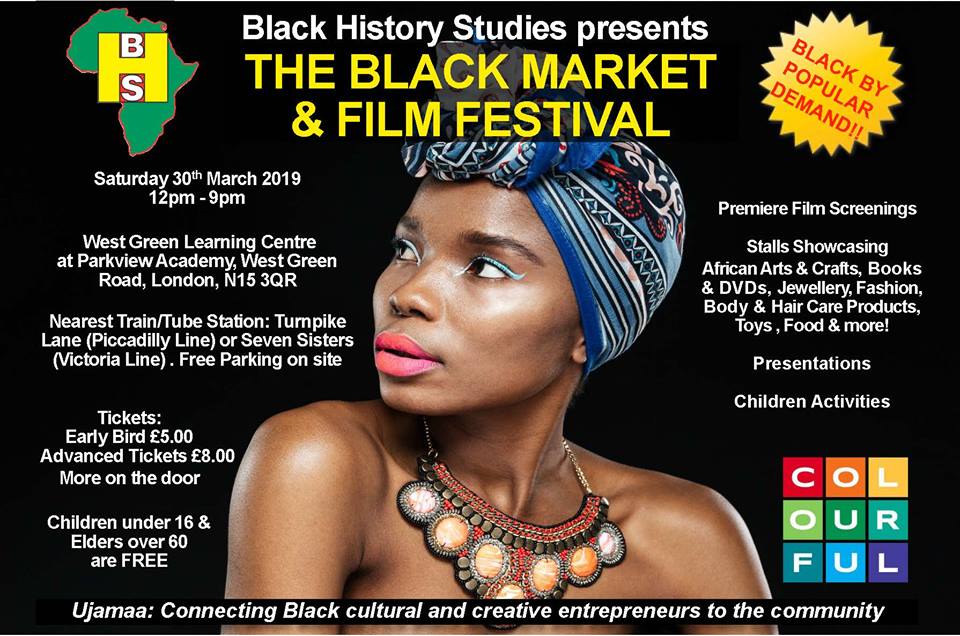 The 15th Black Market & Film Festival is an event to showcase, expose and connect Black cultural and creative entrepreneurs to the community and to provide a platform to sell their products, promote their skills and engage with the local and surrounding community.

The aim of the event is to:

Showcase and connect Black cultural and creative entrepreneurs to the community

Increase the exposure of Black cultural and creative sector's participation in the wider community

To provide a platform to sell their products, promote their skills and engage with the local and surrounding community.

To raise the awareness of the importance and relevance of increasing your personal financial literacy and the benefits of developing and adopting an enterprising lifestyle.



We will have over 40 stalls showcasing African Arts & Crafts, Jewellery, Fashion, Skincare, Hair Care, Food, Books, DVDs, Toys & much more! There will be educational and interactive presentations on Financial Literacy and film screenings for all the family. Children activities and more...

For stall enquiries, please email info@blackhistorystudies.com with details of your business and what you would like to exhibit. No food vendors.

PROGRAMME:

12.00pm – Film Screening: UK Premiere of 'The Killing of the 5th Element' (2018) by Moe. N. Reed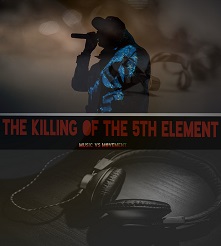 Celebrate Film and Hip Hop with a special screening of "The Killing of the 5th Element." Rap has created many genres, however, The Golden Age of hip-hop is regarded as the best era in hip-hop. The Killing of the 5th Element examines the lost element of "consciousness" and knowledge in today's music. The Killing of the 5th Element, covers diverse opinions with interviews with social, political and gangsta artists, to answer the question, is music just fun entertainment or a movement that can spark change?
Starring Speech (Arrested Development), M1 (Dead Prez), Jasiri X (1 Hood), Cold Hard (Crucial Conflict), Scoop Jackson (XXL) and more.

1.30pm: Presentation: 'How to Grow Personal Success through a Mind Reset: Introducing the GPS System based on Universal Spiritual Principles' by Tony Dada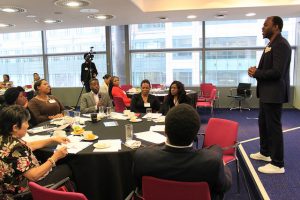 Tony Dada is an Empowerment Coach & Conscious Creative Social Entrepreneur. For over 27 years Tony DADA has been investing in some of society's so called "disadvantaged", particularly people of colour with an emphasis on young adults and women, transforming lives through local, regional and national empowerment workshops, programmes and courses. This began after being Inspired by his Spiritual mentor from Ghana 35 years ago whom he met 6 months after making himself intentionally homeless as a young teenager in search of his purpose. He is the author of the book "The GPS System" - 7 Universal Principles for Growing Personal Success and creator of the empowerment programme of the same name.
2.30pm: BHS Premiere Film Screening: 'My Nappy Roots: A Journey Through Black Hair-itage' (2010)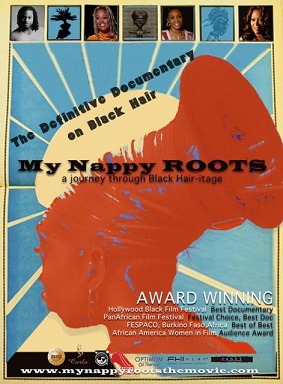 In commemoration of the 150th Birthday of Annie Malone and 100th Anniversary of the death of Madam C.J Walker
"My Nappy Roots" explores the politics, culture and history of African American hair. Is there such a thing as "Good and Bad" hair? How has the Eurocentric ideal of beauty influenced Black hair through modern history? "My Nappy Roots" will vibrantly depict some of the complex social, political and cultural influences that have dominated the dialogue surrounding African and African American hairstyles from styling patterns and cultural trends to the business of Black hair care products, services and advertising. The film will use the evolution of black hairstyles as a touchstone to address the broader struggle of African American people in their search for social control, identity and economic independence.
3.00pm - 6.00pm - Children Workshops by Rijole Bitata of S.T.E.A.M Power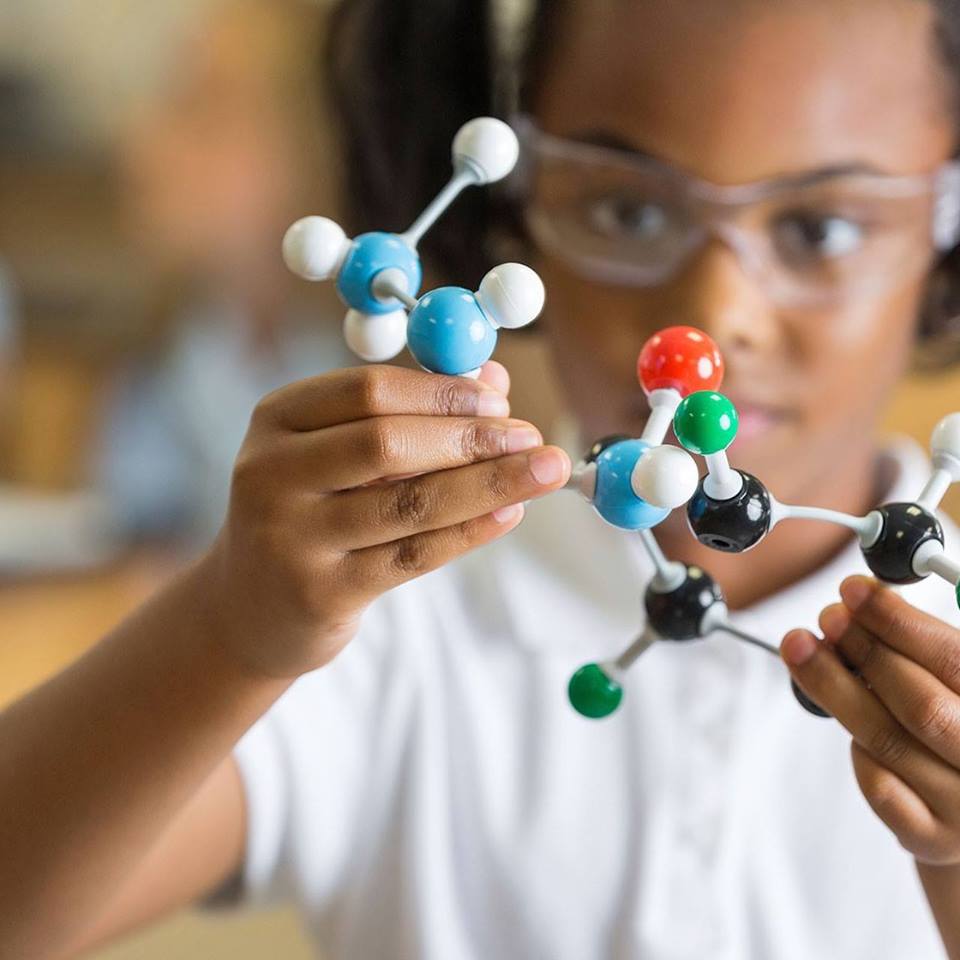 These bite size workshops by S.T.E.A.M Power (from dreamers to innovators) uses STEM (Science, Technology, Engineering & Mathematics) led activities that help to raise children's aspirations and cognitive abilities. Cost £5.00 per child per workshop. The workshops are as follows:
3.00pm to 4.00pm - Footprint/Fingerprint Recognition

4.00pm to 5.00pm - Extracting Fingerprints

5.00pm to 6.00pm - Footprint Casting
4.00pm: Film Screening: UK Premiere of 'Black Roots in Mexico' (2018) by Michael J. Christopher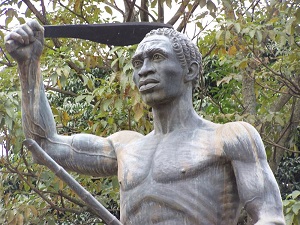 A documentary film and discussion on Afro Mexicans in Southern Mexico, by Cinematographer Michael J. Christopher. The film highlights the Olmec Civilisation, Yanga, the first town in the Americas, the Pyramids and Afro Mexicans who played major parts in Mexico's history.
Christopher, in his film also re- documents the work of Dr. Ivan Van Sertima's book "They Came Before Columbus" also documents not only the African Presence in North America 2,000 years before Columbus, but the advent of the pyramid age being a result of the ancient African Presence in the Americas.
5.00pm: BHS Premiere Film Screening: The Victor Daniels Project (2018)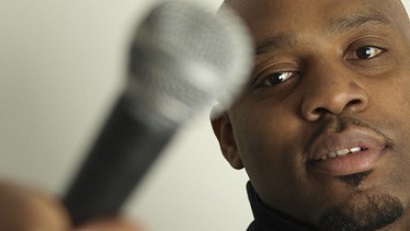 Lenny Henry's cousin comedian Victor Daniel brings his hilarious brand of urban London stand up in the form of hilarious comedy sketches about life in London!! Followed by Q&A with comedian Victor Daniels
Victor Daniels started his stand up career at the Purple Turtle Highbury in 1999 and hadn't look back since. Over the next eight years he performed in many of the top comedy venues such as Jongleurs, Comedy Store, Big Night Out, Comedy Café, Leaders of the new school tour, Up the Creek, Hackney Empire just to name a few. He Even flew over to New York where performed at the Boston Comedy club. Victor has also entered into some comedy competitions which included BBC talent, so you think your funny, Laughing Horse; ITV's take the mic, Hackney Empire new comedy competition, Amused Moose and the Evening Standard comedy. He reached many finals of these competitions.
Between the years of 2002 – 2004 his comedy took a surprise twist. He was enrolled as a writer and actor on Angie Le Mars comedy sketch show, 'Big Sister'. The experience gave him a new insight into comedy which made him appreciate it more as an art form and taught him how to approach every show with real conviction and professionalism. After the success of Big Sister, he was given the opportunity to work on with Gina Yashree as one of four writers on her show aptly titled, 'The Gina Yashree show'. Working at the BBC with comics such Sean Mayo and John Mann taught him how write comedy on command which is very important as comedy shows can come quick and fast which would need a much greater ratio of material.
5.30pm: Presentation: 'Jumpstart Your Financial Future' by Daryl Harper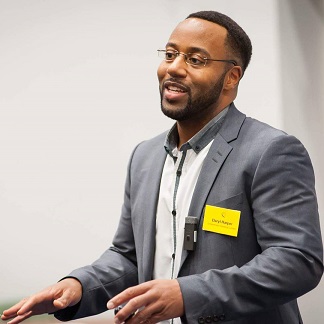 Money and Finance is a subject that many people are either never taught in school, they don't understand or, more often than not, they shy away from. This lack of knowledge and financial illiteracy has left many people struggling to get out of the rat race, the monotony of just surviving and living from pay cheque to pay cheque.
This is your opportunity to learn some simple steps that can impact and change your life dramatically. It's time to learn how to win the money game, protect your family, get your money to work as hard for you as you work for it, accelerate your mortgage, pay consumer debts off faster, save, make and get better value for your money and position yourself for a comfortable retirement.
Daryl Harper is a dynamic, energetic, infectious speaker, who always delivers from the heart and aims to provoke you into taking positive actions in the right direction. While teaching at a college, Daryl's passion for mentoring, equipping and coaching grew. He noticed that there was nowhere in the educational system that empowered people in the area of finance and there was a MASSIVE gap. An interest in financial education, personal development and leadership was birthed and he later found mentors and coaches who were very successful in the financial service arena. He went on to get trained and qualified to deliver financial education and has been working in the field since 2008
7.00pm: Film Screening: UK Premiere of 'Race War' (2018) by Jason Black, Black Channel Films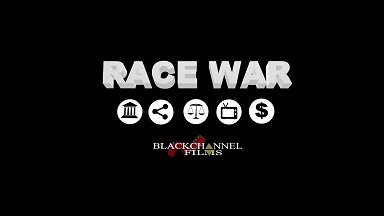 "It's not racism. It's a Race War". This movie will tell the story to the nation. Since the election of Donald Trump to President, people have been asking "Is it racism?" We are the first film in history that dares to ask "Is it a race war?" And are Black people the targets. From the creators of the historic films 7AM and Gentrified comes the first documentary in history that speaks to activists, police, academics, celebrities and even white supremacist leaders to find out the answers. Join us in taking this effort worldwide. IT'S TIME.

TICKETS:

Any profits from the Black Market and Film Festival will go towards funding future events as we are SELF FUNDED and strive to be self-sufficient.
Our economic empowerment and liberation is OUR RESPONSIBILITY.

We have limited number of Early Bird Tickets available at £5.00.
After they have gone, tickets will be £8.00 if purchased before MIDNIGHT on Friday 29th March 2019.
Tickets will be £10.00 on the door.
Children under 16 and Elder's over 60 are FREE

Venue:
The event will be held at West Green Learning Centre @ Parkview Academy, West Green Road, London, N15 3QR.
FREE Parking!
The venue is wheelchair accessible and family friendly.

Directions:
By Train: Seven Sisters Underground & Mainline Rail Station (from Liverpool St) and Tottenham Hale Underground & Mainline Rail Station (from Liverpool St).

By Tube: Seven Sisters (Victoria Line) and Turnpike Lane (Piccadilly Line)

By Bus: Numbers 41, 67, 230, 341 pass nearby the entrance. We advise that you get off at a stop near Black Boy Lane on West Green Road.

By Car: Free parking available, accessed via Langham Road or free on street parking along Black Boy Lane


Please note that this event will be filmed and photographed. This event is being filmed for display, distribution, and broadcast, including on television and the World Wide Web. By attending and participating in this event, you are giving your consent to be filmed and waiving any and all claims regarding the use of your image.
1.3