The Black Market & Film Festival - Saturday 4th November 2017

Saturday, 4 November 2017 from 12:00 to 21:00 (GMT)
Event Details

Black History Studies presents

'The Black Market & Film Festival'


Saturday 4th November 2017
12pm - 9pm
West Green Learning Centre @ Parkview Academy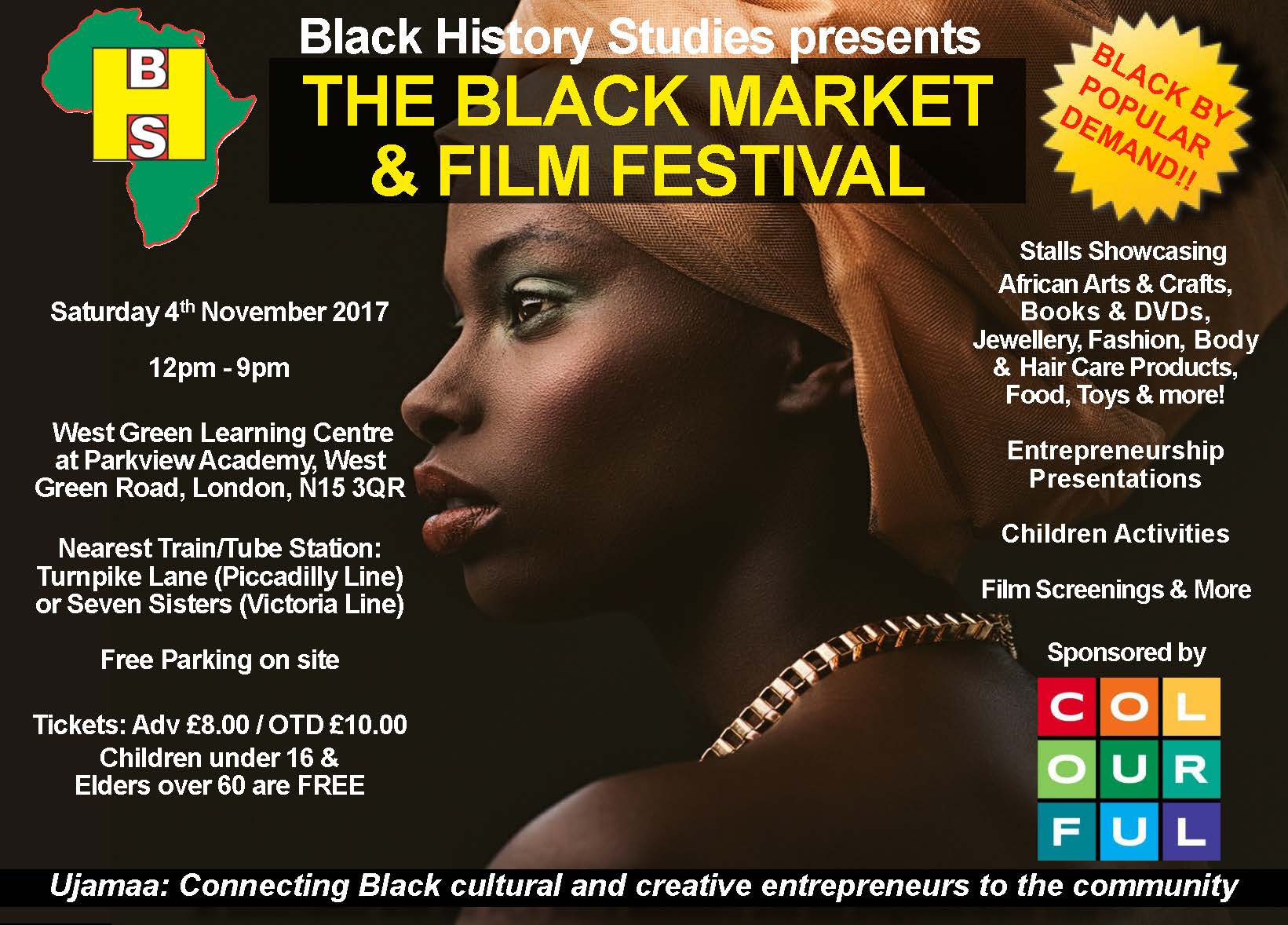 The twelth Black Market & Film Festival is an event to showcase, expose and connect Black cultural and creative entrepreneurs to the community and to provide a platform to sell their products, promote their skills and engage with the local and surrounding community.

The aim of the event is to:

Showcase and connect Black cultural and creative entrepreneurs to the community

Increase the exposure of Black cultural and creative sector's participation in the wider community

To provide a platform to sell their products, promote their skills and engage with the local and surrounding community.

To raise the awareness of the importance and relevance of increasing your personal financial literacy and the benefits of developing and adopting an enterprising lifestyle.



We will have stalls Showcasing African Arts & Crafts, Jewellery, Fashion, Skincare, Hair Care, Food, Books, DVDs, Toys & more! There will be educational and interactive presentation on Financial Literacy and film screenings for all the family.

Look who is exhibiting at this event http://blackhistorystudies.com/our-services/the-black-market/exhibitors

PROGRAMME:

12:30pm - Film Screening: 'Mama Rwanda' (2016) by Laura Waters Hinson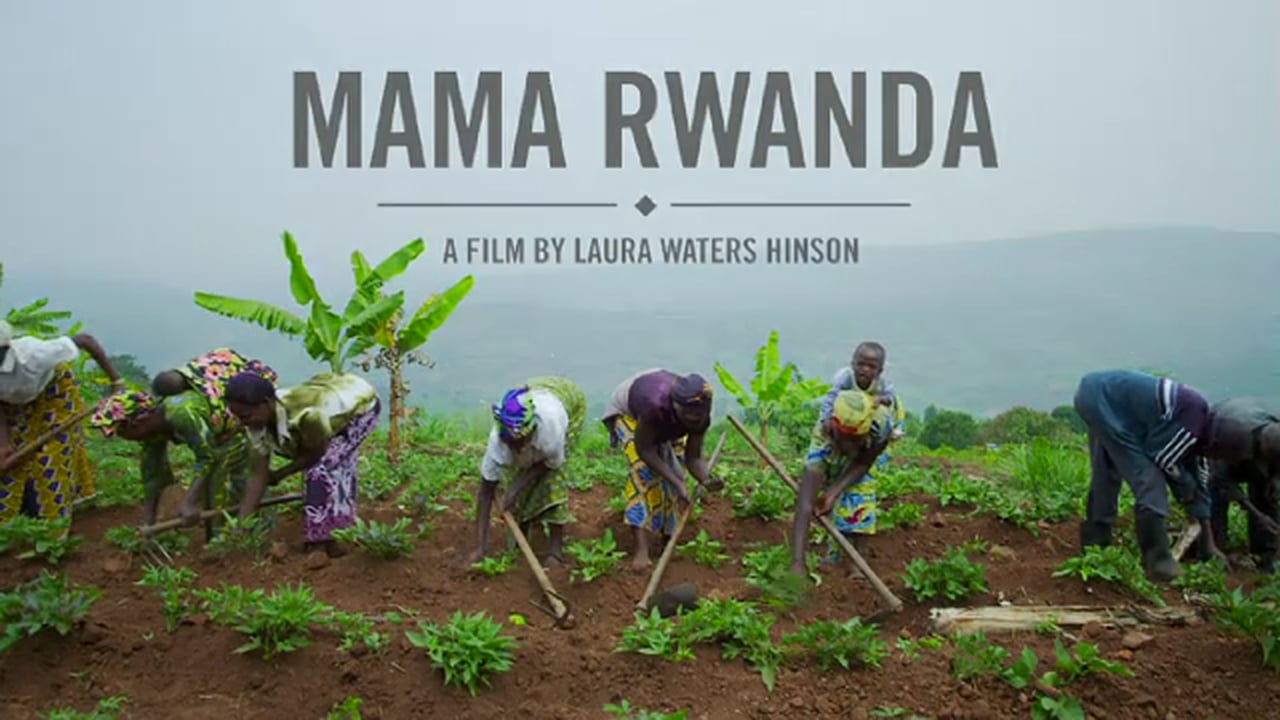 Mothers who mean business.

MAMA RWANDA is a modern tale of working mothers told through the eyes of the unlikeliest women – those who lived through genocide. Drocella, a village wife, and Christine, a city widow, have traded subsistence living for a life of business innovation, sparking enlightenment and controversy among their communities.  Set against the backdrop of national reconciliation, Drocella and Christine represent a new generation of women helping to turn post-genocide Rwanda into one of the top ten fastest growing economies in the world. Interspersed by commentary from Rwandan experts in women's entrepreneurship, the film highlights the roles of education and access to capital in empowering women to overcome poverty through entrepreneurship. A universal, globally relevant tale, MAMA RWANDA is a deeply cinematic portrait of two mothers on a journey to build peace through prosperity creation.



13:00 - Presentation: Financial Savvy Sistas: How to be Financially Intelligent with Money by Charmaine Simpson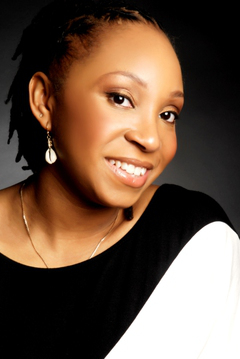 Women need to be smarter about money and money matters. This presentation aims to empower women to gain control over their lives through financial education so that they can handle their finances from a position of knowledge and wisdom. Come and listen to practical information and tips from Financial Educator Charmaine Simpson.


13:00 - FREE African Marimba Workshop throughout the day!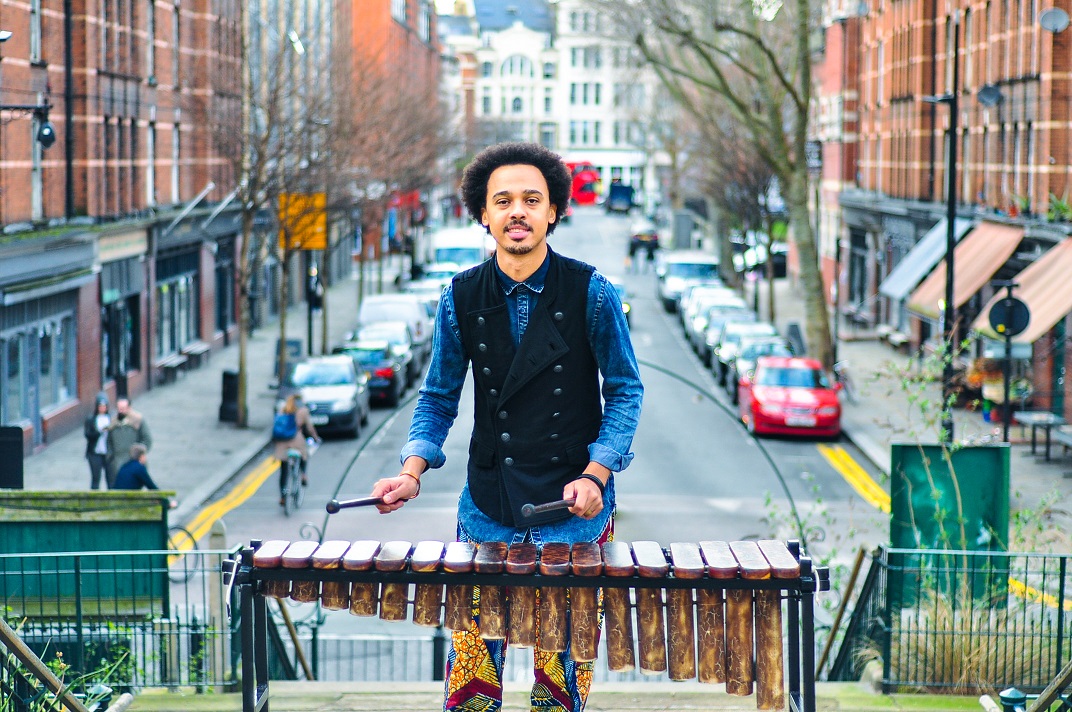 Otto Gumaelius will be giving FREE African Marimba workshops throughout the day!
Otto Gumaelius is a London based, Botswana raised, percussionist specialising in the Kwanongoma marimba of southern Africa. He writes and performs, and teaches music from Zimbabwe, South Africa and Botswana.Otto grew up playing the marimba in Botswana and continued to do so after moving to Europe in 2003. He has worked with an array of bands and performing arts companies since, and has performed widely around Europe, southern Africa and the United States of America.  In 2016, Otto decided to set up his marimba performance and teaching business which focuses on sharing the folk music traditions of southern Africa through cultural performances and workshops using the marimba of southern Africa. Otto offers marimba packages to schools, companies and cultural organisations and his workshops are particularly relevant for diversity days and Black History Month programmes.
14:00 - BHS Premiere of 'Dispossession: The Great Social Housing Swindle' (2017)
by Paul Sng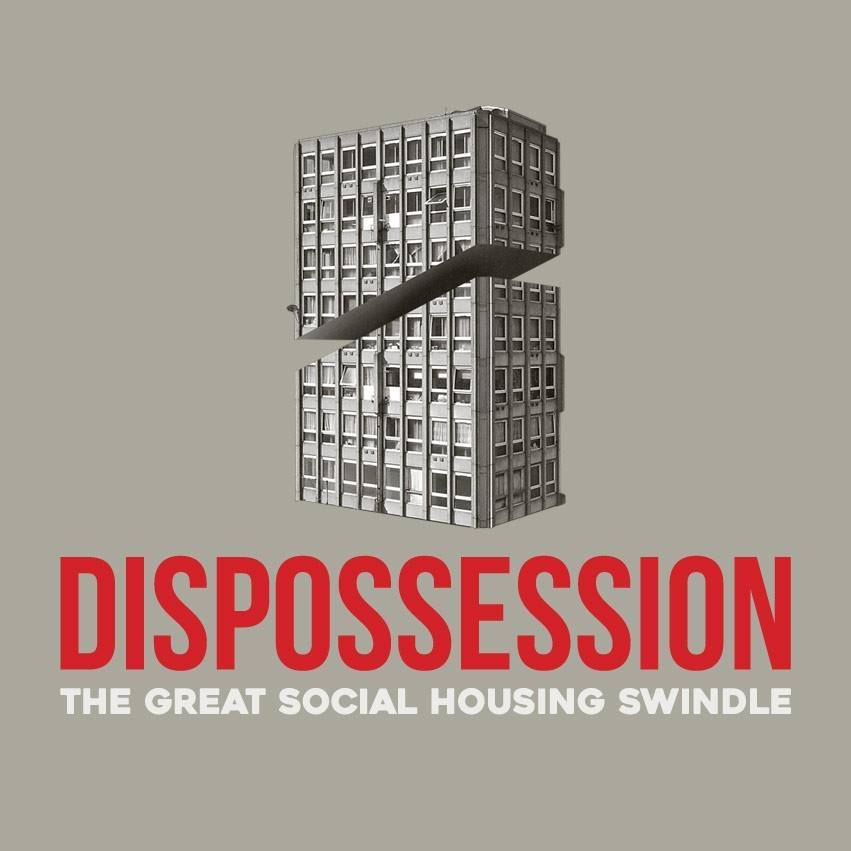 In 2017 housing rose to the top of the British political agenda for the first time in a generation. But despite the media spotlight, few stories examined the catastrophic long-term failures that resulted in a chronic shortage of social housing in the United Kingdom.
Dispossession: The Great Social Housing Swindle explores the agenda behind the neglect, demolition and regeneration of council estates in the U.K. over the past thirty years. The film reveals how individuals and communities are fighting against the state and private developers, as they try to save their homes from demolition, while investigating the decisions that turned a crisis into a tragedy.
Dispossession is the story of people who know that housing is not an expensive luxury, but a fundamental human right.
16:00 – Presentation 'How to Win the Money Game' by Daryl Harper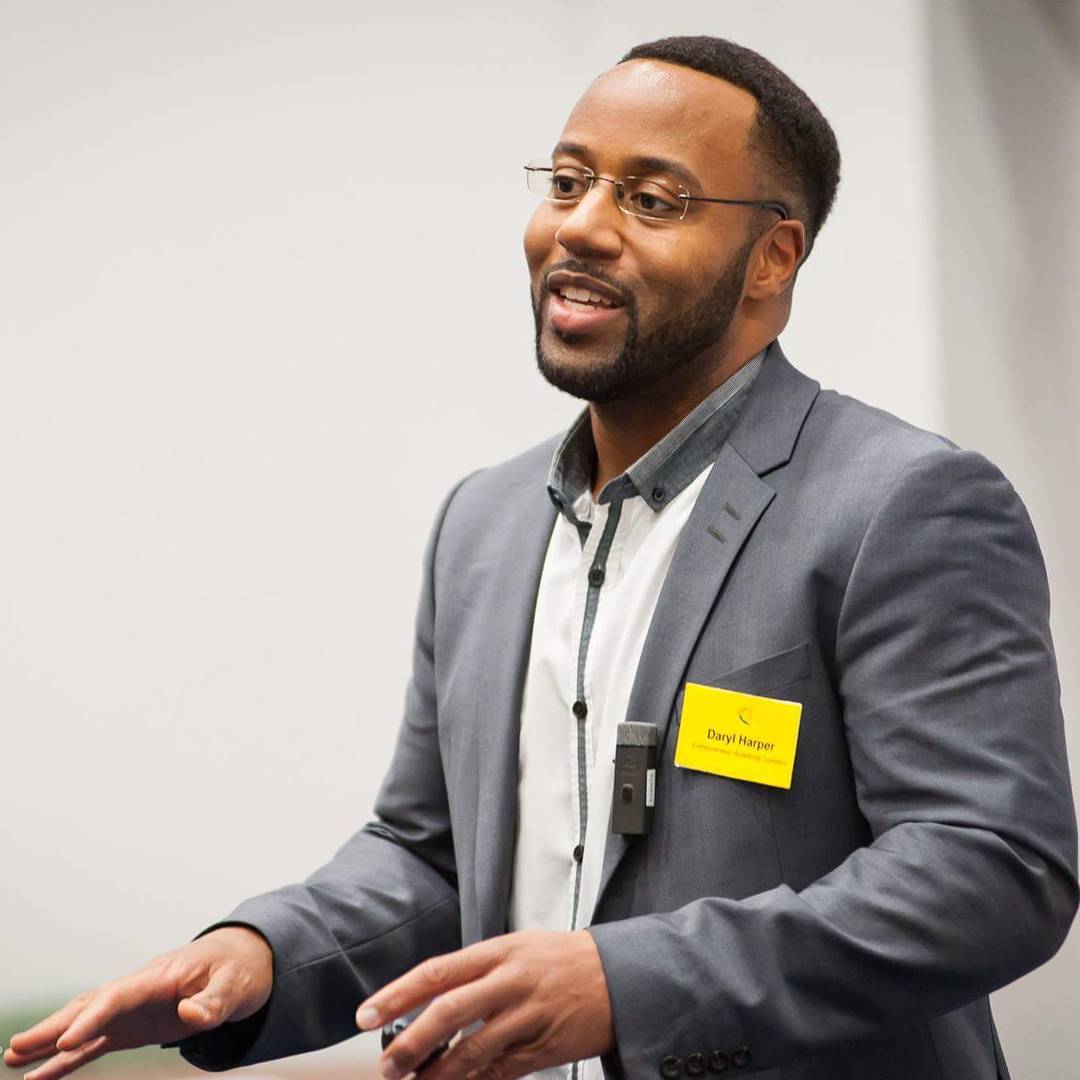 Money and Finance is a subject that many people are either never taught in school, they don't understand or, more often than not, they shy away from. This lack of knowledge and financial illiteracy has left many people struggling to get out of the rat race- the monotony of just surviving and living from pay cheque to pay cheque. This is your opportunity to learn some simple steps that can impact and change your life dramatically. 
18:00 - UK Premiere of "Black Friday 2 "The Living Legacy World Tour" (2017) 
by Ric Matthis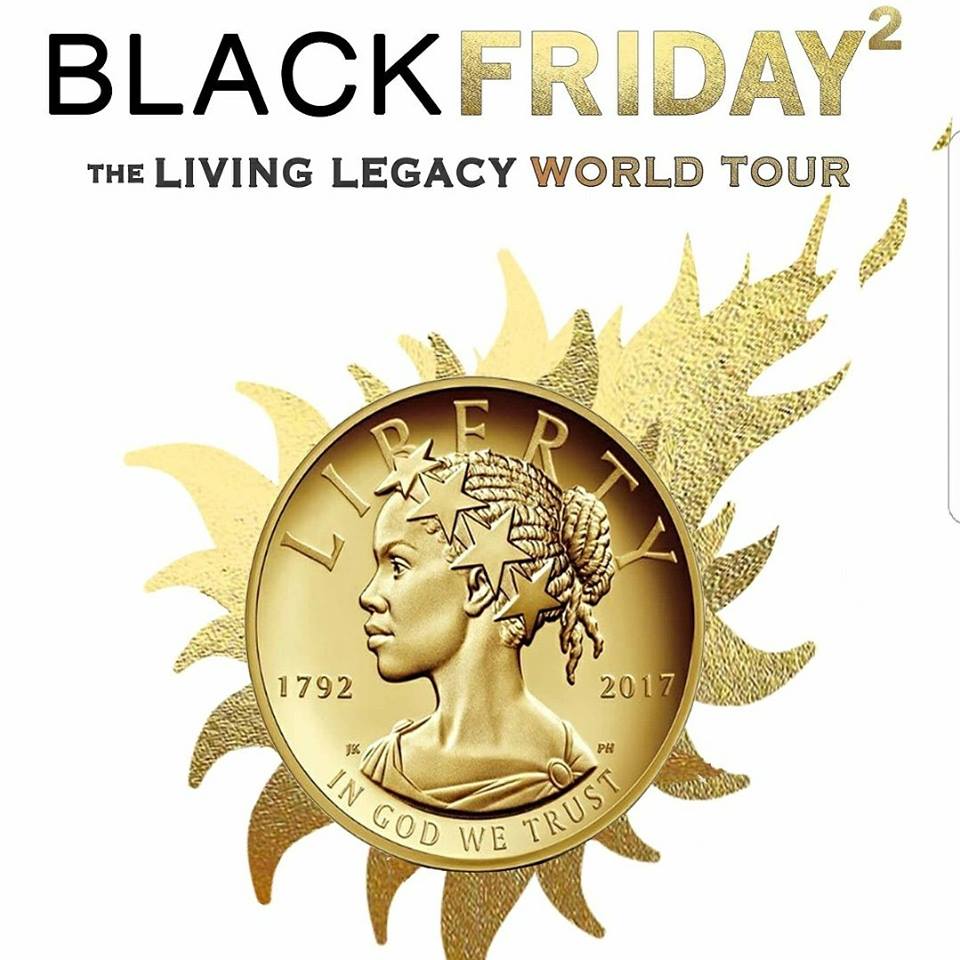 Black Friday 2 "The Living Legacy World Tour" is an inspiring film that chronicles Ric Mathis' personal journey around the globe, inspiring people to embrace their Global Living Legacy. Kennedy Stewart a 10 year old entrepreneur narrates this journey, which celebrates black women as the fastest growing group of entrepreneurs in America. This Film offers 7 practical principles to build a financial and ethical living legacy. A two part strategy to create your own living legacy.
Featuring David Banner, Les Brown, Jewel Tankard, Judge Lauren Lake, Dr. Boyce Watkins, and more
19:30 – North London Premiere of 'Captain Thomas Sankara' (2012)
by Christophe Cupelin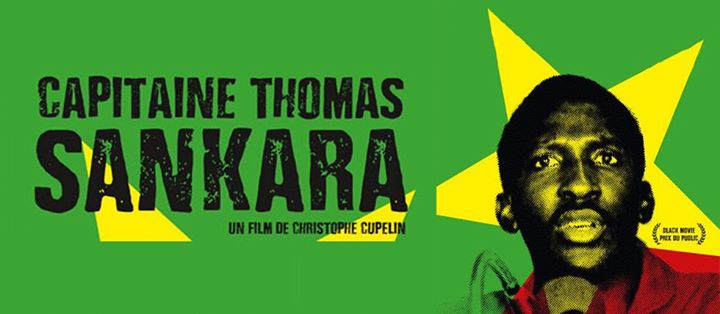 Commemoration of the thirtieth anniversary of the assassination of Burkina Faso President Thomas Sankara  
A portrait composed from the archives of Thomas Sankara, president of Burkina Faso between 1983 and his murder in 1987. Ready to liberate his country and transform the mentality of his fellow citizens, contesting the world's political order and challenging the powers of his time, Sankara stands out strongly in the history of both Africa and the world, remaining known as the African Che Guevara. Blending together rare and meticulously assembled archives, director Christophe Cupelin offers a panoramic vision of the intellectual and political heritage of this atypical head of state. Giving his documentary the energy of a punk manifesto, between idealism and irony, he faithfully restitutes the originality of a president as striking in his actions as in his words.

TICKETS:

Any profits from the Black Market and Film Festival will go towards funding future events as we are SELF FUNDED and strive to be self-sufficient.
Our economic empowerment and liberation is OUR RESPONSIBILITY.

Early Bird Tickets cost £8.00 if purchased before 6pm on Friday 3rd November 2017


Tickets will be £10.00 on the door


Children under 16 and Elder's over 60 are FREE

Venue:
The event will be held at West Green Learning Centre @ Parkview Academy, West Green Road, London, N15 3QR.

Directions:
By Train: Seven Sisters Underground & Mainline Rail Station (from Liverpool St) and Tottenham Hale Underground & Mainline Rail Station (from Liverpool St).

By Tube: Seven Sisters (Victoria Line) and Turnpike Lane (Piccadilly Line)

By Bus: Numbers 41, 67, 230, 341 pass nearby the entrance. We advise that you get off at a stop near Black Boy Lane on West Green Road.

By Car: Free parking available, accessed via Langham Road or free on street parking along Black Boy Lane


Please note that this event will be filmed and photographed. This event is being filmed for display, distribution, and broadcast, including on television and the World Wide Web. By attending and participating in this event, you are giving your consent to be filmed and waiving any and all claims regarding the use of your image.
When & Where

West Green Learning Centre @ Parkview Academy
West Green Road
Tottenham
N15 3QR London
United Kingdom


Saturday, 4 November 2017 from 12:00 to 21:00 (GMT)
Add to my calendar
Organiser

Black History Studies is a social enterprise company which aims to empower the African and Caribbean community and enable them to develop self knowledge and identity through Black History and Culture. Black History Studies provide a wide range of courses and activities that give people with the opportunity to pursue their interest in Black History and Black Studies. We provide high quality courses and activities that can be accessed by all within the community.