Location
Platanos College
Clapham Road
London
SW9 0AL
United Kingdom
Description
Black History Studies presents
'The Black Market & Film Festival'


Saturday 9th April 2016
12pm - 6pm
Platanos College, Clapham Road, London, SW9 0AL




The eighth Black Market & Film Festival is an event to showcase, expose and connect Black cultural and creative entrepreneurs to the community and to provide a platform to sell their products, promote their skills and engage with the local and surrounding community.

The aim of the event is to:

Showcase and connect Black cultural and creative entrepreneurs to the community

Increase the exposure of Black cultural and creative sector's participation in the wider community

To provide a platform to sell their products, promote their skills and engage with the local and surrounding community.

To raise the awareness of the importance and relevance of increasing your personal financial literacy and the benefits of developing and adopting an enterprising lifestyle.



We will have stalls Showcasing African Arts & Crafts, Jewellery, Fashion, Skincare, Hair Care, Food, Books, DVDs, Toys & more! There will be educational and interactive presentation on Black Economic Empowerment and film screenings for all the family.
For a list of exhibitors, go to http://www.blackhistorystudies.com/our-services/the-black-market/exhibitors/

Black Market Business Start up Workshops

Within the Black community more entrepreneurs than ever before are now looking for opportunities to develop their creativity and for some, a lack of guidance and direction can bring much anxiety and confusion as to the best path to take, others are filled with vigour and enthusiasm about their idea, but without direction and assistance end up making poor decisions. Entrepreneurship can be seen as the answer, to create and do for self in an economy currently not providing enough job opportunities.

These bite size workshops are aimed at new entrepreneurs embarking on a new business idea and /or those who would simply like to know what is involved in starting a new enterprise.

1.00pm -1.45pm - How well do you know your market place? - Doing your research

2.00pm - 2.45pm - Keeping your customers happy

3.00pm - 3.45pm - Marketing your business on a shoe string budget

4.30pm - 5.30pm - Tips for funding your business

These workshops are organised by Global Institute of Entrepreneurship in partnership with African Diaspora Women Empowerment and Entrepreneurship UK in acknowledgement of the International Decade for people of African Descent. These workshops will be delivered by Diana Powell.

Diana Powell has over 20 years working within education, youth and enterprise development both within the UK, USA and West and North Africa. Her current achievements have included the development and establishment of the Global Institute for Entrepreneurship a registered charity developed to provide various platforms to nurture entrepreneurship sequentially breaking down social and economic barriers that hinder the mind-set of many established and budding entrepreneurs.


Film Screenings

12.00pm - 1.30pm - 'Black Friday:What legacy will you leave? (2015)' by Ric Mathis



The documentary, Black Friday, takes an in depth look into the spending habits of African-Americans in America. The film chronicles the financial miseducation of many African-Americans and explores the economic pitfalls that continue to derail the progress of the community-at-large. In an effort to heighten the economic awareness and financial responsibility in the community, the film, Black Friday, presents solutions on how to better manage the 1.2 Trillion dollars that leaves African-American communities annually. In addition, the film champions the importance of leaving a financial and ethical legacy for the next generation.

Featuring Dr Claud A. Anderson, Dr Umar Johnson, David Banner, Hill Harper, Cynthia Bailey, Judge Hatchett, Jacob York, A.J Johnson, Chike Akua, Ona Brown, Johnny Gill, Dr George Fraser, Mike Roberts, Eric Thomas and Lynda Harris.

1.45pm - 2.45pm - UK PREMIERE: 'When The Checks Stop Coming In'


In is a candid investigation into the lives of Black celebrities as they fall from fame and fortune to downright broke. It's the life of a celebrity ­­one minute you are singing to an audience of thousands, playing to an arena of screaming fans, or performing on television for millions of viewers. The accolades are coming fast and furious and the money is pouring in. You think that the dream that you're living is never going to end, but then you wake up one day and all your money and your livelihood is gone. Your worst nightmare has come true and you're broke, the groupies are gone and the lifestyle has dried up.

Even the most seasoned and celebrated have lost it all. The list of celebrities gone broke includes Toni Braxton, Antione Walker, TLC, Wesley Snipes, Allen Iverson, MC Hammer, Dennis Rodman...it goes on and on. Moguldom Studios interviews celebrities, managers, agents, and their financial advisors to learn how much was being spent and how these celebs spared no expense for the glitz and glamour that was their ultimate demise. This documentary looks behind the curtain and into the lives of black celebrities to find out how they got into financial trouble and what advice they would give to others in hindsight. Be it lavish lifestyles, poor financial management, child support, or tax evasion, When The Checks Stop Coming In explores how these celebrities perpetuate an underlying issue within the African American community: an obsession with the American dollar.

3.00pm - 4.00pm - UK PREMIERE: 'Dumb it Down: Exposing the Truth Behind Hip Hop (2015)'



Over the years, mainstream media and pop culture created a stigma that looks down upon being intelligent. In today's society "being cool" is actually the opposite of being intelligent, and essentially certain entertainers "dumb down" their intelligence for ratings and record sales. Dumb it Down exposes the entertainment industry for forcing prominent African American celebrities to tone down their intelligence in order to maintain relevance.
4.15pm - 5.15pm: LONDON PREMIERE: Prince Among Slaves (2007)
by Andrea Kalin and narrated by Mos Def with panel discussion with special guests (TBC)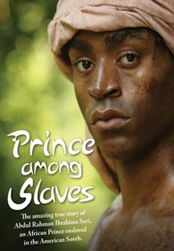 Watch the trailer here: https://youtu.be/-ukNZizqrrg

Black History Studies in conjunction with Dreamscape Films presents a true story of an African Muslim prince enslaved in America.

In 1788, the slave ship Africa set sail from the Gambia River, headed for American shores with its hold laden with hundreds bound in chains. Eight months later, a handful of survivors found themselves for sale in Natchez, Mississippi. One of them, 26-year-old Abdul Rahman Ibrahima, a highly educated African prince, and heir to a kingdom made an astonishing claim to Thomas Foster, the plantation owner who purchased him at auction, that the bedraggled Abdul Rahman's father would pay gold for his return. Foster dismissed the claim as a lie.

Prince Among Slaves tells the story of Abdul Rahman, trilingual, a military general and heir to a West African nation the size of Great Britain, who did not return to Africa for 40 years. In that time, he toiled on Foster's plantation. He married a fellow enslaved African, Isabella, and they had nine children. Gradually, he also became the most famous African in America, attracting the support of President John Quincy Adams and Secretary of State Henry Clay. Abdul Rahman returned to Africa at the age 67, only to fall ill and die just as word of his return reached his former kingdom. Throughout a life of Shakespearean dimensions, Abdul Rahman maintained his dignity and hope for the freedom of his people.
Panelists confirmed so far are:
Sheila Nortley - Dreamscape Films

Danjuma Bihari - Islamic Historian

Habeeb Akande - Author, Illuminating the Darkness

Hajj Uthman Ibrahim-Morrison - Historian




"...West African societies were well-developed and literate, but people think of them as primitive and vulnerable. But now we know African history doesn't start at zero..." - TIME Magazine


Venue:
The event will be held at Platanos College, Clapham Road, London, SW9 0AL

The nearest tube station is Stockwell which is on the Victoria and Northern line.

Directions:

Tube: From Stockwell Station, head northeast onto Clapham Road/A3. Platanos College is on the right side of the road next door to the Lidl supermarket. Press the intercom and you will be let in the gates.

Buses 50, 88, 155, 345 stop nearby.

Car: If travelling by car, there is no public parking at the venue. There is parking on the surrounding streets

Profits from the Black Market and Film Festival will go towards funding future events as we are SELF FUNDED and strive to be self-sufficient.
Our economic empowerment and liberation is OUR RESPONSIBILITY.

Tickets cost £5.50 if purchased before 6pm on Friday 8th April 2016.

Tickets will be £7.00 on the door

Children under 16 and Elder's over 60 are FREE

Please note that this event will be filmed and photographed. This event is being filmed for display, distribution, and broadcast, including on television and the World Wide Web. By attending and participating in this event, you are giving your consent to be filmed and waiving any and all claims regarding the use of your image.