Description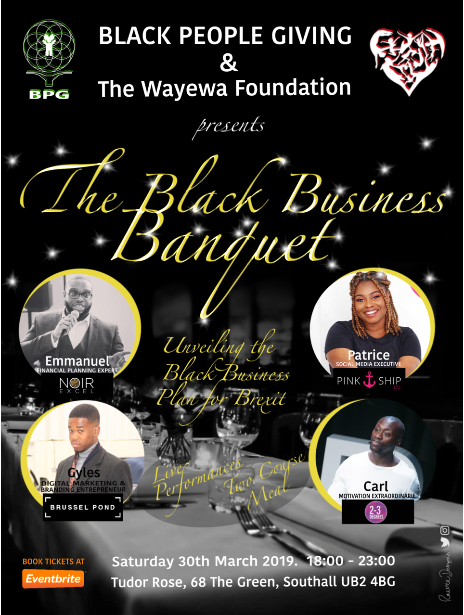 The Black People Giving Black Business Banquet will be an exhibition like no other. Designed to serve those of us who are tired of their pursuing somebody else's dream and are ready to take back their life by entering the exciting world of entrepreneurship in 2019. Similar the event looks to cater to those of us who have already endeavoured to create their perfect life in business but are ready to take their business to the next level.
The event will have experts In Digital Marketing, Social Media, Motivation, Financial Planning and Property comprehensively serving all those who are serious about wealth creation in the Modern day. The primary aim of this event is to add value, expect to come out of this event knowing more than you did when you entered the venue.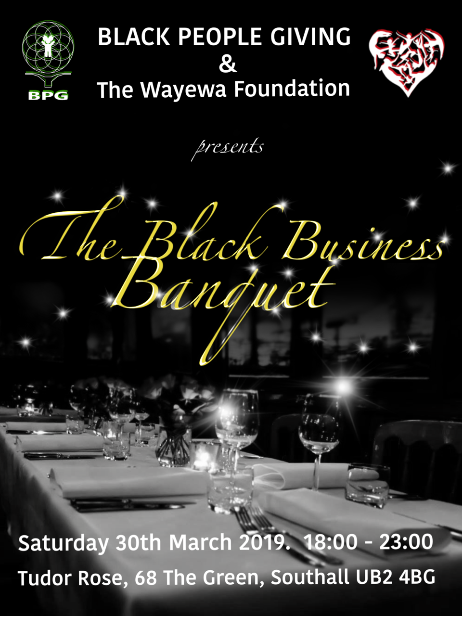 Tudor Rose Banqueting Suite is the elected venue for the event Benefitting from a brand-new luxurious refurbishment Tudor Rose has been recently transformed to the pinnacle of Black Owned Venue's in the UK. Your ticket will also include an exquisite 2 Course meal with both meat friendly and vegan options available we also will be providing a plethora freshly prepared juices and appetizers to keep you satisfied throughout the night.
Awards Black People Giving are an organisation tasked with serving your communities. Therefore, The Black Business Banquet has been selected as the perfect opportunity to honour those members of the community who have worked tirelessly this year to improve the condition of the community. Awards to be given out on the night include. The BPG King and Queen of the Community awards. Community Organisation of the Year Award and Entrepreneur of The Year Award.
Art. The show will not only be informative but will be a creative extravaganza celebrating the diverse nature of African culture. There will poetry, dance and live music on the night choreographed specially to make the event a visual fest that shall be stay etched in our collective memories for years to come.