Description
'

The Blood and Tears Walk'
is an acclaimed, rave-reviewed (
Check TripAdvisor!
) horror London Tour performed continuously, multiple times a week for the last eighteen years. It has a '12' certificate: so it is only suitable for people aged 12 or over.
'The Blood and Tears Walk' featured in an episode of the very popular 'spooky England' TV programme 'Most Haunted'. Here's a clip....https://youtu.be/515MN7s8cqQ
Over the years 'The Blood and Tears Walk' has had thousands of four and five star reviews from individuals and organisations attending from countries across the globe.

For the last five years in a row it has been awarded the TripAdvisor 'Certificate of Excellence', only given to 10% of companies.

'The Blood and Tears Walk' was devised, researched and written, and is presented, by Declan McHugh, the author of 'Bloody London' . That book has sold over 6,000 copies and counting...

The tour features top-notch story-telling and is a thrilling, chilling and highly thought-provoking immersive experience.

There is also a surprising amount of humour, put in to undercut the grimmer side of things.

It's also a fun way of getting your exercise!


The walk features:
A number of serial killers. Jack the Ripper has a section, but other London serial killers are also featured.

Execution sites.

A psychic experiment.

Witchcraft.

The occult.

Secret tunnels.

Conspiracy theories.

Incredibly creepy dark alleys.

profiling exercises.

and even more!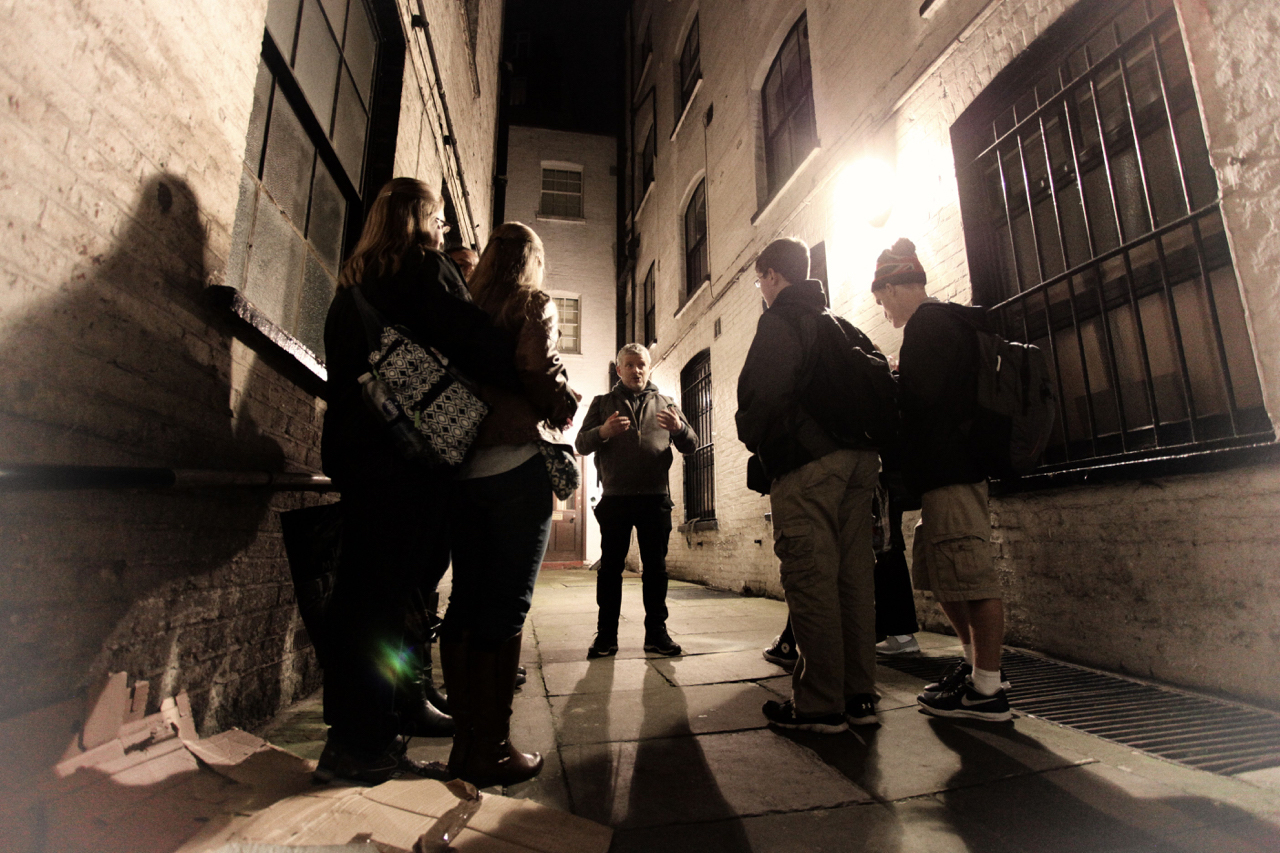 Photograph by Simon Bond.
FAQs
Are there ID or minimum age requirements to enter the event?
You MUST be over the age of 12 to attend this tour. Some years back some parents brought children along who were 10 or 11 years old and I reluctantly allowed them to attend. However, I stopped doing this when some of them became disturbed and felt unwell. This led to one of my favourite ever reviews: "Fantastic tour, children were being sick"!
Now I simply turn away anyone younger than 12. And that means the parents of the too young children have to go away too. I repeat, 'The Blood and Tears Walk' has disturbing aspects to it - it isn't one of the slightly camped up horror events in London such as The L****n D*****n and The L****n B****e E********e. It is about real people, real murders, and it has proved chilling for many adults, let alone children. In fact you may develop a bit of a crick in your neck after attending this tour, as you check if anyone is behind you!
What are my transport/parking options for getting to and from the event?
We meet right outside the only exit at Barbican underground station. Barbican is on three different underground lines: the Circle, the Metropolitan, and the Hammersmith &City lines. Barbican is just two stops past Kings Cross, so look for that on your Underground map to see where it is.
We end 45 seconds away from Holborn underground station. So you WILL survive. Holborn is on the Central and Piccadilly lines.
What can I bring into the event?
*Your good humour.
*A willingness to use your imagination.
*Suitable footwear. We cover around two miles (approximately 3.2 kilometres) and we go at a fairly fast pace because there is a lot to show and talk about.
*Suitable clothing: If it's looking gloomy then bring waterproof clothing and/or an umbrella. In hot weather maybe bring a bottle of water.
If you bring a camera, could you please not take photos while Declan is talking about any particular thing. There are two reaons for this polite request: 1) it's distracting for the other people on the tour and the guide himself, and 2) people taking photos aren't listening and often miss vital bits of information. Instead after Declan stops talking about whatever it is and makes a move to walk to the next location, THEN simply say the one word 'Photo' audibly -- Declan will wait for the photo. That way you get the photo plus the detailed story-telling isn't disrupted.
Video or audio recording the walk isn't allowed because the tour is a performance and in the same way that you cant record a play or a film that you go to, the same thing applies here.
Do you give refunds if people don't turn up?
I don't give refunds BUT if you buy a ticket and then realise you can't come along/don't want to come along, contact me at the email address below and I should be able to do one of two things:
1) allow you to come another time OR
2) Have you nominate someone else to come instead of you
How can I contact the organiser with any questions?
decmhugh@yahoo.com