Join us for our very first bookclub!
About this event
Join us on Wednesday the 27th of October for the first ever bookclub at The Feminist Bookshop.
The book we have chosen this month is Loud Black Girls: an anthology of 20 black women writers asking 'what's next?'
We so enjoyed reading these incredible women's perspectives on life, love, food, music, politics and so much more. We can't wait to discuss the important themes brought to light in this book.
We are running this bookclub both online and in-person, with limited spaces available for in-person tickets to ensure we are keeping everyone safe.
Your in-person admission includes a tea, coffee or soft drink and there will be some vegan snacks available throughout the evening.
We hope to see as many of you at The Bookclub and we can't wait to hear what you think about this book!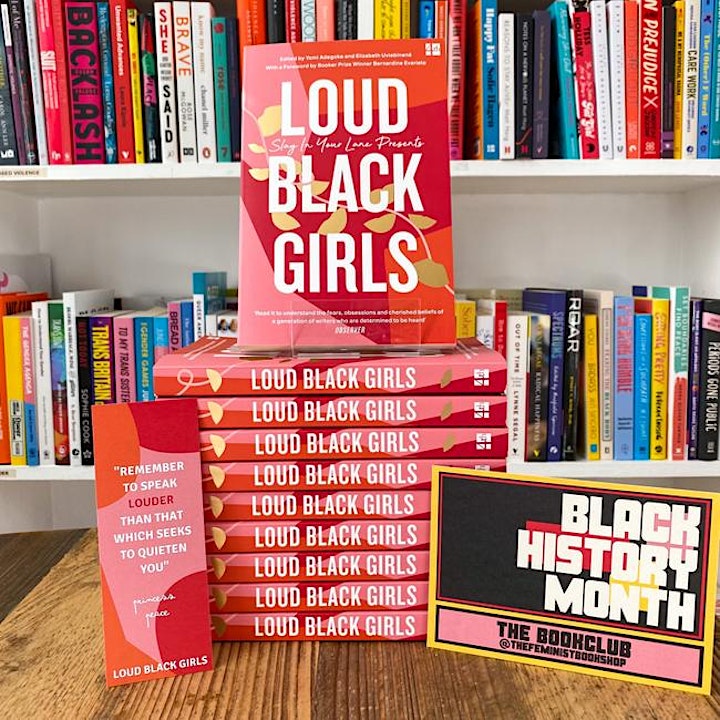 This October we are celebrating Black History Month in the U.K. This year's theme is 'Proud to Be', which Black History Month UK magazine says is "inspired by the 2020 Black Lives Matter events".
Black history month is billed as a time to recognise the contribution and achievements of those with African/Caribbean heritage to British history and culture.
However, we share concerns expressed by many that this can risk becoming a token gesture or a way of avoiding critical institutional and societal change.
For this reason we wanted to spend this month reflecting on how we can provide effective support and amplify black voices all year round.
There seemed no better choice to start the conversation than our bookclub pick: Loud Black Girls.