Location
The British Library - BIPC
96 Euston Road
London
NW1 2DB
United Kingdom
Refund policy
Refunds up to 7 days before event
Sales Have Ended
Ticket sales have ended
Thanks for ordering your ticket to The Breakthrough Business Model Canvas workshop. We look forward to meeting you and helping you gain clarity and growth.
Description
Stuck? Unsure how to grow sales or move your business ahead? Want to move ahead faster?
Come and join me in building a breakthrough business model strategy so that you stop struggling and start thriving!
In this groundbreaking workshop, you're going to discover a series of new breakthroughs so that you can take your business model to the next level.
Does your startup lack clarity?
Do you need more sales?
Are you struggling to define your mission or strategy?
Are you finding it difficult to convince investors to back your startup?
Are you disappointed with your results?


Or, you're making progress, but want to go faster:
Are you looking to scale quicker?
Need more customers and more sales revenue?
Are you unsure about your next step?
Do you need to hire better people?
Do you need to launch?
Is it time to pivot or rise finance?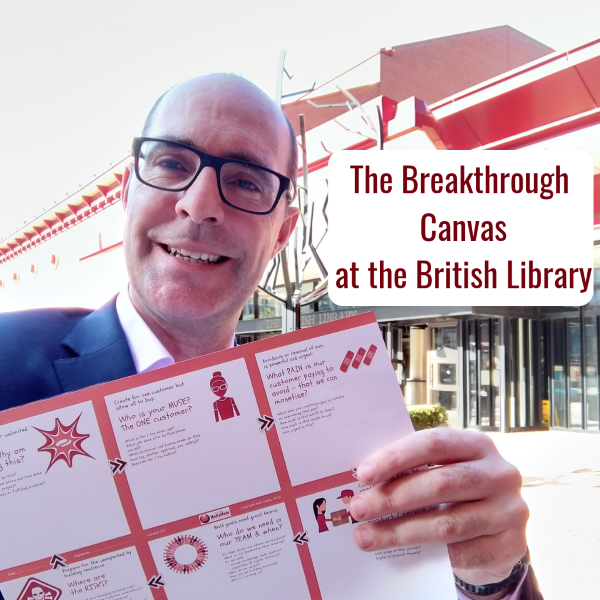 To answer these challenges, international entrepreneur Neil Lewis (pictured above) will help you discover your 'selling story' and take a deep dive on the six key factors that will help you create a winning business model strategy, help you sell more and ultimately achieve success through the Breakthrough Business Model Canvas.
Using The Breakthrough Canvas, Neil will show you how to discover new insights and powerful breakthroughs that will move you and your organisation forward faster and with greater confidence - whilst increasing sales and building powerful partnerships.
With your breakthrough business model you'll:
Increase sales!
(re)Discover your startup / scale up purpose - to re-energise your business your team and your supporters and answer your doubts about pivotting or alternative paths
Identify your creation motivation - to build a unique and un-copiable business that can't be beaten and investors love
Understand your customer motivations - so that they urgently want to buy from you, right now
Learn how to make your customers feel special - so that customers come back to buy from you again and again and recommend you to their friends
Build a team - that magnifies and expands your vision as you hire better and better people
Understand risk and personal resilience, so that you don't just survive setbacks but you conquer them as you grow your organisation
The Breakthrough Canvas workshop is designed in two parts with one critical take home!
Firstly, Neil will help you develop your very own 'Selling Story' that will help develop and deepen your business strategy and can be used to convince partners, investors and customers to back you and buy your products or services.

Secondly, Neil will take you through The Breakthrough Business Model Canvas helping you uncover the gaps or confusion in your startup or scale-up business and sales strategy so that you gain clarity and can increase sales.

Finally, you will take home your very own Breakthrough Canvas, filled with details of your entrepreneurial vision and a clearer understanding of how to take your business to the next level that is easy to share and use to inspire the people around you.



What people say:
Our delegates love The Breakthrough Business Model Canvas Workshop. Here's what they say:

"Thanks so much for your time and energy today at The Breakthrough Busines Model Canvas workshop.
"I thoroughly enjoyed it and gained loads from it including a "Breakthrough"!! So worthwhile... thanks again."
Yvonne
"I came to the workshop feeling unclear on my business strategy and how to take things forward. By the end of the session, I felt I had gained key insights on which media to use, how to start to generate business leads and the courage to find my bespoke niche as I launch. Thank you for a such a helpful, practical and inspiring session."
Jacquline
"Wow! Neil is an awesome coach and workshop leader! Just awesome! My business sales doubled in just a few months after using The Breakthrough Business Model Canvas."
Nathan
"What an workshop! I came unsure about my startup and now I leave knowing this is the right thing for me to do - and how to do it! I will treasure my Breakthrough Canvas - in fact, it's pinned up on my wall already!"
Nena
"I have a successful software business but our growth had flatten out and that's why I came to The Breakthrough Canvas workshop - I'm so glad I did. 100% ready to double our growth."
Davide
* Whilst focused on start-up businesses, this workshop is just as applicable to any social enterprise organisations too, or anyone else driven by mission and purpose who wants to launch, grow an enterprise and increase revenues.