Location
TL 952806
Knettishall
IP22
United Kingdom
Description
The GSN's July field trip of the Summer 2017 season takes us right to the southern border of the county, an area we do not often venture! This trip represents a fantastic opportunity to visit sites from the new 'Brecks Earth Heritage Trail'.
The Brecks (Breckland) area of Norfolk & Suffolk has many sites with fascinating Pleistocene and Holocene geology and has overlapping biodiversity and Palaeolithic interest. This field trip will be led by Tim Holt-Wilson and take in some of the 18 sites featured on the new Brecks Earth Heritage Trail (funded by the Heritage Lottery Fund via the Breaking New Ground landscape partnership). It will include a visit to the British Museum's Palaeolithic excavation at Barnham, courtesy of Dr Nick Ashton.
For more information about the Trail see http://www.breakingnewground.org.uk/earthheritagetrail/
To download the smartphone app go to http://www.breakingnewground.org.uk/earthheritagetrail/downloads/
Meeting place, time and safety:
Knettishall Heath – informal parking area near pine tree clump beside road at TL 952806 (NB: this is NOT the official car park near the bridge). Please see the two attached maps for further details.

Please arrive promptly at 09.45 to ensure you are ready to start at 10:00am on the dot!

Please ensure you are prepared for all weathers and are wearing attire suitable for the amount of walking required.
Itinerary:
10.00 Knettishall Heath – Pleistocene features;

12.00 East Farm Barnham – British Museum Palaeolithic excavation led by Nick Ashton;

13.30 Lunch break at Brandon Country Park

14.30 Brandon Park – relict Holocene dunes

16.00 Session Heath – historic flint mining pits.
Distance:
Given the number of sites we will visit, participants should be prepared for approximately four miles of walking throughout the day.
Refreshments
Please bring a packed lunch, or you can purchase refreshments at Brandon Country Park.
MAP 1: Larger scale view of the meeting point between Knettishall and Rushford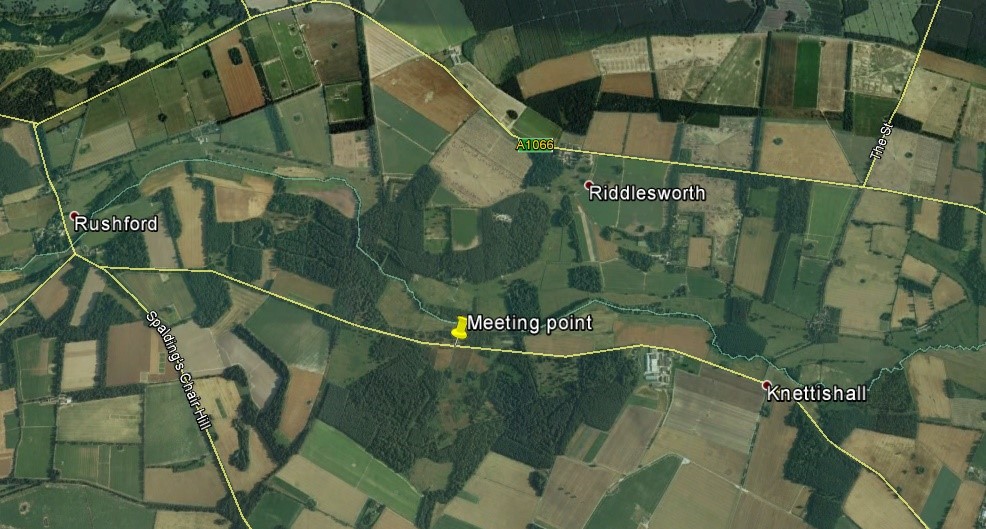 MAP 2: Closer view of the meeting point in relation to the Knettishall Heath Country Park on the crossroads to the east