Description
The Brexit Opportunity for Nigerian Export Trade
Pre-Registration is FREE, please signup and complete so we can understand your requirements. If you select to attend the fee per participant is N20,000.
Who Should Attend?
This event is designed for entrepreneurs and business owners, who are looking for ways to grow and export their products into the UK market.
How will you Benefit?
The workshop will take you through actionable strategies that takes on board some of the key global opportunities and challenges faced when scaling your business. This will provide you with the knowledge and practical skills to design actionable strategy for the future.**Limited to 6 senior executives only**
Fast paced, interactive session with mind-mapping & NO POWERPOINT SLIDES
Agenda:
9.00am Breakfast
9:30am Presentation by Gboyega Awokoya
"Brexit Opportunity for Nigerian Export Trade"
10:00am Business Scenarios
11:00am Break-Out session
12:00pm Close
Get a head start with our Blog here:
http://www.eastlondonexport.org.uk/blog/
WORKSHOP IS LIMITED TO Six (6) ONLY
(Maximum 2 Attendees per company)
Registration:
Starts prompt at 9:00am. Breakfast with Coffee, Tea and Juice available during the session.
Moderator: Gboyega Awokoya B.SChE, AMIEx
Founder, LBAcademy
London, England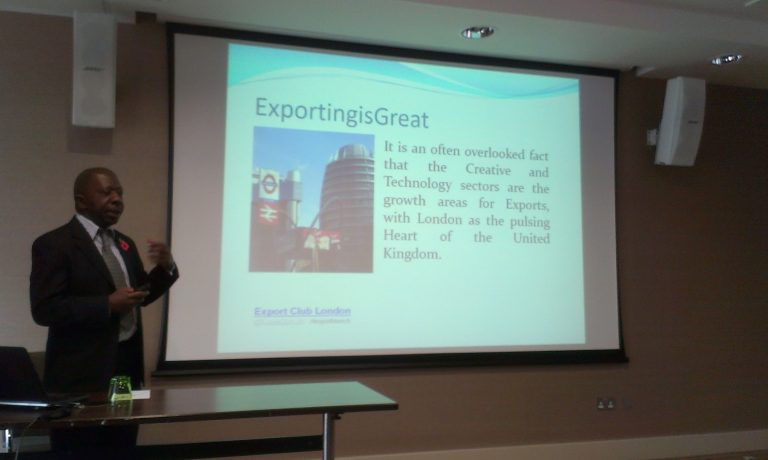 Gboyega is an export adviser and business growth coach, with background as Project Manager, Microsoft Partner & SME Business Analyst. He trained as a chemical engineer (USA) and has worked in senior roles with multinational firms, includes Glaxo, Chevron, ICI and Etex Group.
Gboyega's career spans across the Manufacturing, Banking and Information Technology sectors. He was previously Business Underwriter, UK Export Finance (London HQ) .and is an Associate Member, The Institute of Export & International Trade (UK). Founder, East London Export Club.
Checklist: If you answer yes to any of these questions, then this workshop is for you.
1. Are you new to international strategies for overseas markets?
2. Looking to scale your business by reaching new customers in the UK?
3. Are you an entrepreneur, business owner or professional that is working on or has a product you want to sell overseas?
This workshop provides an excellent overview of key international business considerations. This will help you to refresh your company's strategy and prepare for new markets.
FAQs
How can I contact the organiser with any questions?
For Registration and Fee Enquires;
Message WhatsApp No. +447552548764
Email: info@lbacademy.org.uk