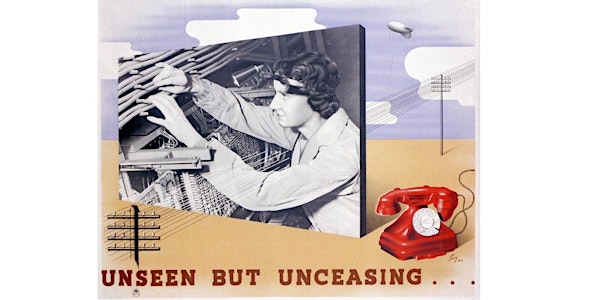 The British Post Office in the Telecommunications Era
Location
Dana Research Centre and Library
165 Queen's Gate
London
SW7 5HD
United Kingdom
Refund policy
Refunds up to 7 days before event
Description
The British Post Office in the Telecommunications Era
Date: Thursday, 31st August 2017
Location: The Dana Library and Research Centre, 165 Queen's Gate, London SW7 5HD
This workshop will explore the many different, and often surprising, sides of the British Post Office during its telecommunications era (1870-1975), from its takeover of the UK's telegraph network to the privatisation of British Telecom. During this time, the British Post Office did more than sorting post and providing telephones. As a government institution, it had its own engineering research facilities, acted as a public savings bank, and regulated and licensed the nation's broadcasters. It was the UK's largest employer until the 1970s, and so was a familiar aspect of life for many. It played an understated but key communications role in both World Wars, and facilitated secretive military endeavours. It created new opportunities and types of work for both men and women, and was a key driver for automation throughout the 20th century.
Historians from a range of disciplines and backgrounds will meet to discuss the forgotten activities and untold stories of the British Post Office. By drawing together a variety of narratives we hope to illustrate the vital but often unacknowledged roles that this institution played in twentieth century society.
The workshop is open to all (up to capacity), and we particularly encourage attendance from graduate students and early-career scholars.
This workshop is organized by three AHRC-sponsored doctoral students, in collaboration with the Science Museum and BT Archives.
Organizers of the conference are Rachel Boon (rachel.boon@postgrad.manchester.ac.uk), Alice Haigh (praeh@leeds.ac.uk), and Jacob Ward (jacob.ward.12@ucl.ac.uk).
---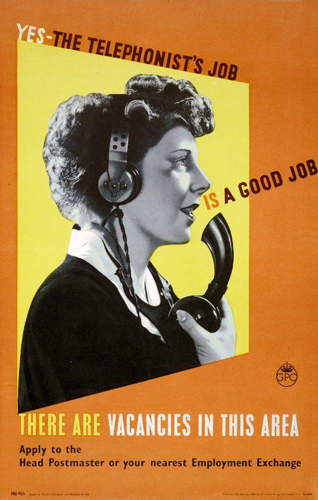 BT Heritage and Archives (TCB 319/PRD 310)
---
Programme
9.30-10.00: Refreshments and Registration
10.00-10.15: Introduction by Rachel Boon, Alice Haigh and Jacob Ward
10.20-11.20: Gender
Katie Hindmarsh-Watson, John Hopkins University, '"Hundreds of men and women mingled": Gender and labour in late-Victorian telegraphic workspaces'
Helen Glew, University of Westminster, 'The early twentieth-century female telephonist in representation and reality'
Elizabeth Bruton, The Science Museum, '"Uncertain at present for women but may increase": Opportunities for women in wireless telegraphy during World War One and the interwar era'
11:20-11:40: Short Break
11.40-12.40: Serving Nation and Empire
Jane Insley, University College London, 'The Wreck of the Royal Charter and the founding of the Met Office'
Christian Velasco, University of Warwick, 'Savings and Letters: The Post Office Savings Bank and the formation of African savers in British East Africa'
Alice Haigh, University of Leeds/The Science Museum, 'Chemistry and Communications: Material science in the early 20th century Post Office'
12.40-13.30: Lunch
13.30-14.50: Network
Barbara Haward, University of Edinburgh, 'The Post Office telegraph as a sociotechnical system'
Kathleen McIlvenna, University of Derby, 'Sunday Labour and the Victorian Post Office: How Localities and Postmen Challenged the Growing State Network'
Jacob Ward, University College London/The Science Museum, 'Natural and National Borders in Networking the Cold War Atlantic'
Edward Smith, BT Research Fellow, 'Nothing and everything changes: A multiple viewpoint assessment of the privatization of BT and how comparison with nationalization informs this'
14.50-15.20: Break and Refreshments
15.20-16.20: Military
Chris Taft and Joanna Espin, The Postal Museum, 'How did the British Post Office's telecommunication network bind the home front to the front line during the First World War, and what did this mean to the war effort and society?'
Rachel Boon, University of Manchester/The Science Museum, 'What did prioritization of military customers mean for the Post Office Research Station, Dollis Hill, during the Second World War?'
Bill Whyte, Independent Scholar, 'Tapping the GOLD vein: Post Office engineers and the Berlin Tunnel'
16.45-17.45: Roundtable, Q&A, and Discussion
Graeme Gooday, University of Leeds
John Liffen, The Science Museum
---
This event has been made possible thanks to the generosity of BT Archives and the Science Museum.