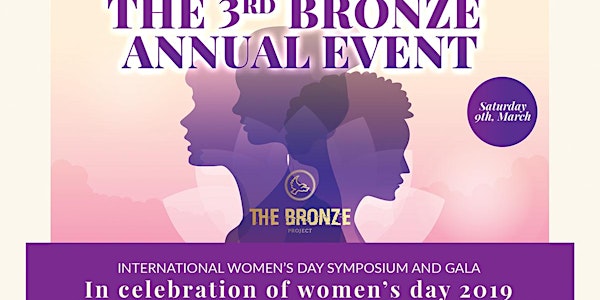 THE BRONZE PROJECT: INTERNATIONAL WOMEN'S DAY SYMPOSIUM AND GALA BOURNEMOU...
Event Information
Location
Royal Bath Hotel
Bath Road
Bournemouth
BH1 2EZ
United Kingdom
Description


INTERNATIONAL WOMEN'S DAY 2019
Celebrating strength when diverse women in the community get together!
Theme 2019: #All about Balance For Better
GUESTS OF HONOUR: The Worshipful The Mayor & Mayoress of Bournemouth Councillor & Mrs Derek Borthwick.
Get inspired on International Women's Day with Arts for Survival C.I.C. Do you wish to collectively and individually bring about positive transformation in our lives and your community? Is it meaningful to you to connect to other like-minded women? Could you share a dose of inspiration and ideas? Then join us for an extraordinary day at the International Women's Day event on March 9, 2019.
Mothers, Daughters, Girlfriends and Co-workers come on your own or bring a friend or family members or husbands or partners or boyfriends or colleague and be entertained at our international women's day event. We promise you will walk away feeling super thriving.
Our mission is to create a platform for women locally or other parts of the UK to share their journey of success, empower, inspire and support others with their story. Through our International Women's Day Symposium and Galas, we bring people together to celebrate the academic, wellbeing, political, social, religious, community and economic achievements of women.
A portion of the event net takings will be donated to a charity in Cameroon to provide folic acid, food and sanitary pads to women in refuge due to the English-speaking Cameroon crisis. Each raffle ticket bought will be matched by £1 of each ticket sale and will be donated to the chosen charity supporting vulnerable women.
Agenda
15:30 -Arrival and registration
16:00- Red Carpet Moment
16:40- Introduction of the MC, Host, Speakers and Chair of the event
16:50- Arrival of the guests of honour
17:00- Opening Speech by The Worshipful The Mayor of Bournemouth Councillor
17:10- Address by the Chair of the event (Chair announced soon)
17:30 -Address by the event team
17:35 - keynote speech (keynote speaker declared soon) All about Balance For Better
18:00 - Informative session discussions celebrating women's journeys and success stories with a chance for Q&A
18:50 - Let the girl child lead moment
19:00 - Live Entertainment (Entertainer announced soon)
19:15 - Awards
20:00 - Networking drinks and canapés
21:00- Raffle winners announced
21:15 - Entertainment
21:25-Closing Remarks (announced soon)
21:30 - GALA! GALA! GALA! GALA!

THE ACRONYM OF BRONZE:
B-Beautiful- Every girl or woman is beautiful from within.
R-Responsible-Teaching every girl or woman to take responsibility for their self-image and development.
O-Opportunity-Giving every girl child or woman the opportunity to become all that they have dreamt of becoming.
N-Nurturing-Nurturing every girl child's or woman's gifts and talent.
Z-Zeal-Teaching every child or woman to develop the zeal to pursue their dreams.
E-Empowerment- Empowering every girl child or woman that they matter and can become Extraordinary.
Written by Ferdinard Senyo Lawson Author.

We are still accepting nominations for the 2019 BRONZE UK Awards.
DEADLINE December 29th, 2018 NOW EXTENDED to January 15th, 2019
http://www.missbronzeuk.co.uk/awards/
Exhibitor Stand –Do not hesitate to please contact us if you require to exhibit your products or promote your services.
We are still accepting raffle prize donations! We would be hugely grateful for any contribution you can make to help support our fundraising efforts. All donations will be properly thanked and acknowledged on the evening.

It's all about Inspiring, Supporting and Empowering women!
Date and time
Location
Royal Bath Hotel
Bath Road
Bournemouth
BH1 2EZ
United Kingdom
Refund policy