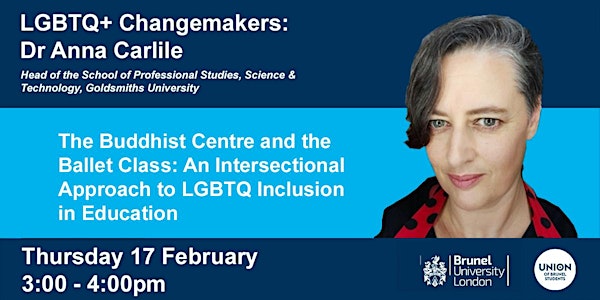 The Buddhist Centre and the Ballet Class: LGBTQ Inclusion in Education
As part LGBT+ History Month at Brunel, please join us for a talk on inclusive education research by Dr Anna Carlile, Goldsmiths University.
About this event
To celebrate LGBT+ History Month at Brunel University London, the LGBTQ+ Staff Network and Brunel Student Union will present our first LGBTQ+ Changemakers Virtual Speaker Series event of 2022, featuring Dr Anna Carlile, Head of the School of Professional Studies, Science and Technology, Goldsmiths University. This lecture reports on a range of research looking at intersectional aspects of LGBTQ inclusion in education and other settings. It looks at the intersections of LGBTQ experience with faith, neurodiversity, and socioeconomic class. It includes findings from a project with LGBTQ parented families about their experiences with schools; a look into what children, teachers and parents say about LGBTQ inclusive education in schools serving faith communities, and a series of international research interviews with trans and nonbinary youth and their parents addressing education, access to therapeutic support, and experiences of extracurricular activities. The research methods used are voice-focused and collaborative. There will be an opportunity for a Q&A.
Presented in support of Rainbow Migration
Dr Carlile is the Head of the School of Professional Studies, Science and Technology. She is a former youth worker and teacher and is now a Senior Lecturer in Inclusive Education. Her approach to research and teaching is collaborative, intersectional and participant-led, and includes projects on decolonising the university; valuing the expertise of PoC in HE; Black girls' survival, agency, and resilience; transgender children's experiences in healthcare; and LGBTQ-inclusive education in primary schools serving faith communities. She has published several articles and books, including (with Elly Barnes) How to Transform Your School Into an LGBT+ Friendly Place: A Practical Guide for Nursery, Primary and Secondary Teachers London: Jessica Kingsley Publishers
Research articles and books on inclusive education at: http://research.gold.ac.uk/view/creator/Carlile=3AAnna=3A=3A.default.html
Blog: https://inclusiveeducation652853906.wordpress.com/
Twitter: @anna_carlile