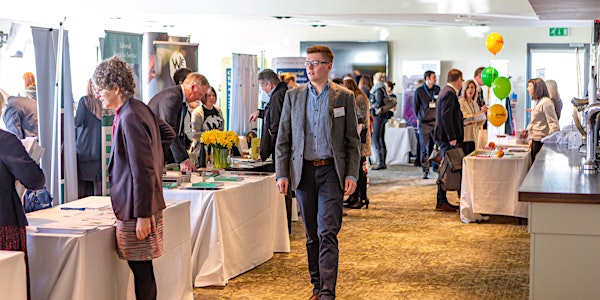 The Business Exchange Charity Conference & Expo in partnership with 3SG
Location
Bath Racecourse
Lansdown
Bath
BA1 9BU
United Kingdom
Refund policy
Contact the organiser to request a refund.
Eventbrite's fee is nonrefundable.
Attend The Business Exchange Charity Conference & Expo 2022 in partnership with 3SG on Thursday 19th May
About this event

The Business Exchange Charity Conference & Expo is back for 2022 in partnership with 3SG (Bath & North East Somerset's Third Sector Group).
Returning to Bath Racecourse on Thursday 19th May the day will be an opportunity for local businesses, charities, and not-for-profits, to connect, share learnings and go for growth with far reaching benefits to our surrounding communities thanks to the support of our sponsors, Milsted Langdon, Stone King and the Bath & North East Somerset Social Entrepreneurs Programme.
The conference which is now in its fourth year, follows the success of the 2021 digital conference and expo and 2020 in-person event at Bath Racecourse.
The Charity Conference & Expo Schedule
Networking Breakfast: The day will begin with a networking breakfast at 8:30am. Attendees will hear from guest speaker Hamish Evans, Co-Founder of Community Interest Company, Middle Ground Growers (MGG) who will share his experience of running a successful crowdfunding campaign raising over £96,000 with 545 supporters in just 69 days, enabling MGG to build an ecological farm for Bath.
Tickets are priced at £10 and include teas, coffees and pastries. Please note, exhibitors need to buy a networking breakfast ticket.
The Expo: The expo will officially open at 10am after the networking breakfast. This part of the conference allows charities and not-for-profits to showcase their work and latest appeals and companies to demonstrate their third sector specialisms. Organisations signed up to exhibit so far include: CloudHeroes, Metro Bank, Corsham Print, Milsted Langdon, Stone King, x Ledger, Mark Richard Insurance, Wiltshire Air Ambulance, West of England Sustainable Tech scale-up programme, Bath Mind, St John's Foundation, 3SG, Rainforest Concern, People against Poverty, Youth Connect South West, British Heart Foundation , Trauma Breakthrough, Genesis Trust, Dame Kelly Holmes Trust, Grow Batheaston, Julian House, Make a Move, CHSW, Forever Friends, Designability, Mentoring Plus, Share & Repair, Clean Slate , Peggy Dodd Centre, Voices Charity, Dorothy House Hospice, Ammerdown Org and Julia's House.
Exhibition stands are priced at a discounted rate of £60 for not-for-profits and £120 for businesses.
The expo is free to attend, but delegates must register their attendance. 
The Seminars: Throughout the day we have a series of seminars planned. Schedule as follows:
10:15am- 10:45am Charities Vital Signs Report with Quartet Community Foundation Quartet Community Foundation Quartet Community Foundation will deliver the findings of its latest Charities Vital Signs Report which focuses on Climate and Communities.
11:00-11:30am Social Media for Success with Naturally Social – Engaging new audiences Natalie Sherman is Founder of local award-winning social-first agency Naturally Social, and Co-Founder of Community Interest Company, Wiltshire Digital Drive.
Wiltshire Digital Drive was launched at the start of the Covid-19 pandemic to enable education and bridge the digital divide, keeping people connected through the lockdowns.
Natalie will share how Naturally Social uses social media to engage the community for Wiltshire Digital Drive, driving donations and finding those in need of devices.
Through highly targeted social campaigns Wiltshire Digital Drive has received substantial media coverage on TV, in print and online and has also secured funding and won awards.
This unmissable session will be packed with lots of takeaways to make a difference to your organisation enabling you to stand out on social media and new engage audiences.
11:45am – 12:15pm Finance FAQs with Milsted Langdon Gill Freeman, Partner and Head of Charity and Not for Profit at award-winning accountancy practice Milsted Langdon, will explore the latest hot topics when it comes to opportunities and challenges for charities and not for profit organisations. The session will include a Q&A opportunity to discuss any burning finance and accountancy-related questions or issues affecting your organisation and to share experiences and best practice in a safe environment with supportive and like-minded peers in the Third Sector.
12:30 -13:00 ESG – The Opportunities with Transform and Action Net Zero Environmental Social Governance (ESG) is a real-world challenge and opportunity for organisations. In this talk we will highlight how you can improve connections with your people and add value to the communities where you operate. Plus how to demonstrate accountability through being a better run organisation.
Veronica Hannon from Transform ESG and Pam Barbato from Action Net Zero will highlight the broad issues. Demonstrating the small and big steps businesses and charities can take that will deliver tremendous impact and create value with employees, customers and wider stakeholders. We'll focus on improving both profit and people engagement, all while benefiting the planet.
This session will open your eyes to opportunities and will include plenty of time for discussion ideas. You'll leave buzzing with inspiration of how you can transform your approach to ESG.
13:15 – 13:45 The Future of the Third Sector: How the South West can be pioneers for change Louise Harvey, Executive Director of The Foundation Fund at St John's Foundation will discuss how the charity and not-for-profit sector in the South West can work collaboratively to be pioneers for change. Louise will talk about how change is needed in terms of access to funding and what we can learn from others nationally and internationally to help our communities thrive.
In the 18 years Louise has worked for St John's, she has developed an exceptional knowledge of both the Foundation and the local community. Louise has been a driving force for cross-sector working and collaboration, striving to continuously extend the reach and impact of St John's core services, whilst also supporting its employees and local organisations to realise their potential.
Louise uses her passion, energy and 'no challenge too great' attitude to break down barriers to bring the Third Sector, education and businesses together. She was recently invited to be part of a national Third Sector steering group organised by the Times newspaper to drive positive change.
14:00 – 14:30 Good Governance with Stone King What does good charity governance look like and what are the current trends? What are the challenges and opportunities for governance in the light of the Covid and its ongoing effects? Stone King Partner Rosamund McCarthy Etherington explores these topics and more in this seminar session.
Rosamund is a charity lawyer with more than 30 years' experience of helping household named charities to navigate through a regulatory, governance and high profile media maze. Her expert work as a charity lawyer is also informed by her trusteeship of numerous not-for-profit organisations.
14:45 – 15:15 Digital Wonderlab talk Digital Transformation Digital Wonderlab and guests will explore how to build a resilient and maturing digital charity by looking at why you exist and what purpose truly is. The session will look at how people, processes, culture and technological capabilities can shape and create the digital charity you want to be. Whether you're a technology expert or new to the digital world, this session will use real-life examples to challenge your thinking and provide practical steps for effective digital transformation.
15:30 -16:00 Volunteering options in BaNES with 3SG 3SG will discuss the many volunteering opportunities available in BaNES and how individuals can get involved. They will also be sharing the findings from their report on the 'Volunteering Landscape in BaNES' which is currently underway and looking at how volunteering has changed over the last few years for both charities and individuals.
The seminars are free to attend but booking is essential. Click on the green 'ticket' button above to book on. 
The Talks
11:00 – 11:30am Responsible Investing and ESG – The team from Bath-based financial consultants, McKenzie & Co, a Senior Partner Practice of St. James's Place will discuss Responsible Investing and the opportunity to align your organisation's values with its financial objectives.
12:30 – 13:00 -The Mindset for Change with Jim Hughes
Being in a constant state of flux is never easy and the Third Sector has arguably had to adapt more than any other over the last few years. That's why we've invited Jim Hughes from Untamed to help you get into the right mindset to conquer fears and get set for the next phase of growth.
Jim provides transformative experiences to high performers and entrepreneurs around the world. He thrives on adventure and his unique speaking and coaching technique leverages on his life experience which encompasses everything from running a multimillion-dollar engineering business in Australia and canoeing the Yukon River, to skiing the world's longest giant slalom race wearing only a g-string, and pretending to be an electrical engineer for eight months. He approaches his work how he approaches life with energy, commitment and fun.
In this session Jim will inspire you to reach your full potential, allowing you to feel fulfilled and making a positive impact on the world.
Event timings
8:30 – 9:45am Networking breakfast
10am-4pm Exhibition (stands for both businesses and charities to promote themselves)
Seminar sessions throughout the day in seminar rooms
11:00-11:30 & 12:30-13:00 Talks in expo hall
What past delegates have said.....
"As a charity we don't often get the opportunity to interact with businesses. It was a revelation to see how important and beneficial it is to foster symbiotic relationships between the two. I found the speakers all very relevant and insightful too." 
"The speakers were very informative - I came away with much food for thought on how we might improve practice in our organisation."
"Great mixture of businesses and charities. Good networking, friendly people. An event filling a gap in the South West."
"The whole event was well organised with a great buzz all day."
Thank you to our event sponsors.