Discover the highly dynamic (E)Sports market in Hong Kong and Mainland China and explore the Future of Sports in the Digital Age.
About this Event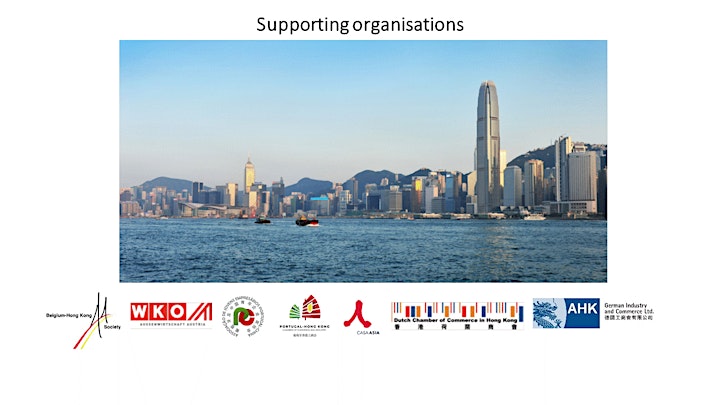 The Business of (E)Sports in HK & Mainland China
Explore together with us the Future of Sports in the Digital Age
Join our Webinar to get first hand insights about the Hong Kong & Mainland China (E)Sports market and learn more about opportunities for European players in Asia.
Agenda, 11:00 am - 12:30 am CET / 6:00 pm - 7:30 pm HK Time
Welcome Remarks by InvestHK & NHKBA
Hong Kong - a destination for major sports events Ms. Fiona Chau , Hong Kong Economic & Trade Office
Motorsport in Hong Kong & Mainland China Mr. Ho-Pin Tung, Racing Driver, Jackie Chan Racing Team
Modern Sports in China Ms. Bettine Vriesekoop, Writer, Former table tennis champion, Former correspondent of NRC Handelsblad
Esports - the key to millennial and Gen Z consumers Ms. Pei-Zhi Liou, COO, Vexed Gaming
Case Study 1 Mr. Paul Polterauer, CEO & Co-Founder of Hero
Case Study 2 Mr. Sam Cooke, Managing Director and Co-founder at Esports Insider
Q&A Moderated by Ms. Paula Kant, InvestHK Brussels
Closing Remarks Dr. Wing-hin Chung, InvestHK Berlin
================================================================
Why Hong Kong?
Top venue for world-class sport events
Regional business hub that serves as ideal base to navigate Greater China
Multitude of collaboration & partnership opportunities within the Greater Bay Area
Learn more about your business opportunities in Hong Kong and visit us on www.investhk.gov.hk.
The (E)Sports Industry in Hong Kong
Hong Kong is the ideal gateway to China and APAC markets, allowing you to soft launch and promote new products to the markets nearby.
It offers longstanding expertise in developing monetization models like cross border sponsorships, merchandising partnerships, fundraising, organization of tournaments and collaboration opportunities with the Greater Bay Area and beyond.
Hong Kong also has a thriving video / e-game market, growing at an annual rate of 5.4% and forecasted to reach USD 1.1 billion by 2024.
Learn more about the e-gaming sector in Hong Kong on: www.investhk.gov.hk/en/industries/creative-industries.html
The (E)Sports Market in Mainland China
China is a highly attractive growth market for the entire sports industry and offers tremendous business opportunities for national and international players in the sport industry. It also remains a very challenging market to enter.
Prognosis expects total consumer spending in the sports and fitness industry in China to hit EUR 196 billion in 2020, according to a report by Chinese data intelligence company QuestMobile.
China is also the largest e-games market in the world, both by revenues and by number of players. The market is estimated to gross USD 385 mn in 2020 and grow dynamically at 17% per year to reach revenues of USD 540 bn by 2023. Most of these revenues will come from sponsorships. (Newzoo Global Esports Market Report 2020).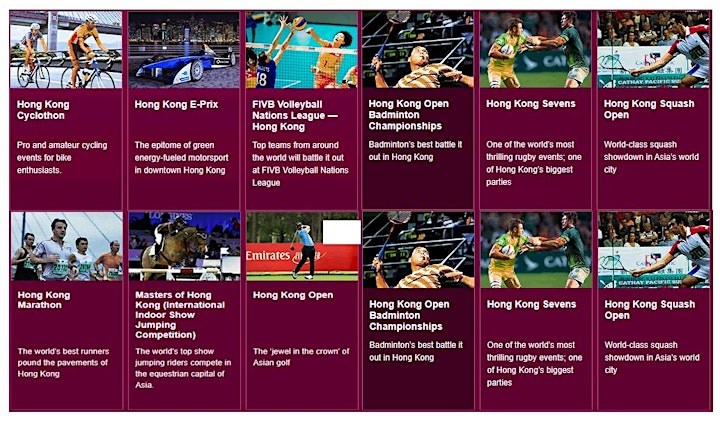 HOSTS
InvestHK is the Investment Promotion Agency of the Hong Kong Government. Established in July 2000, its main goal is to support overseas and Mainland businesses to set up or expand in Hong Kong.
InvestHK connects companies and entrepreneurs from all over the world with important networks and players in Hong Kong by providing free advice and customized services aimed at helping businesses succeed in Hong Kong's vibrant economy.
The Hong Kong Economic & Trade Office (HKETO) represents Hong Kong's economic and trade interests in the European Union, and is responsible for promoting Hong Kong's bilateral relations. Three offices, located in Brussels, Berlin and London, cover the whole of Europe.
NHKBA The Netherlands Hong Kong Business Association provides a forum for Dutch people interested in Hong Kong and for people in Hong Kong interested in the Netherlands.
The Netherlands Hong Kong Business Association (NHKBA) promotes bilateral relations between the Netherlands and the Hong Kong Special Administrative Region as well as with the adjoining Chinese province of Guangdong and the Macau Special Administrative Region.
SPEAKERS
Mr. Ho-Pin Tung
is a Dutch born Chinese racing driver with almost 20 years of experience and currently races in the FIA World Endurance Championship.
He was the first Chinese driver ever in Formula 1 and winner of the iconic Le Mans 24 hours race. He is also F1 expert for several media and fulfils several ambassador roles for commercial and government related organizations. Ho-Pin grew up in the Netherlands and is currently based in Hong Kong.
Ms. Bettine Vriesekoop
played table tennis at world level for more than 25 years. She won a total of 5 European singles titles and won 12 Open Championships. For more then ten years she belonged to the best ten players of the world. She trained extensively in China in the 1980s and 90s.
Through her contacts with China, she became interested in Chinese culture and decided to study Chinese language and cultures at Leiden University. She wrote 6 books on China and was a correspondent for NRC Handelsblad from 2006 to 2010.
Vexed Gaming
Vexed Gaming is a leading UK esports organization. An esports organization promotes, trains, builds marketing exposure and value around rosters of teams/players across a variety of games. Currently, Vexed has teams active in CounterStrike: GlobalOffensive, Rainbow Six Siege and Hearthstone. The brand has realized a significant number of 'firsts' including: 
the first in the UK to work with a professional football team - Leeds United; 
the first in the UK to be engaged with Kappa clothing as sponsor to their team wear;
the only esports team to be invited for BBC's Bitesize annual educational tour;
the first in the UK to develop a varsity programme with Salford University. 
Hero
HERO radically changes todays centralized way of online betting. The token and its smart contract allow decentralized peer-to-peer online betting in any field.
HEROcoin (an ERC20 token) is designed so that any provider can integrate the token on their platform and any participant can create its own (closed) contests. All transactions are transparent and the smart contract automatically performs actions such as pay-outs to guarantee a trustless ecosystem. Breaking the traditional "the house always wins" paradigm. With HERO the community always wins.
Esports Insider
Based in London and founded in 2016, Esports Insider is an industry focused esports news platform, B2B agency, media and events company.ESI runs a world leading and international esports industry news site, operates The Esports Journal magazine, and has run more industry events than any other company globally, from London to Los Angeles. Other arms of the company include ESI Media, and ESI Connect which assists brands, investors and suppliers with strategy and a route to market via esports rights holders.
SUPPORTING PARTNERS
GIC German Industry and Commerce Ltd, Hong Kong www.hongkong.ahk.de
Aussenwirtschaft Austria (Advantage Austria) wko.at/aussenwirtschaft
Dutch Chamber of Commerce in Hong Kong www.dutchchamber.hk
Portugal Hong Kong Chamber of Commerce and Industry (PHKCCI) www.phkcci.com
Belgium Hong Kong Society (BHKS) www.bhks.be
Association of Young Entrepreneurs Portugal-China (AJEPC) www.ajepc.com
Casa Asia www.casaasia.eu