The BZS 1981-2021 - Life after 40
Sales Have Ended
Ticket sales have ended
Thank you and we look forward to seeing you on 12 June.
Sales Have Ended
Ticket sales have ended
Thank you and we look forward to seeing you on 12 June.
The Britain Zimbabwe Society's 40th anniversary event, to explore its links with Zimbabwe, debate the way forward, music and performance.
About this event
All welcome. Registration is free of charge with donations for art and culture livelihoods in Zimbabwe optional. For more information, contact Knox Chitiyo at chitiyoknox@yahoo.com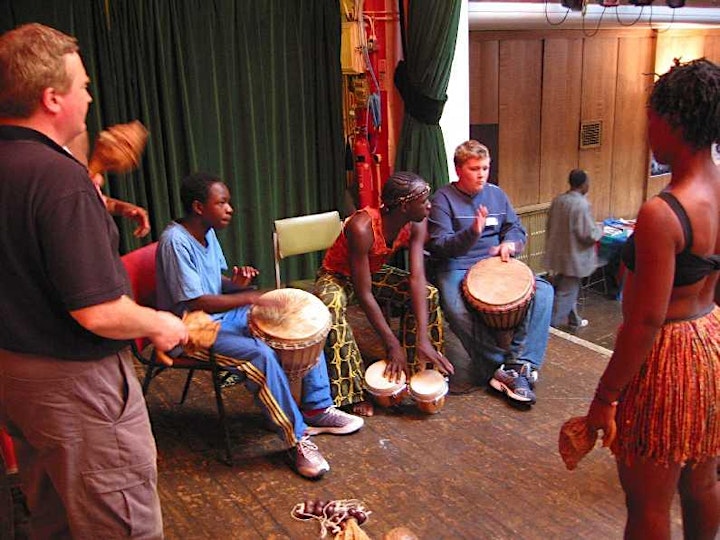 Programme
13.55- 14.00 hrs Welcome and Introduction: Knox Chitiyo, President, BZS; Margaret Ling, Treasurer/Membership Secretary, BZS
14.00- 15.00 hrs Panel 1 Life After 40 - The Britain Zimbabwe Society and Beyond
Speakers: Professor Diana Jeater, University of Liverpool and BZS Executive member
Dr Roselyne Masamha, University of Hull
Conrad Mwanza, CEO, CMG Media and Zimbabwe Achievers Awards
Dr Sophia Chirongoma, Midlands State University
Chair: Dr Kathy Mansfield-Higgins, Chair of BZS
15.00- 16.00 hrs Panel 2 Arts and Culture in Zimbabwe and the Diaspora
Speakers: Dorcas Gwata, Zimbabwe Health Training Support (ZHTS)
Dumi Senda, author, diversity and inclusion advisor, career coach
Joe Njagu and Tomas Brickhill, Book Café, producer and director of Cook Off (first Zimbabwean film on Netflix)
Simon Bright, film producer with Zimmedia, BZS member
Chair: Millius Palayiwa, former director, Fellowship for Reconciliation, BZS vice-chair
16.00-17.00 hrs – break, Zoom link remains open
17.00 hrs - 19.30 hrs: Zim Creatives - Arts and Culture performances
Welcome and Introductions: Dr Knox Chitiyo and Tariro neGitare, musician and arts mentor
Master of Ceremonies: Pat Brickhill, writer, BZS Secretary
Performances and presentations by in-country and diasporan musicians, writers, poets, actors and also from the arts and crafts.
Performers/presenters include: • Fungai Marima, arts and crafts • Tomas Brickhill, singer, guitarist • Marvin Mudzongo poetry, musician • Pelagia Nyamayaro, poetry • Tariro ne Gitare, singer, guitarist • Divine Mahara, singer, guitarist • Nomalanga Nyamayaro, culinary expert, BBC Masterchef • Anna Mudeka, singer, multi instrumentalist • Mahlaba Banda, singer, composer, dancer • Ethel Maqeda, short story • Knox Chitiyo, singer, guitarist • Open Mic • Research Day reminder
19.30-1940 hrs: Concluding remarks and close: Dr Kathy Mansfield Higgins, BZS Chair and Dr Knox Chitiyo, BZS President
Zoom Host: Philip Weiss, BZS Executive
BIOGRAPHICAL NOTES ON SPEAKERS & PERFORMERS(in order of appearance)
DR KNOX CHITIYO is the President of the BZS and an Associate Fellow with Chatham House. Knox has won awards for international diplomacy and policy work. He is also a writer and musician.
chitiyoknox@yahoo.com or KChitiyo@chathamhouse.org
MARGARET LING is a former BZS Chair and the current BZS Treasurer and Membership Secretary. Margaret worked in publishing and book development with Zed Books and the Zimbabwe International Book Fair. She was a trustee of the Zimbabwe Association.
margaret.ling@geo2.poptel.org.uk
PROF DIANA JEATER is a widely published social, cultural and political historian on Zimbabwe, southern Africa and wider African issues. Diana is Associate Dean [Education] at Liverpool University and an Emeritus Professor of African History. She is on the Board of the Journal of Southern African Studies [JSAS], is a founder member and former Chair of the BZS, and is on the BZS Executive.
diana.jeater@btinternet.com
DR ROSELYNE MASAMHA is a lecturer in the Faculty of Health Sciences at the University of Hull. Roselyne's work is interdisciplinary, covering learning disabilities and mental health, and the intersections between history, justice and the community. She is a winner of the BZS Young Researcher's Award.
Roselyn.Masamha@hull.ac.uk
CONRAD MWANZA is the Founder and CEO of CMG Media and the acclaimed Zimbabwe Achievers Awards, which celebrated its 10th Anniversary in 2020. The ZAA, which originated in the UK, is now a global brand, with Awards events in Africa, Europe, the USA and Australia.
conradmwanza@gmail.com
DR SOPHIA CHIRONGOMA is a Senior Lecturer in Religious Studies at Midlands State University, Zimbabwe. Sophia is also an Academic Associate and Research Fellow at the Research Institute for Theology and Religion at the University of South Africa [UNISA].
sophia.chirongoma@gmail.com
DR KATHY MANSFIELD HIGGINS is the Chair of the Britain Zimbabwe Society and an international governance consultant and advisor who has worked with DFID and the Commonwealth. She is an accomplished writer and arts supporter who has published short stories, biographies and more, and has had her work performed in Zimbabwean theatres.
kathymh18@gmail.com
DORCAS GWATA is an award - winning general health, mental health and community work professional. She is the former Chair and a current Trustee of Zimbabwe Health Training Support [ZHTS] which provides health support and training in Zimbabwe.
dgwata@googlemail.com
DUMI SENDA is an award winning poet, children's book author, essayist and literary critic who has won a global audience for his work. He is also a diversity and inclusion advisor and coach.
dumi.senda@live.co.uk
SIMON BRIGHT is the co- founder of the Zimbabwean film production company Zimmedia. Simon's films, which include Dinner with Mugabe, have attracted international audiences. He is also the co-Founder of the Southern Africa Literature Festival.
simon@zimmedia.com
JOE NJAGU is a film producer and director whose work has been very influential in Zimbabwean and African cinema. He is the producer of the romantic comedy movie, Cook Off, the first Zimbabwean film to be streamed on Netflix.
(contact details tba)
TOMAS BRICKHILL is the director and screen writer of Cook Off, whose commercial success has changed stereotypes of the Zimbabwean film industry. Tomas also runs the Book Cafe arts and cultural platform in Harare, which since its physical closure has been hosting online pop-up events.
tomasbrickhill@gmail.com
MILLIUS PALAYIWA is an internationally renowned legal and conflict resolution adviser. He was a tribunal judge and vice-president of the Solicitors Disciplinary Tribunal, and the director of the Fellowship for Reconconciliation. Millius is the Vice- Chair of the BZS.
milliuspalayiwa@gmail.com
TARIRO NEGITARE is a Harare-based singer, guitarist and songwriter. She has won international acclaim for her music and performed with global artistes. Tariro is a music mentor and entrepreneur and she has created the Wildfire Night performance platform for creatives.
tarironegitare@gmail.com
PAT BRICKHILL is a short story writer, literary critic, and social historian. She returned to Zimbabwe shortly after independence and co-founded Grassroots Books and later the Book Café in Harare. Pat was the Events Coordinator at the Zimbabwe International Book Fair. She is the BZS Secretary.
zimgekko@aol.com
FUNGAI MARIMA is UK-based and one of Zimbabwe's best known new- generation print and materials artistes. Her creations, exhibitions and workshops have placed her at the cutting edge of modern Zimbabwean art.
fungai.marima@gmail.com
MARVIN MUDZONGO is a UK-based design creative who works across multiple fields including contemporary poetry and urban music. Marvin is passionate about uplifting the community, and is the Facilitator and Empowerment Coach at Lemon Pop Workshops.
marvin@lemonpopworkshops.com
PELAGIA NYAMAYARO is a UK-based writer who has published poetry, fiction and non- fiction. She is a media commentator and is making a name as a new generation creative.
pelladjie@gmail.com
DIVINE MAHARA is a South Africa-based singer, guitarist and songwriter. Divine won Zimbabwe's Got Talent in 2014 and his innovative Afro-soul music is attracting a wide listenership.
connect@divinemusic.live
NOMALANGA NYAMAYARO is an award-winning UK-based culinary expert. She was a quarter- finalist in the BBC MasterChef in 2016. Nomalanga is the founder of Noma Creates Ltd which promotes healthy eating and healthy lifestyles.
noma@nomacreates.com
ANNA MUDEKA is a UK- based multi instrumentalist, singer, actress, writer and educator. She has won renown for her traditionally-based performances, compositions, and workshops; and for her theatre work. Anna founded the Norfolk World Music Festival.
info@annamudeka.co.uk
CHARLES MAHLABA BANDA is the son of Simon Mahlaba Banda, founder of the original Sunduza Boys music and dance group. In subsequent years, Charles would go on to lead the group (now renamed the Sunduza Dance Theatre). He has also launched a solo career as an Afro-jazz/folk/pop artiste. His music has been very well received and Charles has twice been a ZIMA award nominee.
charlessimonbanda@gmail.com
ETHEL MAQEDA is a UK-based short story writer. Her work is inspired by Shona and Ndebele storytelling traditions. Ethel's short stories have been published in various publications, including Wasafiri.
edm1372@yahoo.co.uk
PHILIP WEISS is the Training Director and MD of Southern E Media Education and Arts. He is a longstanding supporter and promoter of southern African artists through management and marketing. Philip is the project manager for the Sosa-Xa! Sounds of Southern Africa choir, an educator, and active on multimedia. He is the BZS web manager and a member of BZS Executive.
sosa.xachoir@gmail.com
Date and time
Location
Refund policy
Organiser of The BZS 1981-2021 - Life after 40
The Britain Zimbabwe Society (BZS) is an independent membership organisation formed in 1981. It promotes and encourages constructive dialogue between the peoples of Zimbabwe and Britain based on mutual respect.
The Society is an inclusive forum for debate, discussion and mutual learning.
It promotes understanding and support of Zimbabwe and its peoples in Zimbabwe
and the wider diaspora in the UK and elsewhere.