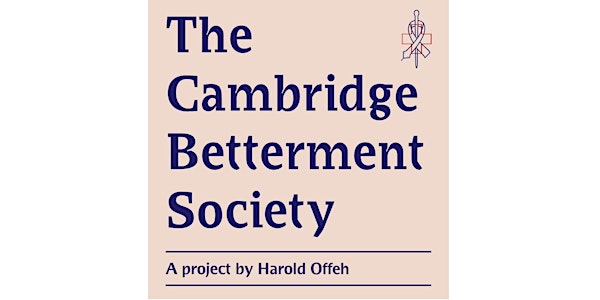 The Cambridge Betterment Society by Harold Offeh - Film Screening
Location
Frank Lee Centre, Hexagon Room
Addenbrooke's Hospital
Hills Road
Cambridge
CB2 0SN
United Kingdom
Description
Join artists and world leading medical researchers for the premiere of a series of short films that give an artistic interpretation of the work being carried out at a new University of Cambridge medical research centre.
Cambridge-based artist, Harold Offeh, has commissioned a group of artists to make a series of three films that bring observation, humour and alternative perspectives on the work of scientists and clinicians at Project Capella, the University of Cambridge's new research building at the Cambridge Biomedical Campus.
Each of the artists has established dialogues with individuals or small groups of researchers and clinicians concentrating on the ideas of 'betterment' and 'care'. The artists include Harold Offeh, who works in a range of media including performance, video, photography, learning and social arts practice; Frederica Agbah, a Yorkshire born photographer and visual artist based in London and artist collaborators Jack Scott and Louis Jack Horton-Stephens who have worked together on several short film projects often taking a poetic and collage like approach to their subjects.
Project Cappella brings together three research centres: Cambridge Stem Cell Institute (CSCI), Cambridge Institute of Therapeutic Immunology and Infectious Disease (CITIID), and the Milner Therapeutics Institute.
The Cambridge Betterment Society is part of the public art programme for the project led by Commission Projects, which interprets the work for a non-specialist audience.
Doors open at 17.30 Screening at 19.00 - Refreshments.