The Campaign for Real EBM by Professor Trish Greenhalgh

Thursday, 19 March 2015 from 18:00 to 19:00 (GMT)
Event Details
This talk is being held as part of the Practice of Evidence-Based Health Care module which is a compulsory module for the MSc in Evidence-Based Health Care. Members of the public are welcome to attend.
Trish Greenhalgh is an internationally recognised academic in primary health care and a practising GP.  She leads a programme of research at the interface between social sciences and medicine, with strong emphasis on the organisation and delivery of health services. Her research seeks to celebrate and retain the traditional and humanistic aspects of medicine while also embracing the unparalleled opportunities of contemporary science and technology to improve health outcomes and relieve suffering.  Her past research has covered the evaluation and improvement of clinical services at the primary-secondary care interface, particularly the use of narrative methods to illuminate the illness experience in 'hard to reach' groups; the challenges of implementing evidence-based practice (including the study of knowledge translation and research impact); the adoption and use of new technologies (including electronic patient records and assisted living technologies) by both clinicians and patients; and the application of philosophy to clinical practice.
This presentation is based on an article published in the British Medical Journal in June 2014 [1]. This abstract tells the story of that article and its 16 authors, who called themselves the 'Evidence-Based Medicine [EBM] Renaissance Group'.
Many of us who have been in the EBM movement since its early days feel mixed emotions. We are excited by EBM's achievements – but at the same time disillusioned at its failings and unintended consequences. For some time now, we have felt that the EBM movement needs to stop and think: where has it come from; what has it achieved; and how does it need to change to shape up for the future?
The EBM Renaissance Group started to form on the social media site Twitter. For those unfamiliar with this medium, members can 'tweet' a message of up to 140 characters, including an image (e.g. picture of a kitten) or a hyperlink (e.g. to an academic paper). The message will be seen by anyone who has chosen to 'follow' that member on Twitter. Some members use Twitter to exchange pictures of kittens, and they tend to follow (and be followed by) other kitten-friendly people.
People interested in EBM (academics, clinicians, patient activists and others) tend to follow others who are also interested in EBM, and they tend to exchange links to research articles and brief (140-character) comments on these. By carefully selecting which people to follow, it is possible to use Twitter as an efficient site for making connections and exchanging papers in one's chosen academic field.
Twitter is not easily searchable. To make searching easier, members use a hashtag (#). Any word preceded by a hashtag becomes searchable – for example, searching for the notation '#JustinBieber' would turn up all tweets 'tagged' with that hashtag. Back in late 2013, the EBM community on Twitter were exchanging messages with two contrasting hashtags: #RealEBM and #RubbishEBM.
#RealEBM was used to describe papers and commentaries that we felt genuinely reflected the positive elements of what EBM stands for. We used the term #RubbishEBM to refer to papers that claimed to be 'evidence based' but whose methods, findings or conclusions were questionable (and in some cases, nonsensical). Through exchange of 'tweets', a group of us decided to hold a small workshop at Oxford to discuss real and rubbish EBM in more detail and work towards a 'state of the science' paper that would celebrate EBM's achievements and also challenge its excesses.
The workshop was held in January 2014, organised jointly by myself and Professor Carl Heneghan (who is head of the Centre for Evidence-Based Medicine at the University of Oxford). Also invited were some of EBM's leading academics internationally (e.g. Paul Glasziou, Ruairidh Milne) and people who had publicly announced their opposition to the EBM movement (e.g. Margaret McCartney, Des Spence, Iona Heath). The workshop was small because we wanted to promote open discussion among people with contrasting views. As it turned out, there was less disagreement among the opposing 'camps' than we had anticipated.
The workshop began, as all good meetings should begin, with a very fine dinner. During the meal, we went round the table and shared stories about our own experiences of 'rubbish EBM' as patients, as the relatives of people who had been sick, and as health professionals. Even though we couldn't define it in the abstract, we knew what rubbish EBM was when it was imposed upon us.
The stories we shared were troubling. Some involved deaths – perhaps unnecessary ones. Many described a patient whose clinical care had suffered, become unprofessional and even brutalising, because an 'evidence-based' rule or protocol had been applied mechanically, without common sense, compassion or a proper conversation with the patient. Some of our stories were humorous – and humour, of course, is a great way of highlighting the absurd.
That evening, I summarised our initial brainstorming session in a single Powerpoint slide (see diagram). Many weeks later, after our paper was published in the BMJ, I found that Powerpoint slide again and realised that we had very nearly written the paper on that very first evening – simply by sharing our own subjective experiences of what EBM was doing to us personally.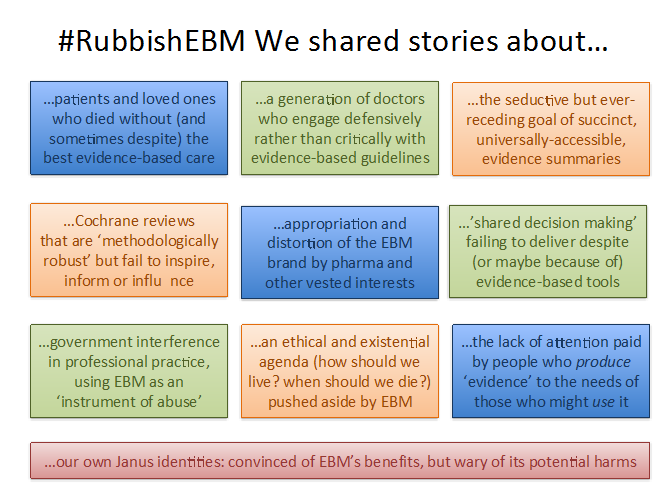 If the diagram above is what 'rubbish EBM' looks like, what does real EBM look like? Here are some principles:
Real EBM makes the ethical care of the patient its top priority.
Real EBM demands individualised evidence in a format that clinicians and patients can understand.
Real EBM is characterised by expert judgment rather than mechanical rule following.
Real EBM shares decisions with patients through meaningful conversations.
Real EBM applies these principles at community level for evidence based public health.
It was much easier to generate a list of principles for real EBM than to describe how we would implement those principles. In the paper, we suggested that to achieve real EBM, action is needed from a number of different groups:
Patients

must demand better evidence, better presented, better explained, and applied in a more personalised way.

Medical education and training

must go beyond searching and critical appraisal to develop expert judgment and shared decision-making skills.

Producers

of evidence must take account of who will use it, for what purposes, and under what constraints.

Publishers

must demand that studies meet usability standards as well as methodological standards (that is, papers must be understandable).

Policy makers

must take steps to resist the instrumental use of 'evidence' by vested interests (such as drug companies).

Independent funders

must increasingly shape the production, synthesis, and dissemination of high quality clinical and public health evidence.

Finally, the research agenda

must become broader and more interdisciplinary, embracing such topics as the patient experience, clinical expertise, evidence interpretation, shared decision-making, and harm prevention.
The paper 'EBM – a Movement in Crisis' rapidly became the most tweeted-about paper published in the BMJ in 2014, and it has already been widely cited by both supporters and critics of the EBM movement. But that paper is a beginning of EBM's renaissance, not the final word. There is much work to do. I am currently editing a series of five new articles on different aspects of the 'real EBM' agenda, commissioned by Biomed Central. 'Real versus rubbish EBM' will be a debating topic at the forthcoming 'Evidence Live' conference to be held at Oxford in April 2015. We hope the Italian EBM community will contribute to the wider debate about EBM's future, not only at this conference but also on social media, in the academic and clinical journals, and at future events.
1.           Greenhalgh T, Howick J, Maskrey N: Evidence based medicine: a movement in crisis? BMJ 2014, 348:g3725.
When & Where

Rewley House
1 Wellington Square
OX1 2JA Oxford
United Kingdom


Thursday, 19 March 2015 from 18:00 to 19:00 (GMT)
Add to my calendar