Event Information
Refund Policy
Refunds up to 7 days before event
Eventbrite's fee is nonrefundable.
In celebration of Earth Day, join us for this online interactive roundtable to get your burning questions answered!
About this Event
We are keeping a close eye on all updates in relation to COVID-19. Our April events are currently confirmed as interactive online events.
Becoming a carbon neutral business can feel like a bit of a minefield, no matter how new or far you are through the journey.
Whenever we talk about carbon at our events, our attendees have a lot of questions. We can never get through them all, especially not in the depth needed.
Therefore, in celebration of World Earth Day we are holding a one-off Carbon Roundtable – tell us what your priorities are in becoming carbon neutral, and we will facilitate small capacity rooms with experts to have your burning questions answered and share your own knowledge, thoughts and experience.
We are welcoming speakers from Verco, Hewitt Studios, Elmtronics and Network members Resource Futures, Future Leap, Go Climate Positive, UKGBC and Nexus Carbon Management.
You can choose any two of the following:
- Transportation and electric vehicles
- Your environmental impact: energy and buildings
- Scope 3 - Understanding carbon in the supply chain
- Measuring you carbon footprint and understanding carbon neutrality
This event showcases Future Leap's consultancy offer.
There is limited space to this event to ensure all attendees have ample time with their chosen experts, so book on soon to secure your place. We will ask you to rate the topics in priority order when you book, so we can endeavour to put you in your most preferred groups. You will be informed of your groups in advance.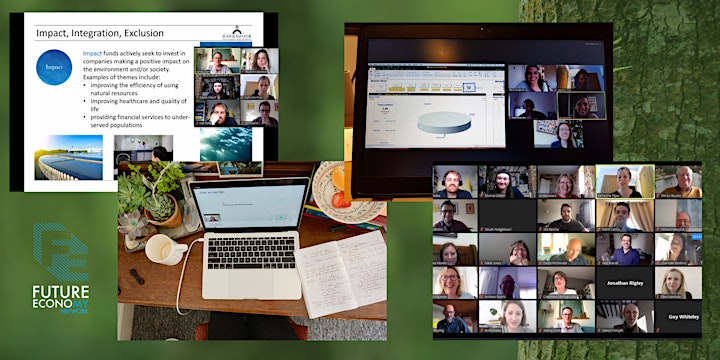 Agenda
12:00 - 12:05 - Registration
12:05 - 12:15 - Group Facilitated Networking - B-Y-O-Lunch!
12:15 - 12:25 - Introduction
12:25 - 12:55 – Facilitated Group 1
12:55 - 13:05 - Q&A
13:05 - 13:35 – Facilitated Group 2
13:35 - 13:45 - Q&A
13:45 - 13:50 - Close and Upcoming Events
13:50 - 14:00 - Group Facilitated Networking - Lessons Learned
Meet The Experts!
Eoin McQuone, Carbon Consultant at Future Leap and Founder at Go Climate Positive
Eoin is an Associate Consultant with Future Leap and the founder of "Go Climate Positive" a community of businesses determined to make a difference on climate change. Specialising in carbon calculation and analysis, he's an optimist and passionately believes that business has a positive role to play in promoting prosperity for all while protecting the planet. Outside of work, he will generally be found either running along the Cotswold Way or on stage with top tribute act, "Dire Streets".
Sara Sloman, Head of Future Mobility Partnerships, Elmtronics
Sara Sloman is a sustainable transport enthusiast and has worked for local authorities, transport consultancies and a UK leading law firm before joining Elmtronics as their Head of Future Mobility Partnerships this spring. Sara has extensive experience of infrastructure delivery programmes from walking and cycling schemes through to EV charging and future fleet projects. Sara is passionate about clean air and the importance of policy to guide the planning process to ensure sustainable development and economic growth. Sara is a GreenFleet EV champion and ranked 32 on the GF100 Most Influential in the EV industry list in 2021 for her work on guiding businesses through their electrification journey. 
Dr Simon Russell Forsyth, Senior Sustainability Consultant at Future Leap
Simon is the lead in Future Leap's sustainability consultancy offer. He has already helped many of the Network's members in their carbon neutrality journeys, using his 6 key steps: scope it, measure it, manage it, check the targets, offset what remains, tell the story.
Simon stumbled into environmental management in 1989 by offering to look after a paper recycling bin. After that, things rather ran away with themselves. He helped set up the Green Teams at Hewlett Packard in Bristol, ran them for five years, then became HP Ltd's full-time environmental specialist. He left in 2000 to run a small consultancy, went on to run the Econet in-work training project, helped deliver the southwest-wide Envision programme, established a number of Resource Efficiency Clubs for small businesses, trained a lot of Trading Estates, and now focuses on the business linkages between cost-intensity, carbon intensity, and becoming more profitable. To condense all this into something usable, he produces simplifying software – the dataCollator.
Kat Adair, UKGBC Local Network Coordinator for Bristol and the South West, and Senior Sustainability Consultant at Hoare Lea.
Kat is the UK Green Building Council's local coordinator for the south west region as well as a sustainability consultant for multidisciplinary engineering firm Hoare Lea. Kat supports UKGBC with regional events and member engagement and provides technical input on national publications such as the new homes policy playbook for local authorities, with a focus on how to deliver net zero carbon in practice. Kat also has extensive experience with live built environment projects through her work at Hoare Lea, where she provides advice for developers and design teams on how to successfully deliver energy efficient buildings in operation, not just on paper.
John Hewitt, Founder, Hewitt Studios
John Hewitt established Hewitt Studios LLP in 2008 to pursue an accessible and design-led approach to sustainable architecture. Working through a recession in which sustainability was widely perceived as an unaffordable 'extra', John sought to place it fundamentally at the heart of each of his projects. In December 2014 John was named the UK's 'Sustainable Architect of the Year' for his pioneering work across the sector. John also tutors on the Architecture and Urban Design courses at Bath and Cardiff Universities.
Paul Younger, Senior Associate, Hewitt Studios
Paul Younger is a founding member of Hewitt Studios LLP. He has a double-first from Newcastle University and 20 years experience in the commercial, education and transport sectors. Environmental sustainability is a key aspect of his work and the pioneering Straw Bale Cafe project typifies his holistic approach; designed in-conjunction with academia, built by the end users, using local carbon-sequestering materials and for the benefit of the local community. Paul regularly writes and lectures on the built-environment and has led a post-graduate studio at Nottingham University.
David McDonald, Director, Nexus Carbon Management
David is passionate about the environment. He is a qualified accountant and a seasoned Finance and Operations Director with extensive experience across several sectors including director-level roles in Utilities, Commercial Property Development and Energy Asset Management. David helped to develop and present the first renewables route map to HM Treasury and to a parliamentary committee in 2001. He is an expert in capital investment appraisal for renewable energy and infrastructure assets.
Ben Ross, Client Account Lead (Real Estate), Verco
Ben has over 15 years' experience working on sustainable development across the built environment, infrastructure, and energy systems. He provides strategic advice across the public, private and third sectors to understand long term risk and opportunity, and to deliver increasingly sustainable outcomes. During this time he has led GHG reduction programmes and projects ranging from technical inventories to policy development, staff and public engagement, governance, target setting and operational delivery. Ben currently sits on Bristol's 'One City Environment Board', advising on the complexity of a city-wide approach to achieving carbon neutrality by 2030.
Stuart Woodham is a Senior Consultant within the Circular Economy team at Resource Futures. Stuart holds a BSc in Environmental Science and an MSc in Environmental Economics. He focuses on quantitative modelling of systems and the business case to promote change for improvement. He developed Resource Futures' first carbon footprint calculator. It is used to track the business's performance for Scope 1, 2 and 3 emissions – part its compliance with its ISO 14001 certificated Environmental Management System. Resource Futures has been carbon neutral for the past five years, which fits in with its ethos of being a B Corp.
----------------------------
Want to Know More?
If you would like to join our sustainable business community please get in touch via info@futureleap.co.uk or sign up easily here.
Follow us on Facebook, Twitter, Instagram & Linkedin
Never miss what's next in sustainability by signing up to our monthly newsletter HERE
Opportunities, Suggestions and Conditions
You can get 20% off your next online event with us by choosing the add on option during booking.
Most of our events are available on demand here, however due to the break out nature of this event a recording may not be available.
We will share your name, job title & company with the other event attendees for this event only. If you don't want this information to be shared please let us know when you have purchased your ticket.
We take photos at our events for marketing purposes, if you don't want your picture taken please let us know in advance.
We record some of our events for marketing purposes, if you don't want to be in the recording please let us know in advance.
We have included a £1 carbon offsetting fee to all event tickets in our commitment to being carbon neutral in our operations. You can find out about our chosen charity here.
Please let us know at least one week in advance if you require closed captions or have any other accessibility needs.
If you require a complimentary carers/assistant ticket, please email events@futureleap.co.uk at least one week in advance and we will be happy to support you!
#wegrowthhub #business #seminar #sustainable #sme #bristol #businesswithpurpose #climateemergency #carbonneutral #zerocarbon #netzero #sustainabletransport #sustainabletravel #businessresilience #scope3 #supplychain #retrofit #sustainablebusiness
Date and Time
Location
Refund Policy
Refunds up to 7 days before event
Eventbrite's fee is nonrefundable.