Actions and Detail Panel
The Cardozo Kindersley Workshop: Cambridge Lettercutters
Thu 13 July 2017, 18:30 – 20:00 BST
Description
On 13th July, come and hear all about the history of Cambridge's highly-esteemed lettercutting workshop, Cardozo Kindersley, from Lida Lopes Cardozo.
The workshop was started in 1945 by David Kindersley, lettercutter, sculptor and inventor, having previously been apprenticed to Eric Gill. Lida Cardozo Kindersley studied graphic design at the Royal Academy in the Hague before joining David in 1976 as an apprentice in his workshop. She became his partner in the Workshop in 1981 and joined him in training apprentices. Since David's death in 1995 she has run the Workshop, continuing in the tradition and discipline of lettering in stone, wood, glass and on paper and designing typefaces. Many of the Workshop's stones can be seen around Cambridge, in colleges, churches and on public buildings. Elsewhere they include large memorials in cathedrals, inscriptions in museums and hospitals as well as the British Library Gates but Lida has always been most passionate about memorial stones for individuals.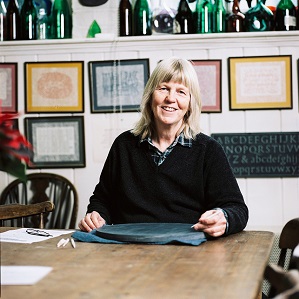 Lida Kindersley's talk will delve into the extensive archive held at her Workshop in Cambridge, to tell the visual story of how David Kindersley led his Workshop out of a post-World War II austerity, using the teachings of his previous master Eric Gill to create a lettering style and philosophy of work which is widely recognised.
Lida will also explore her own long and fruitful design partnership with David as well as what it means to be a lettercutter, continuing the legacy, running a thriving stone carving workshop and keeping alive a tradition handed down by many hundreds of lettercutters before her.
Join us for what promises to be a fascinating and insightful evening on this Cambridge institution!
Tickets are priced at £4 in advance and can be bought through this page, by calling 01223 463200 or in person at Heffers bookshop. Please note that tickets are transferable but not refundable.