The Centre for Excellence in Community Investment: UK conference 2019
Description
Every year, social housing providers invest millions of pounds in their communities, whether through employment schemes, youth work, financial capability initiatives, grant-making or a range of other activities.
This year, for the first time, the Centre for Excellence in Community Investment is hosting the first national conference dedicated to community investment.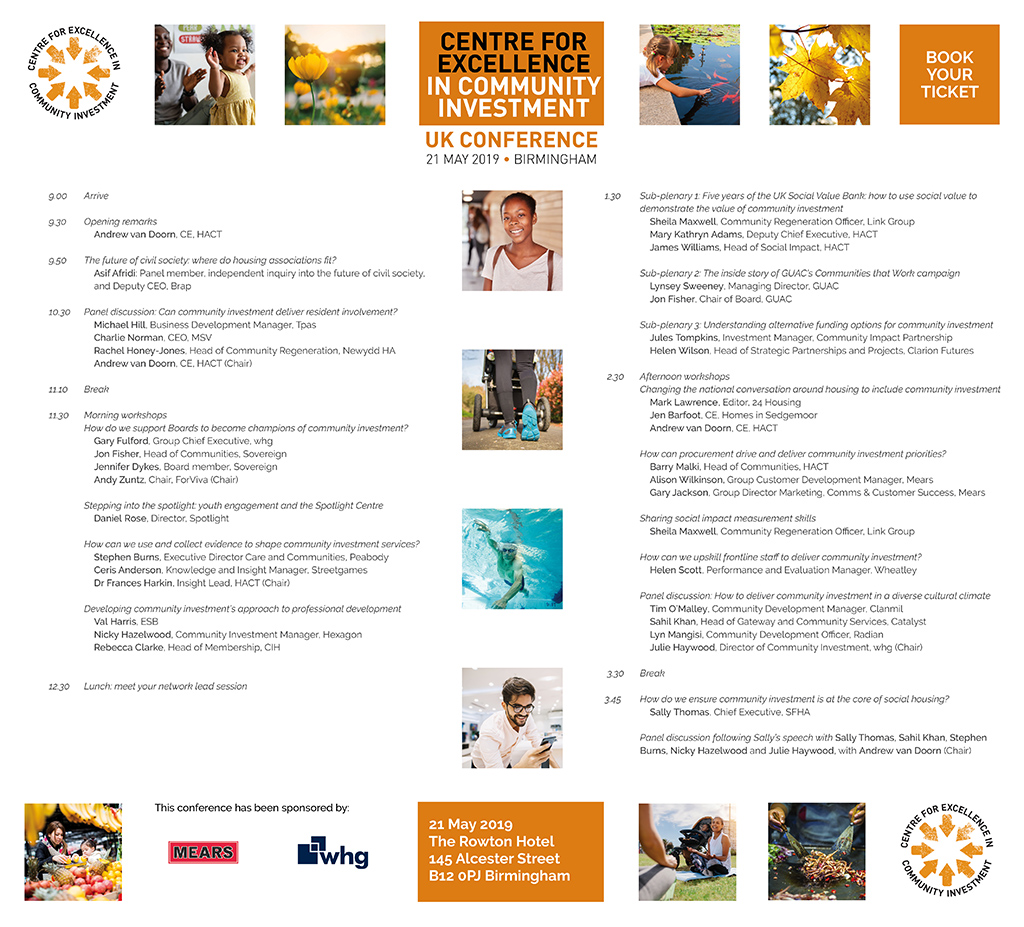 Download the conference agenda (opens new window)
Agenda
Opening keynote speech: The future of civil society: where do housing associations fit in?
Asif Afridi (Panel member, Independent inquiry into the future of civil society, and Deputy CEO, Brap)
Panel discussion: Can community investment deliver resident involvement?
Michael Hill, Business Development Manager, Tpas; Charlie Norman, CEO, MSV; Rachel Honey-Jones, Head of Community Regeneration, Newydd Housing Association
Workshops (morning sessions):
How do we support Boards to become the champions of community investment?
Gary Fulford, Group Chief Executive, whg; Jon Fisher, Head of Communities, Sovereign; Jennifer Dykes, Board member, Sovereign; Andy Zuntz, Chair of the Board, ForViva (Chair)
Stepping into the spotlight – youth engagement and the Spotlight Centre
Daniel Rose, Director, Spotlight

Using and collecting evidence to shape community investment services
Stephen Burns, Executive Director, Care and Communities, Peabody; Ceris Anderson, Knowledge and Insight Manager, Streetgames; Dr Frances Harkin, Research Lead, HACT

Developing community investment's approach to professional development and qualifications
Dr Val Harris, ESB; Nicky Hazelwood, Community Investment Manager, Hexagon; Rebecca Clarke, Head of Membership, CIH

Lunch: Meet Your Network Lead session
Sub-plenary 1: Five years of the UK Social Value Bank: how to use social value to demonstrate the value of community investment
Sheila Maxwell, Community Regeneration Officer, Link Group; Mary Kathryn Adams, Deputy Chief Executive, HACT; James Williams, Head of Social Impact, HACT
Sub-plenary 2: The inside story of GUAC's Communities that Work campaign
Lynsey Sweeney, Managing Director, GUAC; Jon Fisher, Chair of Board, GUAC
Sub-plenary 3: Understanding alternative funding options for community investment
Jules Tompkins, Investment Manager, Community Impact Partnership; Helen Wilson, Head of Strategic Partnerships and Projects, Clarion Futures
Workshops (afternoon sessions):
How to change the national conversation around housing to include community investment
Mark Lawrence, Editor, 24 Housing; Jen Barfoot, Chief Executive, Homes in Sedgemoor; Andrew van Doorn, Chief Executive, HACT (Chair)
How to use procurement as a vehicle to drive and deliver community investment priorities
Barry Malki, Head of Communities, HACT; Alison Wilkinson, Group Customer Development Manager, Mears; Gary Jackson, Group Director Marketing, Comms & Customer Success, Mears
Sharing social impact measurement skills
Sheila Maxwell, Community Regeneration Officer, Link Group
Upskilling frontline staff to deliver community investment
Helen Scott, Performance and Evaluation Manager, Wheatley
How to deliver community investment in a diverse cultural climate
Panel discussion: Chaired by Julie Haywood, Director of Community Investment, whg; Tim O'Malley, Community Development Manager, Clanmil; Sahil Khan, Head of Gateway and Community Services, Catalyst; Lyn Mangisi, Community Development Officer, Radian
Closing speech: How do we ensure that community investment is at the core of social housing?
Sally Thomas, Chief Executive, SFHA
Panel discussion following Sally's speech featuring Sally Thomas, Sahil Khan, Stephen Burns, Nicky Hazelwood and Julie Haywood, with Andrew van Doorn (Chair)
The Venue
The Rowton Hotel is located 15 minutes walk from central Birmingham.
Hotel rooms are available for the night before and after the conference, at discounted rates. These are available on a first-come-first-serve basis so please email info@ceci.org.uk as soon as possible if you require a room.
Car parking space is limited and available on a first-come-first-serve basis. If you wish to arrive by car please email info@ceci.org.uk
Sponsors
We are grateful to both Mears and Walsall Housing Group for their sponsorshop of this conference.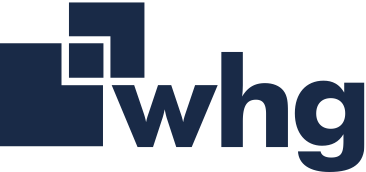 Organiser of The Centre for Excellence in Community Investment: UK conference 2019
HACT is UK housing's ideas and innovations agency. 
We work closely with partners in the affordable housing sector and beyond to identify, research, incubate, apply and promote innovative thinking, practice and products that change the way the sector operates, so it can achieve positive social change. 
Our tried and tested model is simple: using our expertise in housing, we leverage the power and breadth of our networks, brokering appropriate ideas and innovation from other sectors, so the collaborations we create and manage with housing providers can achieve their maximum potential. 
We've been doing this for almost 60 years. Our impact on the sector is unique: Shelter, home adaptations, care and repair, BME housing, rural housing, floating support, Housing Plus, and social value.