Event Information
Refund Policy
Refunds up to 7 days before event
Description
A specialist online business course for small art & design glass businesses
Presented by the Contemporary Glass Society and The Design Trust
Are you a glass artist or designer maker and want to boost your business and marketing skills?
Do you want to make a better living from your work? Sell more of your work to galleries, at events, online or for commissions?
Want to learn how to present yourself better?
CGS (The Contemporary Glass Society) is proud to present a specially created online course for CGS members and other glass artists and designer makers across the world. We have been working closely with The Design Trust to create a course that covers all the main topics to make your business even more professional.
The CGS Follow Up Glass Business Course 2020
Two years ago CGS and The Design Trust, the online business school for designers and makers, worked together to deliver a very successful online Booster Business Course, and we decided to run a similar online course in 2020.
The CGS Follow Up Glass Business Course is a 7-week online course that will run from mid February till early April 2020 on Thursday evenings (8pm – 10pm) with 6 live online sessions - covering the key aspects to improve your creative business and marketing skills. There will be 4 business & marketing workshops, and two special video interview sessions with guest speakers who are well known glass artists/designers.
This is a specially created professional development programme for CGS, and will use specific examples of artists and designers working in glass, across different stages and disciplines, in different styles, and at different price levels.
Participants can join each of the online workshops live, as well as access the private online course hub to meet and network with fellow glass designers and makers, to post their homework and ask business questions. Each webinar session will be live and is audio-visual, accessed through your own computer at home or in your studio.
The sessions will take place in the evening, to make it easier for more (international) creatives to join us. And each session will be recorded, and you will have access to the entire course till the end of 2020, so you can watch them (again) at a time that suits you.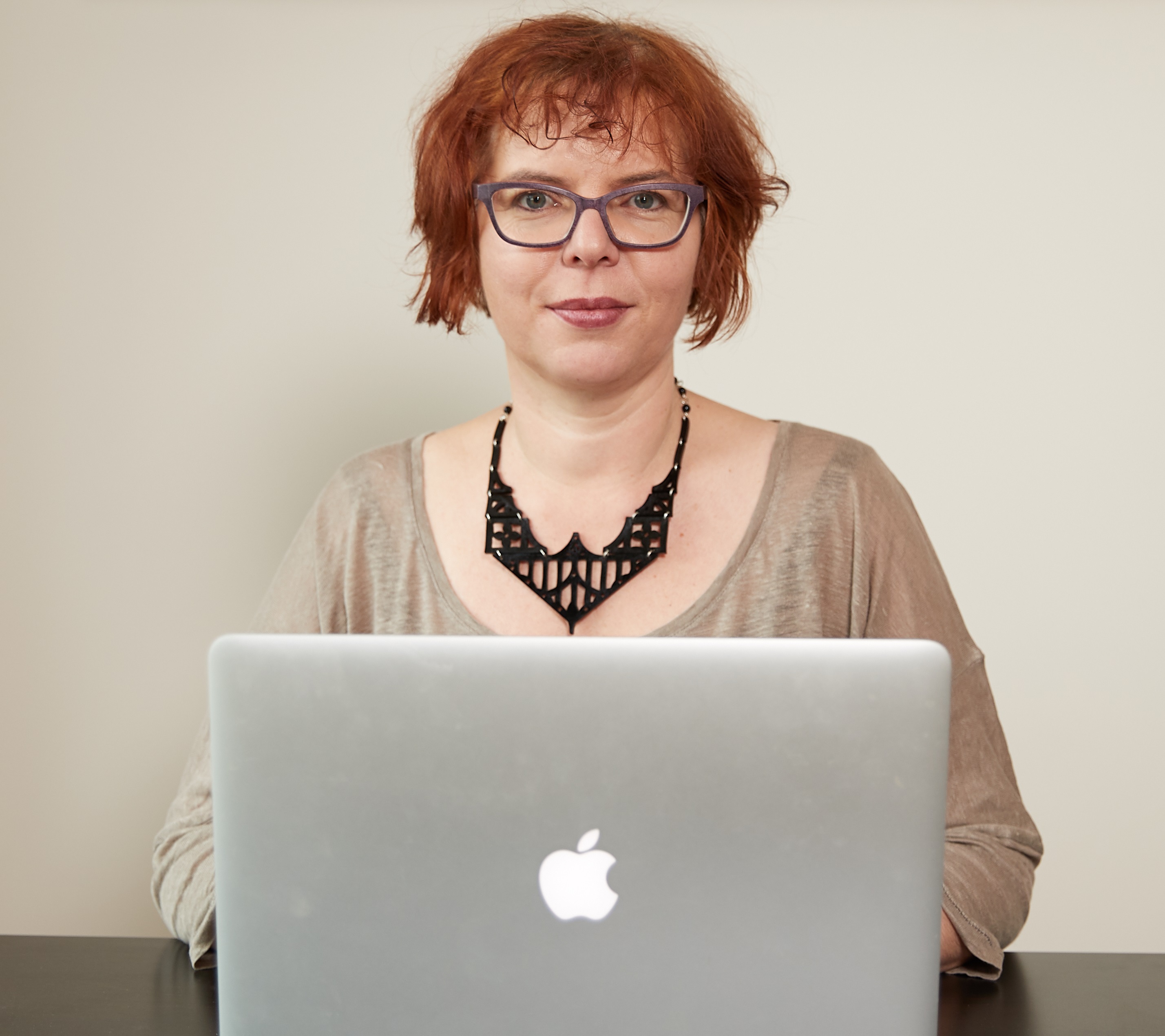 Online learning ... what does that mean?
A webinar is a bit like watching a talk on your computer. You can see the presentation, and hear the audio, and if you have a question then you can type it in.
One of the big advantages of online learning is that you can join us from anywhere in the UK or abroad. You log on with your own computer, from the comfort of your own home or studio. All sessions will be recorded, so you can watch them again or at a time that suits you.
Each 2-hour session will be full of practical examples of other small businesses working in glass, and you will get practical 'homework' exercises that you can use immediately in your own business too. If you like you can upload your exercises too or ask questions in our private online forum to Patricia and other participants. It's very user-friendly and easy to use, even if you don't feel overly confident with computer technology!
FREE INTRO CLASS ON THURSDAY 30 JANUARY.
Are you interested in this online course but would like to find out a bit more? Or do you want to experience a webinar with Patricia before you sign up? We completely understand that!
We organised a free intro session on 30 January, but if you missed that you can watch the recording here. In this session Patricia explains more about the course, and the last half hour she does a creative planning exercise to help you focus on what needs work in your business, and it's a good flavour of how she will run the glass business course.
What will you learn in The CGS Business Course 2020?
Session 1: How to make more money as a glass artist/designer? - Thurs 13 February
A thought-provoking but practical and strategic look at finances for creatives. We will look at potential business models for glass artists and designers, and the key financial questions to create a more sustainable, and ultimately profitable business. We will look at alternative income streams with real life examples. How to make your business more profitable and increase your prices confidently. Create a financial forecast for the next few years, and make sure that your numbers stack up.
Session 2: Marketing fundamentals – Thurs 27 February
What's marketing and what's it not? What's holding you back to promote yourself better? Find out the fundamental marketing activities you need to focus on to increase your profile, credibility and trust, which will ultimately get you more sales. What longer term marketing projects do you need to work on? You will start to create your own mini marketing plany by setting your own sales goal for the next 3 months and focus on those activities that will get you more and better sales.
Session 3: Guest session with an inspiring glass artist/designer (TBC) - Thurs 5 March (8pm-9pm)
Session 4: Branding & positioning – Thurs 12 March
An introduction to practical branding, how to stand out in a crowded market, where do you want to position yourself and how to present yourself better to your ideal clients. Find out who your ideal clents are exactly through some great creative exercises. Identify what you are really selling to them, and when, where and why they buy from you. Create an action plan to present yourself professionally - in writing, online, at events and in person. We will e using lots of examples of creative glass businesses.
Session 5: Guest session with an inspiring glass artist/designer (TBC) - Thurs 26 March (8pm-9pm) CHANGED TO 19 March 8pm - 9pm)
Session 6: Create collections and how to sell more ... to shops, online, at events and get more commissions – Thurs 2 April
In this final session we will firstly start to look at collections and why they are so important, and how to launch them professionally.
Then we will be looking at what to do to get more sales from a variety of marketing channels, including online sales, retail and commissions. Patricia will share specific marketing actions that you can do to get more sales for your glass business. You will find out how to write better product titles and descriptions for your website, how to drive more traffic to your site, and you will create a social media calendar with specific topics for the next 3 months. And we will talk about how to get more repeat business too. You will finish this course with your own mini-marketing plan to get more sales.
What is The Design Trust?
The Design Trust is an online business school for designers, makers and other creative professionals, providing online training and membership options to improve your small creative business skills, confidence and direction.
The Design Trust was set up 25 years ago by the design journalist Peta Levi, who also set up the New Designers graduate exhibition in London and Design Nation - a marketing support agency for designer makers.
Patricia van den Akker is the Director of The Design Trust since 2011, and in the last 20 years she has worked with 1,000s of designers and makers as a creative business adviser, trainer and coach. In 2018 she was voted the Number One Business Adviser in Branding & Design by Enterprise Nation, and in 2019 she was voted the Number One Business Adviser in the UK in Sales.
She regularly teaches at universities including the Royal College of Arts, Central St Martins/University of the Arts, Has worked with craft fair and trade show organisers such as Made London, Handmade in Britain, GNCCF, Top Drawer/Craft London. She has provided coaching for the Crafts Council and for the last 5 years wrote the business column The Design Doctor for Crafts Magazine.
She is known for her inspiring, practical but strategic approach to creative business development. She loves to boost your business and marketing knowledge, but more importantly increases your confidence and gets you into action to turn your new insights into a better business.
HOW DO I BOOK & PAY?

The booking is open from 1 November 2019 till 7 February 2020 on Eventbrite and payment can be made by credit card or Paypal. It looks like you can only pay by Paypal, but if you click on the Paypal button there is a blue link underneath that states 'click to pay by credit card'. If you have got any problems then do get in touch with info@thedesigntrust.co.uk

After you have signed up and paid you will get a confirmation email. We will be in touch with you in early February with details of how to join the first session and our private online training platform.
You can cancel and will be fully refunded till 1 week before this course starts.
PLEASE NOTE: We do need a min. of 35 participants for the course to start, and we have capacity for a max. of 100 participants.
DEADLINE TO APPLY is Friday 7 February 2020 at midnight (UK).
If you have got any questions then see the FAQ below or get in touch with The Design Trust on info@thedesigntrust.co.uk
FAQs
I am very new working in glass. Is this course for me?
If you are interested in starting or growing your glass business then this course is for you. It will help you to get started with your finances, marketing, branding and selling.
The course is aimed at glass artists and designers who are selling their work already, so if you are very new this might not yet all be relevant. Even if you are a student in glass you can join us - at the special discounted rate! Indeed if you want to get ready before you start your own business then this course will be useful to you in the longer term, and save you a lot of time, money and energy!
I work part-time. Is this course for me?
Many CGS members and glass artists/designers have other jobs and responsibilities so you won't be the only person who works parttime. The course will be delivered in the evening so that it is more convenient for people with other responsibilities too. And all sessions are recorded, so you can do this course at your own pace if you like as you will have access to the recordings and presentations till the end of 2020.
I have been working in glass for many years ... Is this course for me?
Many established makers join our online courses, especially to boost their marketing and social media knowledge, or often to change direction (after a career break) or to increase their income and sales.
The training is aimed at creatives who have been in business from one year to many years and the training and exercises will be relevant whatever stage your business is at.
Patricia has worked with many 1,000s of creatives over the last 20 years, and has noticed that many mature creatives are now joining her courses due to changes in the market, the gallery system and the lack of marketing and social media knowledge. We would love you to join us too.
I am not based in the UK. Can I still join?
One of the big advantages of online learning is that you can join us from anywhere in the UK (even the most remote places!) and abroad. The Design Trust has got clients all over the world, and we love our international community. We would love to build an international network of CGS members and other creative glass artists and designers across the UK and the world as part of this online training programme.
If you are unable to join us live during the session (due to the time difference) then do note that all sessions are recorded and you can watch them at a time that suits you better. You can use our private online training platform to still engage with the course and the other participants.
If English is not your first language then do not worry. Patricia is from The Netherlands and is very aware of potential issues for non-English speakers.
If you are based in the EU and are a VAT-registered business then you will not have to pay any VAT. Non-UK and EU businesses and individuals will not be charged the 20% VAT tax, so this course is cheaper for you.
What equipment do I need for this online course?
You need to be able to have access to a fairly up-to-date computer (PC or Apple Mac). You can also join us from a tablet (e.g. i-pad) or mobile phone although the older models might have trouble accessing the software.
You do not need a microphone or headset, just a reliable wifi or broadband connection.
You can test here if your computer can access the software. Please note that sometimes this shows a negative outcome while participants were able to join us after all. Note that if you are unable to join us live at the webinars that you will very unlikely have any problems accessing the recordings as this is done via a private website.
How can I contact the organiser with any questions?
Send an email to The Design Trust on info@thedesigntrust.co.uk Please include in the subject line 'CGS course'
Date and Time
Refund Policy
Refunds up to 7 days before event