Sales Have Ended
Registrations are closed
Our event is now full capacity with a waiting a list. Please email Paul or Jak for updates on availability paul.harrison@mediazoo.tv - jak@mediazoo.tv
Sales Have Ended
Registrations are closed
Our event is now full capacity with a waiting a list. Please email Paul or Jak for updates on availability paul.harrison@mediazoo.tv - jak@mediazoo.tv
About this Event
Please note this event has sold out although please do register and you will be placed on the waiting list. We may have to re-run this event in the near future due to demand. Many thanks for your understanding - Paul J Harrison
Email me directly to allow me to contact you regarding availability -
paul.harrison@mediazoo.tv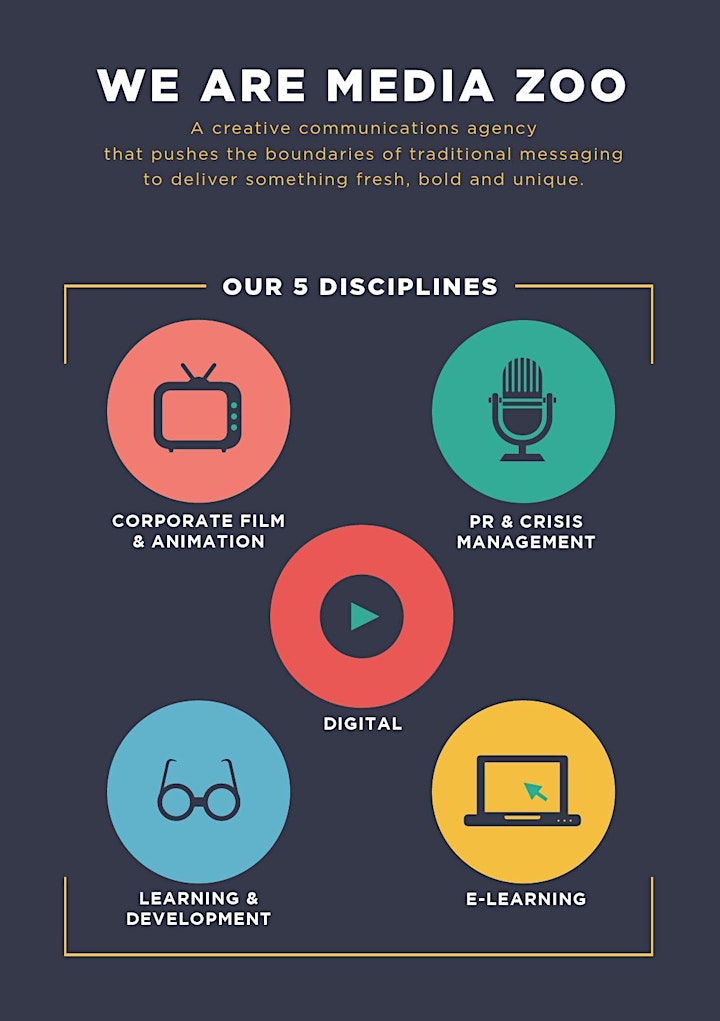 The world of work is changing...
Advancements in technology, new ways of thinking and new operating models are transforming our workplaces.
With these changes, comes a need for teams to develop new skills that are currently lacking in most businesses. This skills gap has created a huge opportunity for L&D.
You have a critical role in developing employees for the future.
Your team will need to proactively support:
Future Skills
New Leadership Models
The Employee Experience
Are you ready to keep pace and drive the transformation?
Join us at our breakfast event which is the first in our four part seminar series for 2020 at our stunning offices in the heart of the Merchant City.
You will hear from our speakers and thier experiences, insight, challenges, and learnings they have seen and gone through. Please note, our speakers are not current or past clients as we wanted to deliver an authentic event.
You can have a look around and see for yourself why we invested £1 million pounds into our facilities and learn more about who we are and what we do. We just want to get to know you, we are a friendly bunch who just love networking.
This is event is part one of four within a seminar series that is looking to join communities in Scotland for Head of L&D, HR, TA, PR, Design, Marketing, Digital and anyone involved in Film and Animation.
There will be no "selling" at these events as they are designed for the sharing of best practice, learning, and networking with fellow professionals within your profession.
Please register to attend and a full agenda will be sent to you via email.
Our speakers are -
Susan McRoberts
Susan fully understands the commitment, devotion, and dedication entrepreneurs have when starting up their business, from the time, money and emotion that is invested in the development. Susan helps engage people, reinvigorate their vision, increase productivity and manage people positively to get the absolute best out of them. Susan specialises in working with people to deliver real purpose and value, business growth, brilliant leadership and reshape a company to productive performance culture. Before specialising in proactive HR and performance she was the Head of Talent, Engagement, and Performance for BT until 2018 and helped build the renowned brand since 1999.
Kirsty Mac
Kirsty may fall into the category of business consultant, however, her work is much more diverse and varied. Aside from being an inspirational coach to a wide-reaching amount of clients and companies she specialises in building company's communication, executive development and leadership speaking on behalf of the learning and development field across the globe. Her role and identity may vary, however, her passion and dedication to creating a positive change in learning and leadership across Europe and Australia keeps her at the forefront of speaker sessions and developing businesses. Her expertise is appreciated and valued from corporates to entrepreneurs focusing on a myriad of projects.
Professor Peter Totterdill
Professor Peter Totterdill is a Founding Director of Workplace Innovation Europe CLG, building on his international experience as an advisor to companies and governments, a researcher and a public policy specialist. The Professor led The Work Institute at Nottingham Trent University, which he established in the mid-1990s. Peter is a highly experienced communicator and speaks frequently at conferences and seminars to enterprises, trade unions, policymakers and researchers throughout Europe and beyond. Since 2013 WIE's team has co-led the European Workplace Innovation Network (EUWIN), established by the European Commission to spread knowledge and awareness of workplace innovation amongst businesses.
Colin Bradford
Colin has a deep knowledge of learning particularly in financial services and customer service environments, with this he has a passion to build a strong L&D community in Scotland. He is a learning and performance leader in one of the top 15 learning teams in the UK. As a Learning and Development Manager at O2 Colin is responsible for the learning strategy and service delivery for retail stores, contact centre, marketing, SMB and enterprise teams. Colin has launched learning to support a wide range of product launches supporting growth for O2 and delivered £1m in efficiency savings through learning initiatives. His team has just won an award which I am sure he will take delight in taking you through.
We look forward to meeting you