Description
The Chand Raat Experience
An Evening of Elegance by Hbeauty
Please Join Halimah of Hbeauty and Sanober, the two hosts of the TV show 'Halimah's Hour' at the Grand Sapphire, Croydon for an evening of Fabulous fashion and Beauty and get ready to welcome Eid in style!
We will have a few key speeches from speakers.
We will never be able to precisely know the exact date of Eid, this is why we have kept it a few days before.
Indeed there will be a good few hours to choose to come and go before a possible Laylatul Qadr night.
Henna
Eid decorations
Monitor
Snacks
Art
ArabesQue
Jewellery
Perfumes
Farrah Naaz Couture
Food Stalls
Hijabs
Photo booth
Goodie Bags
Free Make Up and Skin Care clinic
Fashion wear
Cakes/desserts
Plus much more!!!
This event is now ticketed at of £5.00 per adult over 16 but feel free to contribute more voluntary donation to Islamic Relief and Orphans on the door.
For those of you wishing to come and have a delicious Iftar- 3 course dinner please choose the upgrade option at an Extra Amount of £25.00
Please Note Dinner payment does not include Entry
Dinner is:
Starter
Chicken Biryani
Dessert And drink
We look forward to seeing you there!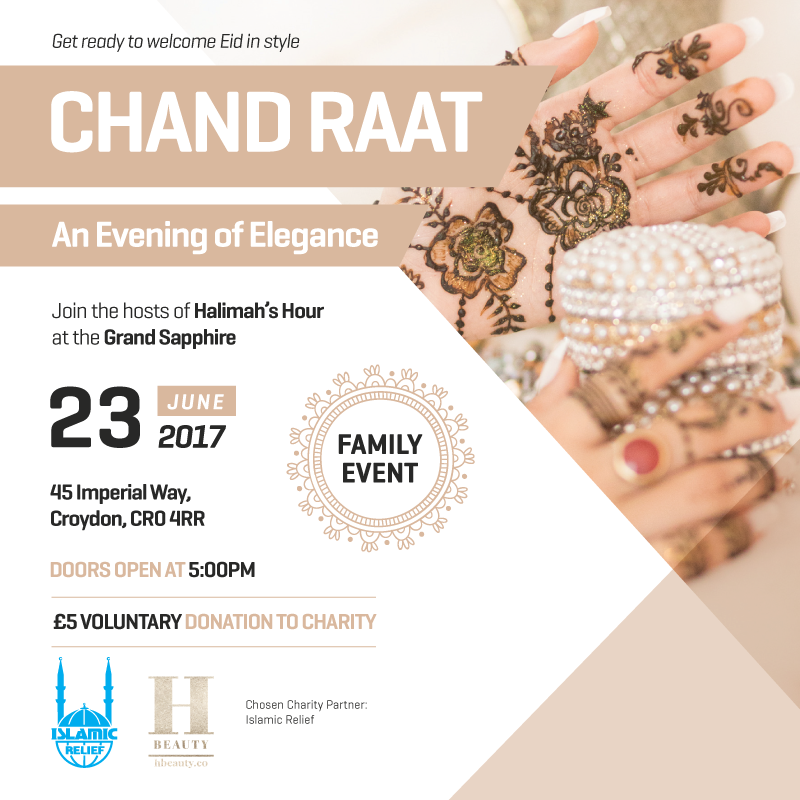 Clothing: modest
For more information and to book a stall for the event please contact: 07949 993505 Halimah