The Changing Risks to Firefighters from Sustainable Construction
The presentation shall provide an overview of the current challenges faced by modern fire services from sustainable construction.
About this event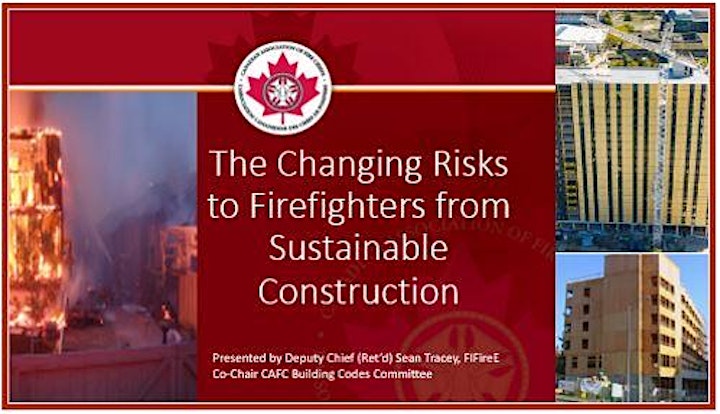 The IFE's Southern Branch is delighted to welcome Sean A Tracey FIFireE to speak on this subject. The presentation shall provide an overview of the current challenges faced by modern fire services with the increasing prevalence of innovative construction practices including increased height of combustible buildings and increased support for mass timber buildings.
The presenter shall discuss the unique challenges these practices present and how research, education, and resources have not kept pace, thus increasing the risk to firefighters. He shall conclude with recommendations on how to decrease the "readiness gap". Although the presentation shall have primarily a focus on North American challenges the concerns and recommendations are believed to equally applicable to the fire services in the United Kingdom.
About the speaker - Sean A. Tracey FIFireE
Sean Tracey is a graduate of the Royal Military College of Canada with a degree in Civil Engineering. Sean completed a twenty-year career in the Canadian Forces as a Military Engineering Officer retiring at the rank of Lieutenant Colonel. He held numerous positions in Canada and on United Nations operations including serving as the Canadian Forces Fire Marshal from 1997-2000. From 2000 -2012, he was appointed the first ever Canadian Regional Director for the National Fire Protection Association (NFPA). In 2012, Sean was awarded the Queen's Diamond Jubilee medal for his service to the Canadian fire service. Sean joined the Ottawa Fire Service in 2012 where he served until August 2019, retiring as the Deputy Chief of Education, Safety & Innovation.
Sean is a past Director of the Canadian Council of Fire Marshals and Fire Commissioners, and a Past Director of the Ontario Fire Marshal Public Fire Safety Council. From 2005-2010, and 2012-2013 he was appointed Chairman of the Board of the Canadian Centre for Emergency Preparedness. In 2015 he was awarded the grade of Fellow with the Institution of Fire Engineers. Sean is currently the co-chair of the Codes Committee for the Canadian Association of Fire Chiefs, and Executive Director of the Canadian Home Fire Sprinkler Coalition.