About this Event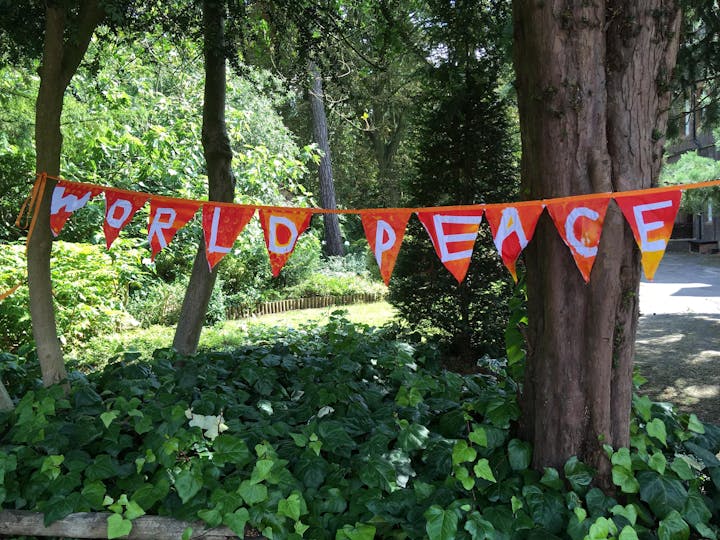 The Children's Peace Party devised by Youngsook Choi and Kirsti Davies from Rara Collective in collaboration with children from Chantry and Whitefield Academies.
This event is part PEOPLE POWER PASSION: 6 events in 5 months commemorating the 1919 Peace Day Riots when Luton's Town Hall was burnt to the ground. Our Children's Peace Party mirrors a similar event that took place in September 1919.
After the town hall flames had subsided, it was time for the children of Luton to celebrate peace. Families gathered at Luton Hoo for day of games, activities and fun. This year, we recreate that event in a riotous celebration of colour in Wardown Park.
Throughout 2019, groups of school children have been working hard creating the Peace Party Event and developing their creative skills in the process. It is their event and they are in charge so come and support the next generation of incredible Lutonians.
Printmaking
Have you ever dreamed of making and carrying a bag with the message you want to shout out? This your chance! Children are invited to design and make their own bags that celebrate what is important to them.
Games
Can three little fish defeat the the shark together? Instead of protecting the king and queen, how about joining forces to help your neighbours? Come and Play these fun games with a difference.
Circus
Five physical challenges follow a storyline of fictional child as they travel to a new life in a new country. Make new friends as you juggle, balance and spin your way through a journey unlike any other.
Theatre
A purpose-built forest stage will feature three interactive shows throughout the day: Taleshakers, A Queen's Peace Party and Riki Cycle
We invite families to make a day of it and bring your own Picnic
Food and ice-cream will also be available to purchase
Find out more about People Power Passion here: PEOPLEPOWERPASSION.CO.UK
More Event Information coming soon